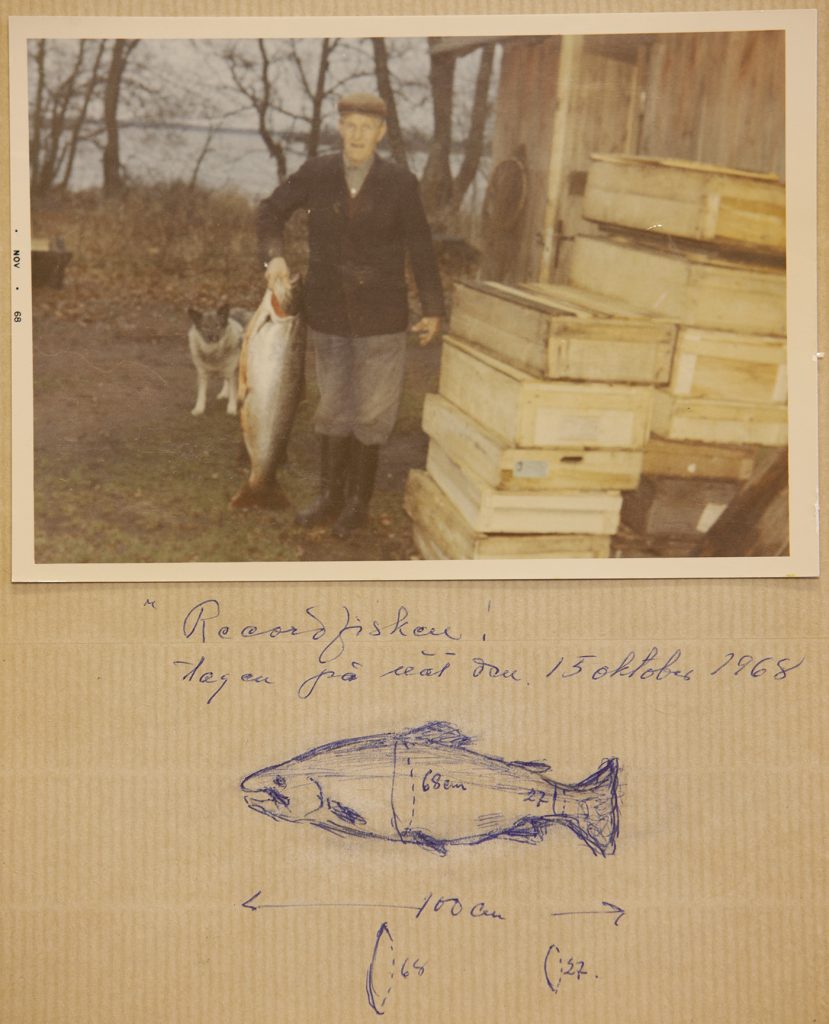 Pelle Klippinge is a well known name in fly fishing in Scandinavia. Pelle is an accomplished fly fisherman and writer with many, many big fish to his name and a quite a few popular books as well. It seems that Pelle has a certain fascination for sea trout – and it almost seems as if (big) sea trout have a certain fascination with Pelle Klippinge.
Since the 1980s Pelle has been keeping track of and compiling a list of all 5kg + sea trout, caught in saltwater. As you'll quickly learn from going through the list, that there actually is a real chance of really big fish in the salt in Denmark and Scandinavia.
We're very happy to provide server-space to make this list public and available. We hope that you will help both Pelle and us to keep the list growing. So, please, if you or any of your friends catch one above those magic 5kg + sea trout, please let us know. A picture and as many details as you are comfortable with and we'll be very happy. Drop us an email at info@ahrexhooks.com (please put 5kg+ in the subject). And if you have older catches with pictures that that aren't on the list (and if you'd like them to be there), don't hesitate to supply us with the information. And of course, if you spot any errors on the list (a wrong name for instance), please let us know and we'll correct as we go along. Just to be clear – post spawners are not included in the list and looking back, and going forward, we place trust in everyone that the supplied information is valid.
---
10.6 kg • Helsingborg, march 2002 – Johan Bergqvist, Sweden • click for photo
10.3 kg • Hornbaek, june 2004 – Kent Bille Petersen, Denmark • click for photo
10.0 kg • Isefjorden, february 2017 – Jens Grønlund, Denmark • click for photo
---
9.0 kg • Helsingborg, january 2018 – Mikael Wikhager, Sweden • click for photo
9.0 kg • Nordkysten Sjaelland, february 2019 – Tobias Park, Denmark • click for photo
9.0 kg • Djursland/Knebel, october 2006 – Ask Simonsen, Denmark
---
8.8 kg • Falster, april 2010 – Jan Krohn Dehli, Denmark • click for photo
8.6 kg • Påskallavik, august 2023 – Pelle Klippinge, Sverige • click for photo
8.6 kg • Stevns, december 2015 – Kenneth Larsen, Denmark • click for photo
8.5 kg • Helsingborg, march 2014 – Daniel Lang, Sweden
8.5 kg • Vröj, august 2009 – Jørn Bristing Mossin, Denmark • click for photo
8.2 kg • Fyn, april 2005 – Einar Madsen, Denmark
8.2 kg • Skjerstadfjorden, april 2011 – Geir Jensen, Norway
8.0 kg • Vikhög, march 2017 – Sead Ros, Sweden • click for photo
8.0 kg • Uddevalla, may 2002 – Henry Roiko, Sweden
8.0 kg • Bornholm, march 1999 – Jörgen Mandsberg, Denmark
8.0 kg • Sognefjorden, may 2004 – Kjell Magne Pedersen, Norway
8.0 kg • Kivik, january 2001 – Michael Mulbjerg, Denmark
8.0 kg • Påskallavik, april 2001 – Pelle Klippinge, Sweden
---
7.7 kg • Oslofjorden, april 1992 – Morten Johansen, Norway
7.6 kg • Påskallavik, august 1989 – Pelle Klippinge, Sweden
7.6 kg • Fyn, april 2005 – Claus Eriksen, Denmark
7.5 kg • Helsingborg, february 2020 – Martin Sommar, Sweden • click for photo
7.3 kg • Oslofjorden, may 2005 – Tom A. Antonsen, Norway
7.2 kg • Nordkysten Sjaelland, may 2013 – Rune Westphal, Denmark • click for photo
7.2 kg • Nordkysten Hollöse, september 1991 – Jørn Bristing Mossin, Denmark
7.1 kg • Påskallavik, april 2001 – Steinar Christensen, Norway
7.0 kg • Påskallavik, january 2009 – Pelle Klippinge, Sweden
7.0 kg • Sjaellands Odde, july 1995 – Jørn Bristing Mossin, Denmark • click for photo
7.0 kg • Falster, january 2020 – Arne Jensen, Denmark • click for photo
---
6.9 kg • Stenungsund, june 1998 – Håkan Andersson, Sweden
6.8 kg • Sölvesborg, march 2007 – Kaj Eriksson, Sweden
6.7 kg • Dragskär, december 2014 – Johan Ågren, Sweden
6.7 kg • Helsingborg, april 2007 – Ulf Möller, Sweden
6.7 kg • Drammensfjorden, december 2015 – Helle Charlotte Nilsen, Norway • click for photo
6,5 kg • Gotland, may 2021 – Jonas Ringman, Sweden • click for photo
6.5 kg • Fridhem Gotland, may 2020 – Peter Landergren, Sweden • click for photo
6.5 kg • Bodø, september 2019 – Sinisa Vucic, Norway • click for photo
6.5 kg • Helsingborg, may 1999 – Johan Bergqvist, Sweden
6.5 kg • Östra Gotland, may 2021 – H. O. Blom, Sverige • click for photo
6.4 kg • Arendal, mars 2005 – Jörg Rune Nilsen, Norway • click for photo
6.2 kg • Oslofjorden, march 2012 – Harald Opperud, Norge • click for photo
6.1 kg • Börsholmen, Asker, march 2002 – Geir H. Fredriksen, Norway
6.1 kg • Öland, november 2017 – Ola Lindberg, Sweden
6.1 kg • Påskallavik, september 2019 – Pelle Klippinge, Sweden
6.0 kg • Öland, january 2012 – Jonas Ringman, Sweden • click for photo
6.0 kg • Kullavik, april 2001 – Jonas Runnberg, Sweden
6.0 kg • Fyn, june 2005 – Claus Eriksen, Denmark
6.0 kg • Bornholm, february 1996 – Carsten Andreasen, Denmark
6.0 kg • Bornholm, april 2014 – Thomas Langset, Norway
6.0 kg • Bornholm, april 2003 – Jørn Bristing Mossin, Denmark
6.0 kg • Höganäs, january 2018 – Daniel Bensby, Sweden • click for photo
6.0 kg • Påskallavik, april 1980 – Pelle Klippinge, Sweden
6.0 kg • Jelöya, april 2010 – Per Bratli, Norway
6.0 kg • Mariager Fjord, juli 2005 – Rasmus Ovesen, Denmark
6.0 kg • Påskallavik, october 1995 – Pelle Klippinge, Sweden
---
5.9 kg • Oslofjorden, Hurum, march 2002 – Pål Jahren, Norway
5.9 kg • Malmö, april 2010 – Jesper Malmberg, Sweden
5.9 kg • Påskallavik, august 2020 – Pelle Klippinge, Sweden
5.8 kg • Påskallavik, september 2016 – Pelle Klippinge, Sweden
5.8 kg • Stavern, june 2005 – Jostein Pettersen, Norway • click for photo
5.8 kg • Asker, april 2009 – Manfred Olsen, Norway
5.8 kg • Helsingborg, august 2001 – Johan Bergqvist, Sweden
5.8 kg • Hammarudda, april 2002 – Ingmar Eriksson, Åland, Finland
5.7 kg • Beiarfjorden, april 2012 – John Atle Figenschau, Norway
5.7 kg • Nordkysten, novemeber 1995 – Rasmus Hansen, Denmark • click for photo
5.6 kg • Onsala, august 2016 – Michael Dahlberg, Sweden • click for photo
5.6 kg • Bornholm, march 2001 – Jørn Bristing Mossin, Denmark • click for photo
5.6 kg • Vollen, Asker, may 2001 – Marvin Kvernö, Norway
5.6 kg • Spirabukta, Asker, march 2003 – Morten Haavaldsen, Norway
5.6 kg • Isefjorden, april 2008 – Rasmus Ovesen, Denmark
5.6 kg • Langebåt, april 2008 – Magnus Paulsen, Norway
5.5 kg • Gotland, september 2011 – John Kärki, Sweden • click for photo
5.5 kg • Påskallavik, august 2019 – Pelle Klippinge, Sweden
5.5 kg • Bornholm, may 1995 – Karsten Mauritzen, Denmark
5.5 kg • Öland, october 2014 – Tom Larsen, Denmark
5.5 kg • Lyngenfjorden, may 2003 – Daniel Larsen, Norway
5.5 kg • Sydkusten, august 2018 – Linus Allerstål, Sweden • click for photo
5.5 kg • Æbelø/Nordfyn, april 1990 – Lenny Stolborg, Denmark
5.4 kg • Helsingborg, april 2017 – Patrick Klemm, Sweden • click for photo
5.4 kg • Påskallavik, november 1992 – Pelle Klippinge, Sweden
5.3 kg • Eidangerfjorden, june 2007 – Geir Sandvik, Norway
5.3 kg • Påskallavik, september 2021 – Pelle Klippinge, Sweden • click for photo
5.3 kg • Helsingborg, september 2021 – Stefan Nilsson, Sweden • click for photo
5.3 kg • Påskallavik, august 2017 – Pelle Klippinge, Sweden
5.3 kg • Oslofjorden, april 1999 – Thomas Larsen, Norway
5.3 kg • Beiarfjorden, may 2012 – John Atle Figenschau, Norway
5.3 kg • Sydkusten, june 2014 – Richard Larsson, Sweden • click for photo
5.3 kg • Påskallavik, september 2021 – Pelle Klippinge, Sweden • click for photo
5.2 kg • Ireviken Gotland, january 2020 – Peter Landergren, Sweden • click for photo
5.2 kg • Troms, april 2016 – Anders Vråberg, Norway • click for photo
5.2 kg • Stevns, september 2013 – Jesper Roholm, Denmark • click for photo
5.2 kg • Beiarfjorden october 2019 – Ingar Folde, Norway • click for photo
5.2 kg • Bornholm, april 1992 – Karsten Mauritzen, Denmark
5.2 kg • Öland, december 2000 – Lasse Karlsson, Sweden
5.2 kg • Skånska Ostkusten, april 2017 – Martin Johansson, Sweden • click for photo
5.2 kg • Eckerö Åland, may 2011 – Ingmar Eriksson, Finland
5.2 kg • Helsingborg, may 1999 – Johan Bergqvist, Sweden
5.2 kg • Jaelöya, april 2001 – Svein M. Fredriksen, Norway
5.2 kg • Ystad, april 1999 – René Palmér, Sweden
5.2 kg • Påskallavik, april 1994 – Pelle Klippinge, Sweden
5.2 kg • Fyn, march 2005 – Steffen Hinchely, Denmark
5.1 kg • Egersund, may 2003 – Øystein Davidsen, Norway • click for photo
5.1 kg • Helsingborg, september 2006 – Johan Bergqvist, Sweden
5.1 kg • Påskallavik, may 1995 – Pelle Klippinge, Sweden
5.1 kg • Listerlandet, april 2016 – Johan Häkkinen, Sweden
5.1 kg • Vröj, september 2016 – Jørn Bristing Mossin, Denmark • click for photo
5.1 kg • Sjaelland, august 2017 – Allan Overgaard, Denmark • click for photo
5.0 kg • Bornholm, april 2001 – Flemming Christiansen, Denmark
5.0 kg • Bunnefjorden, november 2010 – Frank Jeppson, Norway
5.0 kg • Påskallavik, april 1984 – Pelle Klippinge, Sweden
5.0 kg • Sandebukta, october 2010 – Joaquin Santana, Norway
5.0 kg • Påskallavik, november 2012 – Pelle Klippinge, Sweden
5.0 kg • Vindekilde strandvej, april 2015 – Jørn Bristing Mossin, Denmark • click for photo
5.0 kg • Kneabro, april 2014 – Jørn Bristing Mossin, Denmark
5.0 kg • Skånska ostkusten, january 2015 – Martin Johansson, Sweden • click for photo
5.0 kg • Östra sydkusten, march 2016 – Richard Larsson, Sweden • click for photo
5.0 kg • Påskallavik, september 2019 – Pelle Klippinge, Sweden
5.0 kg • Barsebäck, march 2019 – Andreas Sjögestam, Sweden • click for photo
5.0 kg • Stevns, august 2012 – Andreas Aggerlund, Denmark • click for photo
5.0 kg • Omø, april 2018 – Carsten Næblerød, Denmark • click for photo
5.0 kg • Trondheimsfjorden, may 2020 – Ivan Solli, Norway