Today we direct the big curious magnifying glass at Swedish saltwater fly tier par excellence, Jonatan Ternald. Jonatan was one of the first tiers that started using our hooks, and he has been a fabulous inspiration for us ever since.
If you've followed our Instagram feed you've already seen literally dozens of his flies. Jonatan has a speciel take on shrimps and scuds, but just about anything he ties has got that little extra something, that makes him stand out in a crowd of highly talented Scandinavian fly tiers.
His ties are just clean, to the point and always super elegant. I'm a fan, and I wanted to know more of this guy. So I asked him a bunch of questions, and here are his answers.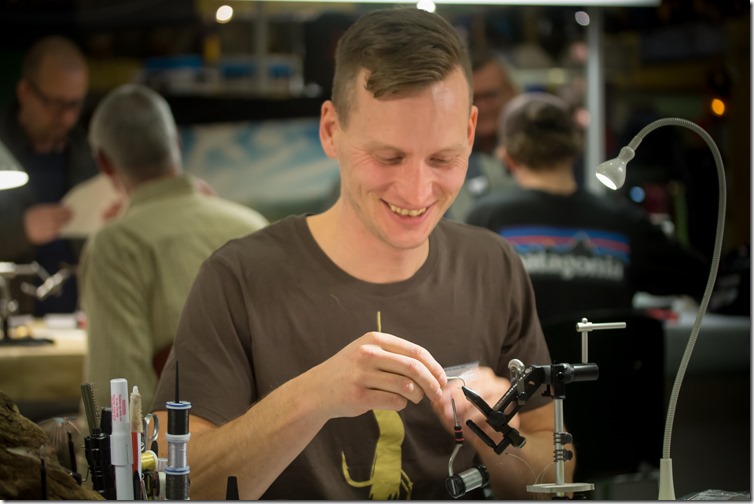 Jonatan, where do you live and which are your home waters?
I live on Brännö, a small island in the southern archipelago outside of Gothenburg, Sweden – and this is where I do 99% of my fishing. Compared to much of the Scandinavian seatrout (sea run brown) fishing scene, the main difference is that I hardly ever need my waders. Instead I do a lot of fishing from boat as well as directly from the rocky coast into rather deep water.
What's your day job?
I'm a carpenter and I work on Brännö. So I can fish the early hours before work… or sometimes even during my lunch break.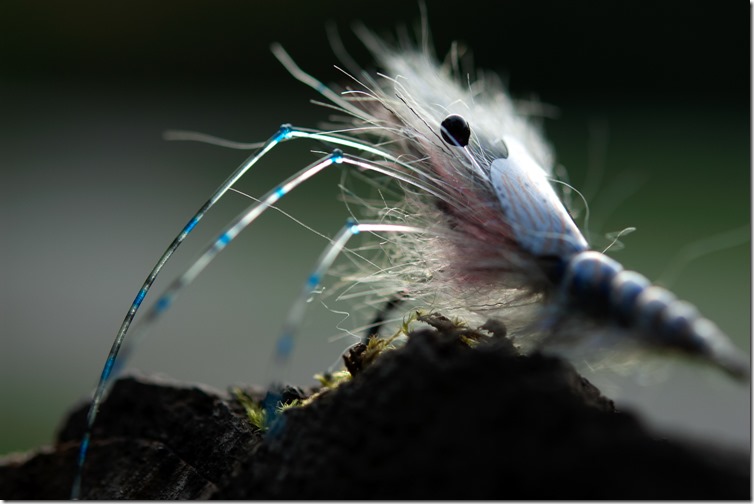 That is convenient :0) When and why did you take up fly fishing and fly tying?
I am a late bloomer, and actually first started fly fishing about 6 years ago. After fishing flies on the spinning rod in bombarda style, I got curious. I wanted to try real fly fishing. It didn't take more than one cast with the fly rod before I was hooked.
I started fly tying not long after. I felt that I wanted to be able to imitate the fish and shrimps I saw when I was fishing. And the flies I got hold of at that time didn't do that very well.
So I guess it's fair to say, that your main interest lies at saltwater fly fishing?
Yeah. I primarily fish for searun brown trout. That's what it's all about for me.
And I just love tying shrimps! All kinds, but I have special love for the realistic ones. I tie a lot of sand eels as well. And I love to play around with different materials: Especially taking materials that are meant for something else and incorporating them into the fly.
I don't dare to say how many hours per day I spend thinking about fly tying and different ideas for new patterns…. but I can say that I'm a fly tying junkie :0)
Who inspired or inspire you – past or/and contemporary masters or friends?
One of the people that have been the biggest inspiration is Rune Wespthal. First time I saw his Magic Shrimp I was completely blown away!
And my good friend Agne Sjöberg is always a great inspiration.
But I get so much inspiration from so many people, especially from people posting their flies on instagram.
Are there any new ideas and projects you wanna share with us. What's in the pipeline?
Well… I really like my archipelago-fishing. But living on the west cost of Sweden means that the season is short, 1 April to last of september. A lot people fish hard April and maybe may, and then stop fishing on the coast until late august – with the exception of a few trips out night fishing.
I used to follow that pattern as well, but in recent years I've been fishing a lot in the summertime, and I've been catching more and more strong fat fish!
The key to succeed for me has been heavy sinking lines: 5-7 inch per second. I'm fishing on steep deep edges from boat using big sand eels of 10-18cm (4 to 7 inches). And I strip these at really high speed.
This fishing is so much fun! The take is often brutal and the fight may start at a depth of 5-7m, which makes the experience even more thrilling.
My next project for the summer sea trout is big articulate streamers! Probably a lot of fishermen have tried this already, and I'm convinced that the old rule "big fly big fish" also apply in the sea. If it works for fresh water it should work in the sea. And once again… I think speed will be a key element.
We are looking forward to follow that process, Jonatan. Thanks a lot for your time.
That's all for today folks. The pictures of Jonatan's flies are captured by Morten Valeur. Go to Ahrex Hooks Instagram to see more, and be sure to follow Jonatan on Instagram as well.
Have a nice weekend :0)
Michael