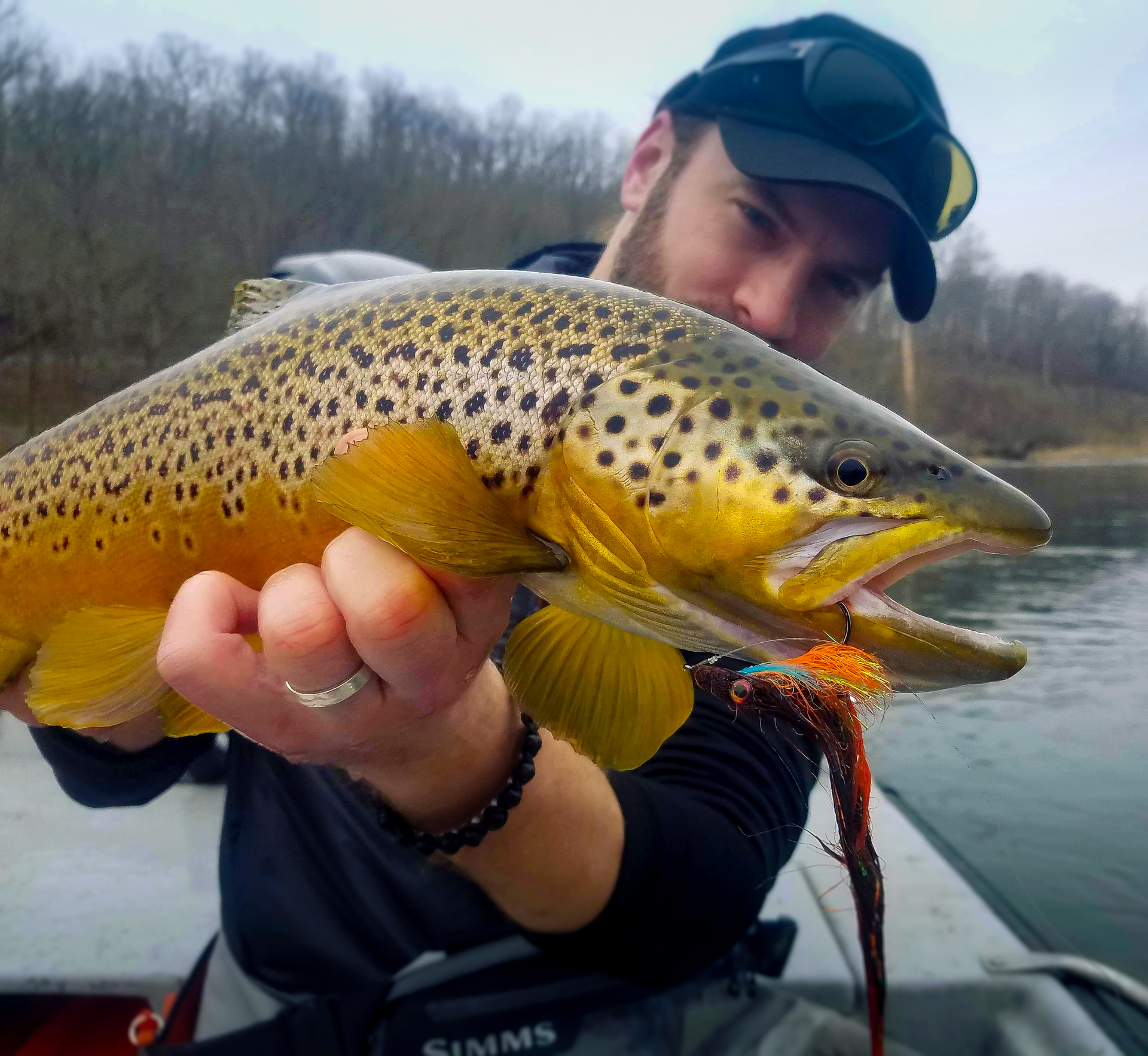 Andreas Andersson is one of the world's most creative and talented streamer fly tiers – and he played an important role in the team, that designed our Trout Predator – and Predator series hooks.
Andreas never stops tinkering with hooks, materials and fly design. I have never met anyone so dedicated to his craft – and he goes into fly design with an almost scientific approach. On the water, he is a freaking streamer chucking machine – fishing hard… and as long as it takes to find a trout willing to kill his large flies.
Serious stuff aside, Andreas is just a freaking cool dude to fish or hang out with. Always good company – and a guy I would share a boat, a beer and a good laugh with any day.
Andreas' day job is being a car salesman, but he is a pro streamer fly tier as well, and sends flies to steamer junkies all over the world. A good share of the flies that leaves Andreas' vice ends up in Arkansas, though. That's is not a coincidence. As every die hard streamer dude knows, the White River runs through Arkansas (and Missouri) – and it offers world class streamer fishing for large trout.
So when Andreas got the opportunity to make a pilgrimage to the land of streamer fishing, Cotter, Arkansas aka Trout Capital, USA was a top priority. Along the way he got to spend time with a lot of friends – counting some of the guys that practically started the whole craze about slinging large streamers for trout.
I asked Andreas to send us some pictures, and a couple of words on that trip. So here are some snaps, featuring a bunch of legendary streamer dudes, some nice trout and the fabulous White River. Accommodated by Andreas' own words, enjoy!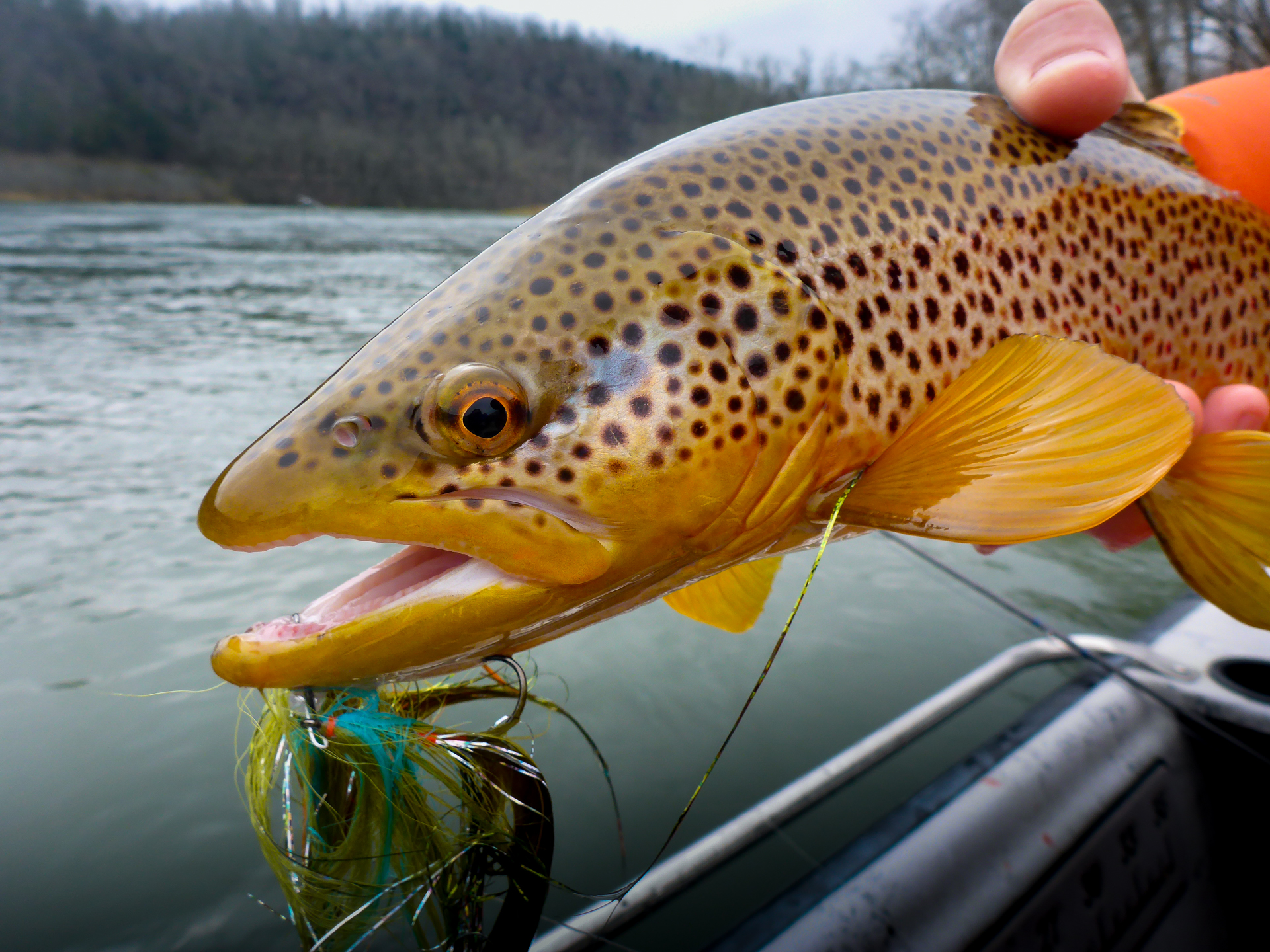 "Early morning trout. Not the biggest of the trip, but one of the most beautiful… and hungriest, it took a 9″ Deliveryman."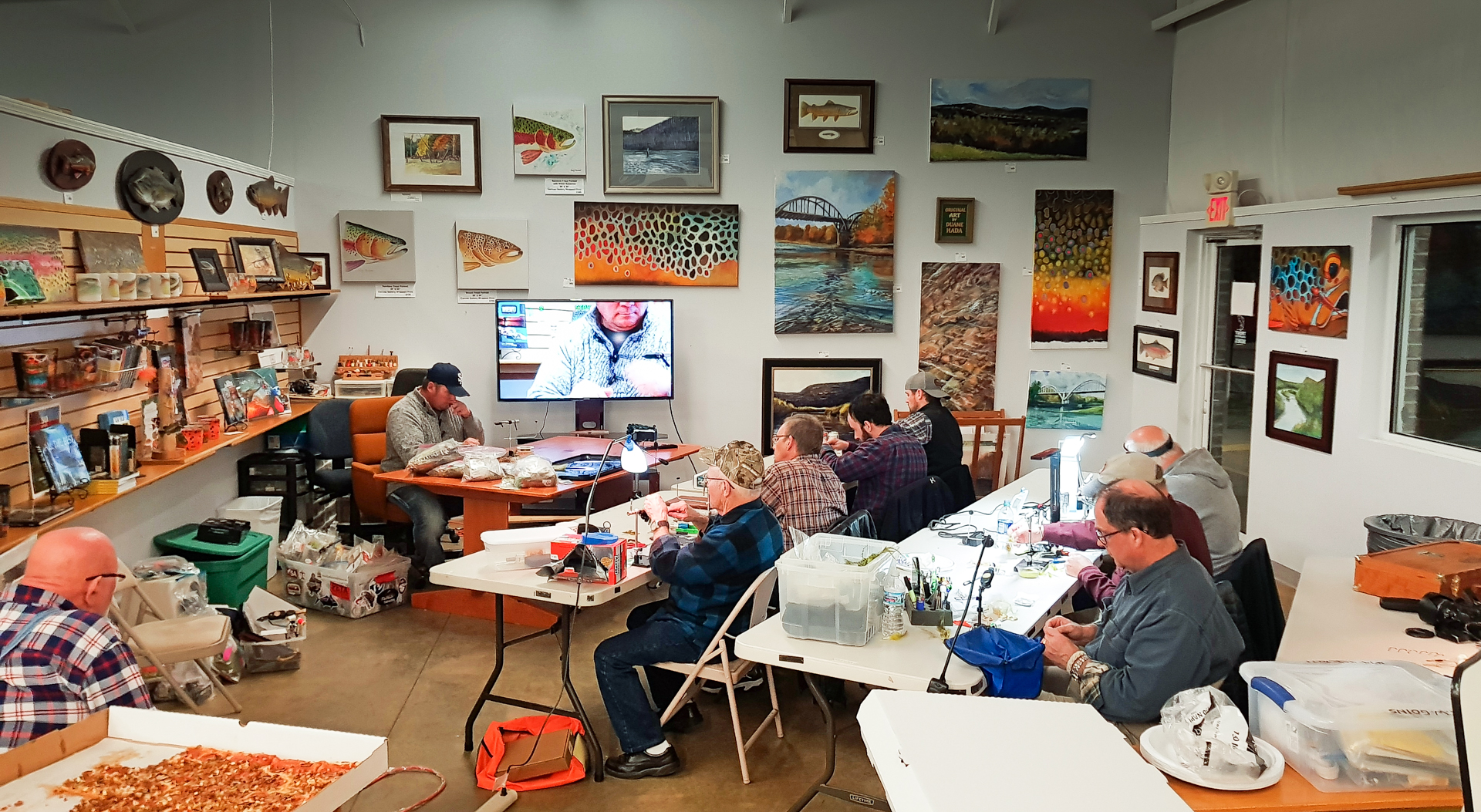 "Tying class at Dally's Ozark Flyfisher – with me and Russ Maddin teaching. Definitely a great time and good pizza too."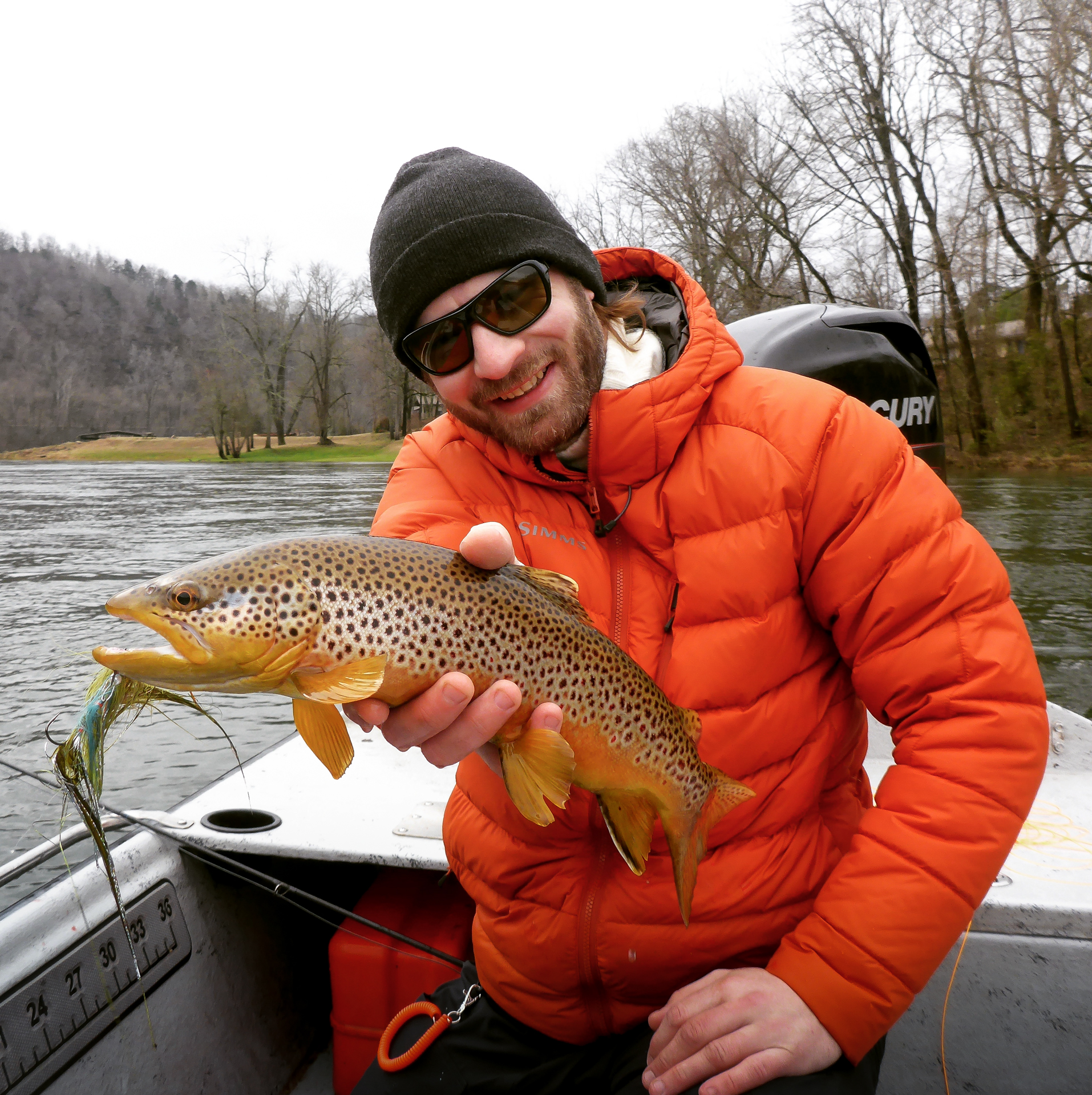 "A lot of orange in this picture ;0) Gotta love the pattern on that trout."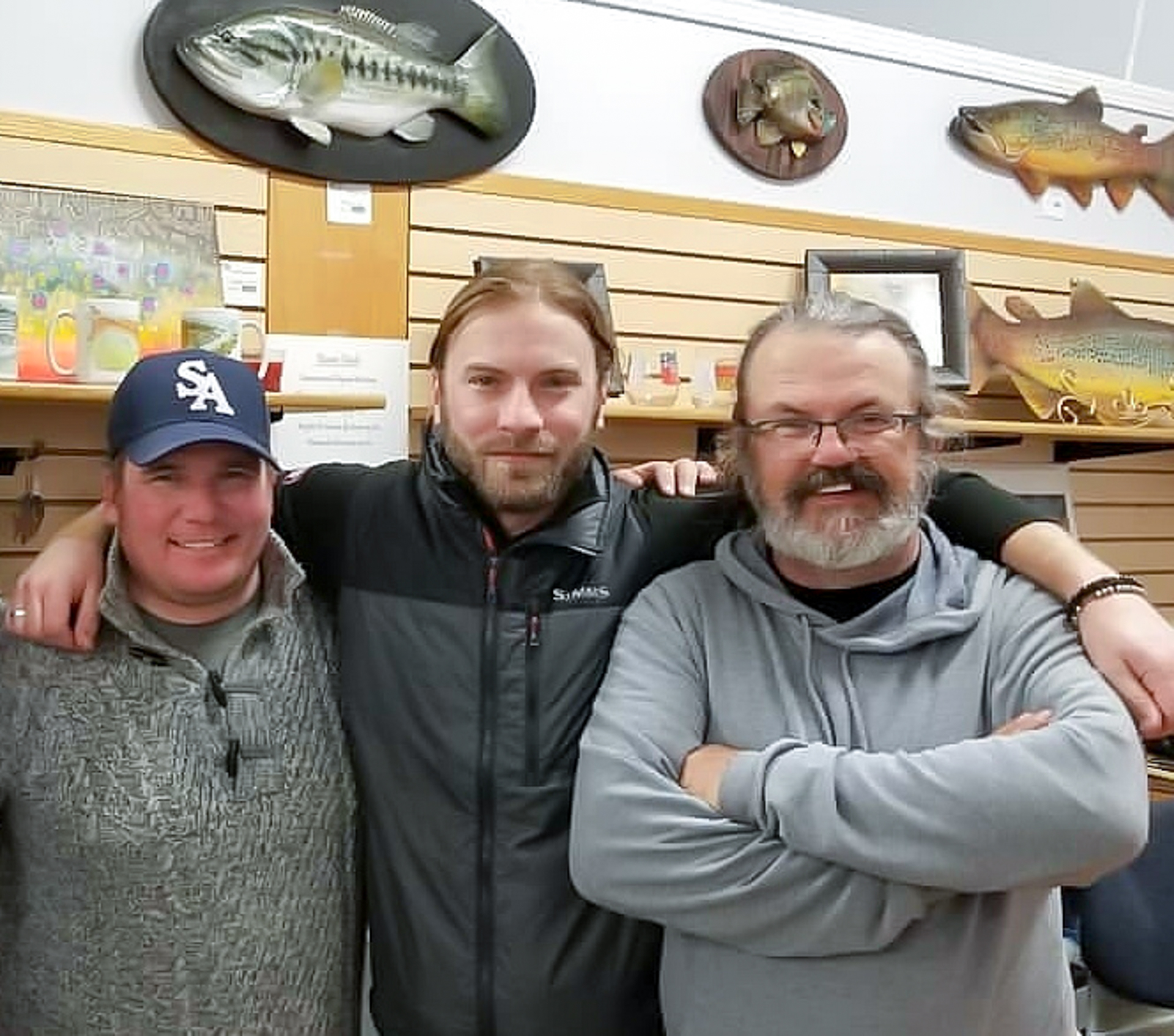 "It's almost as in the classic joke. An American, a Swede and an Aussie walks into a bar… or actually a flyshop. Hanging out with my good friends Russ Maddin and Steven Dally."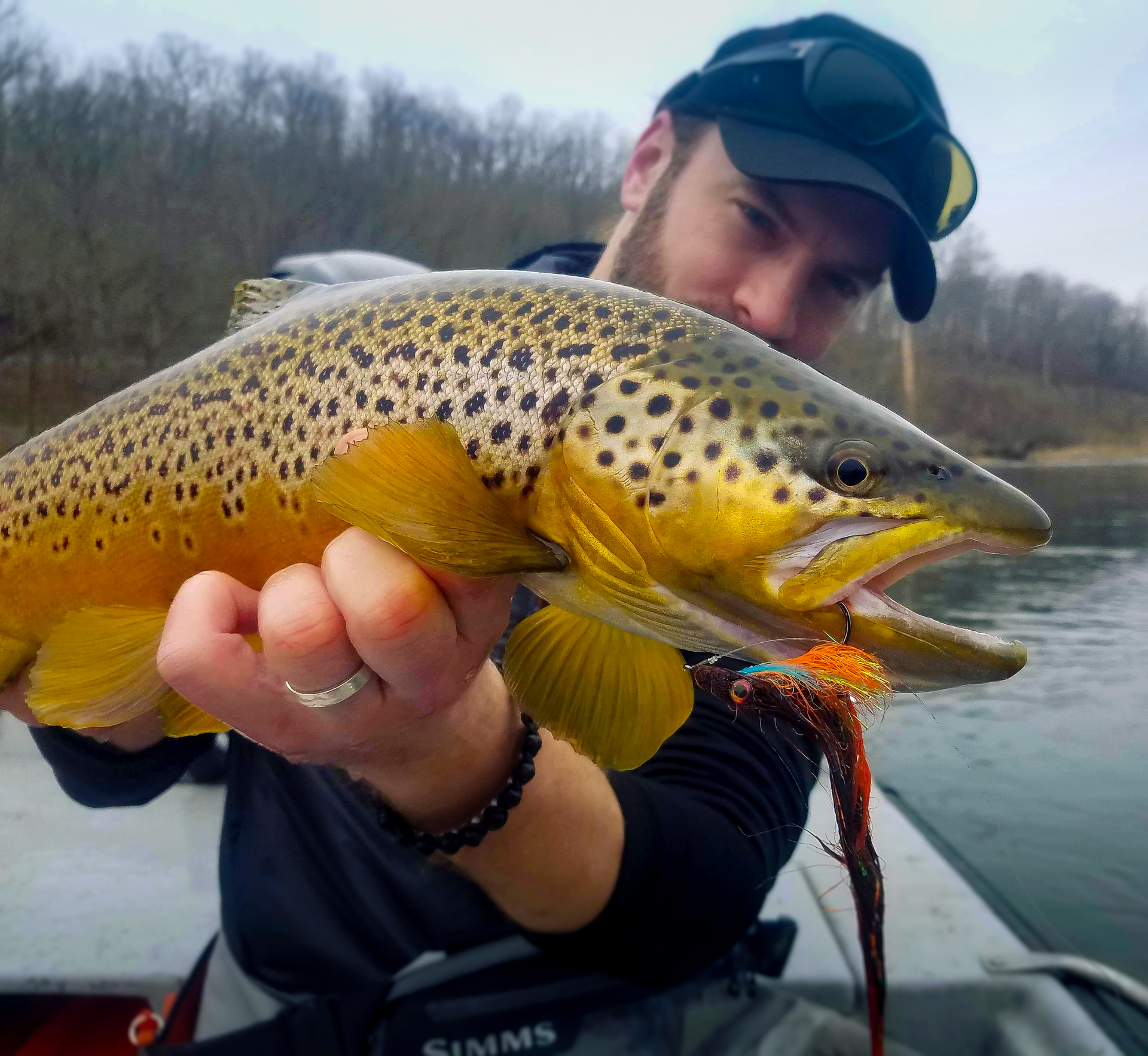 "This was such a great prize to get, after the first day being filled with struggle and misery. I wasn't close to being on my best hook-up game and I missed countless good fish. I broke our guide Alex Lafkas' heart that day… missing a monster. This one though, grabbed solid hold of a 7″ Brown/orange/blue (Un)holy Diver."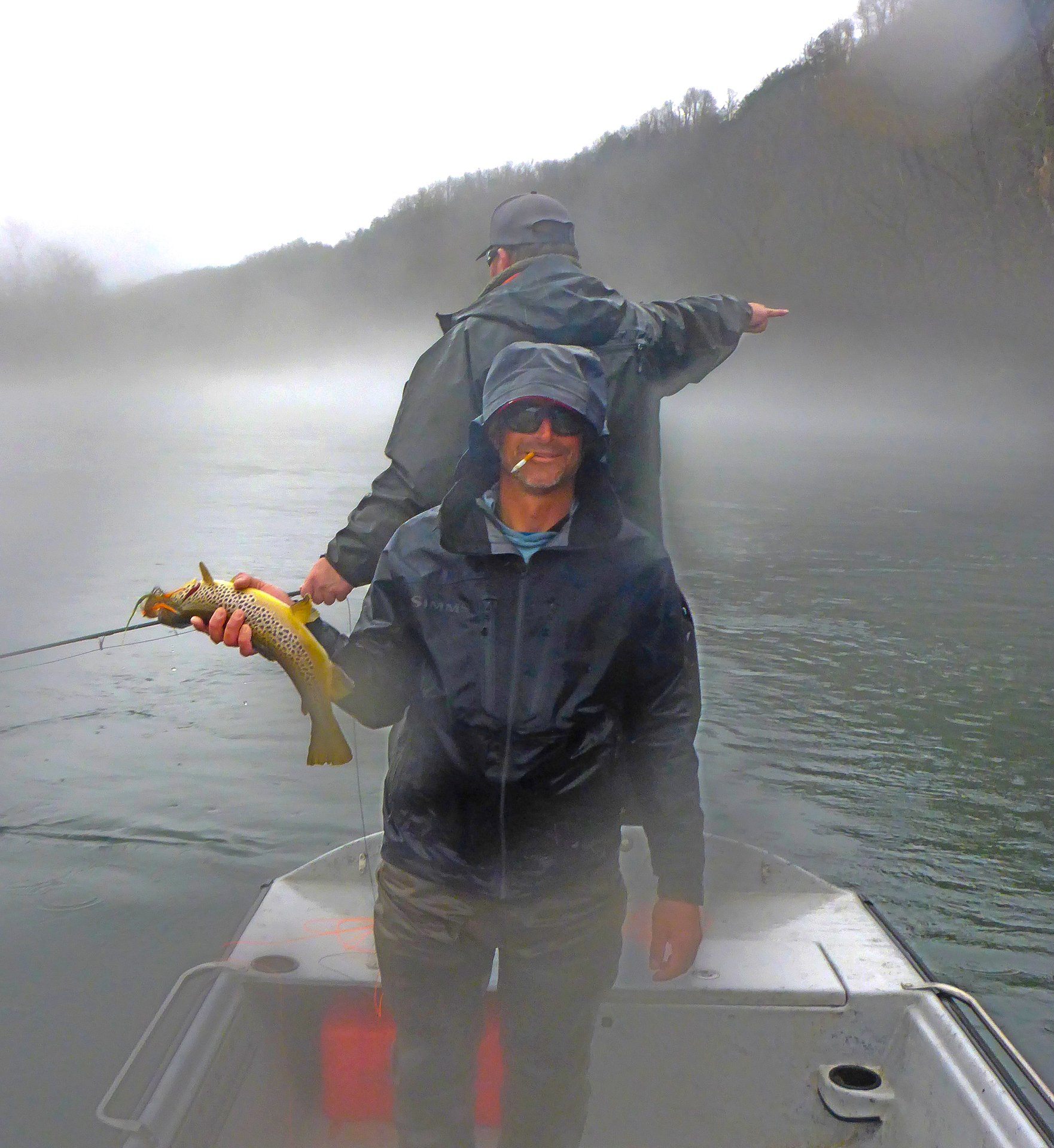 "When you are really into trying to catch that ONE big fish! This scene sums up all the madness nicely. Alex is yet to unhook and release the fish Russ just caught, but Russ already has his mind set on where the next one might be lurking. Fantastic weather too btw: freezing fog and rain. You gotta love grinding and be willing to put in the work to be successful here, but knowing that the next fish you hook into could be a world record class trout certainly helps."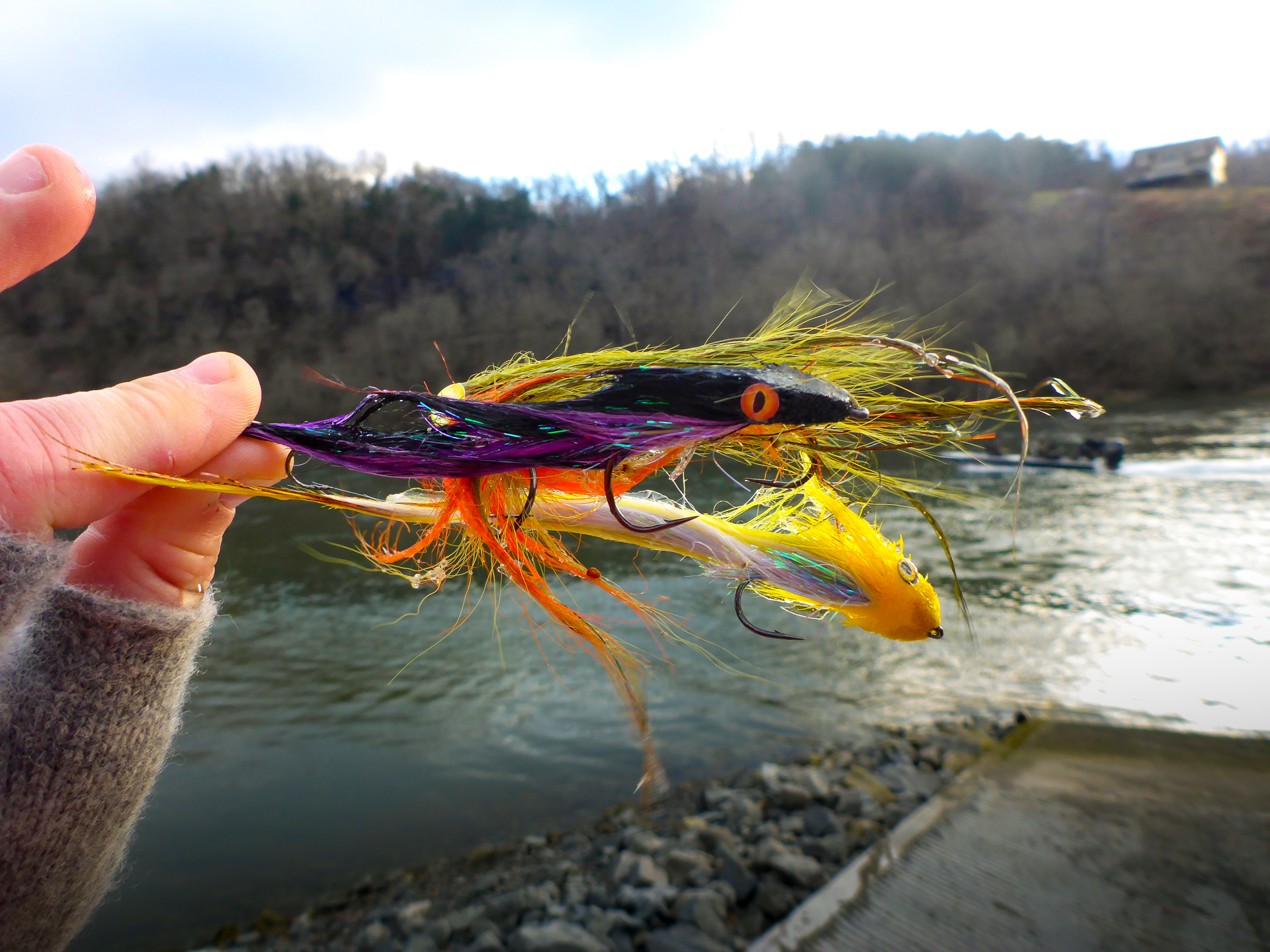 "A few of my used streamers from a cold days fishing. Frozen stiff. Definitely the only time you'll see an (Un)holy diver stiff and lifeless."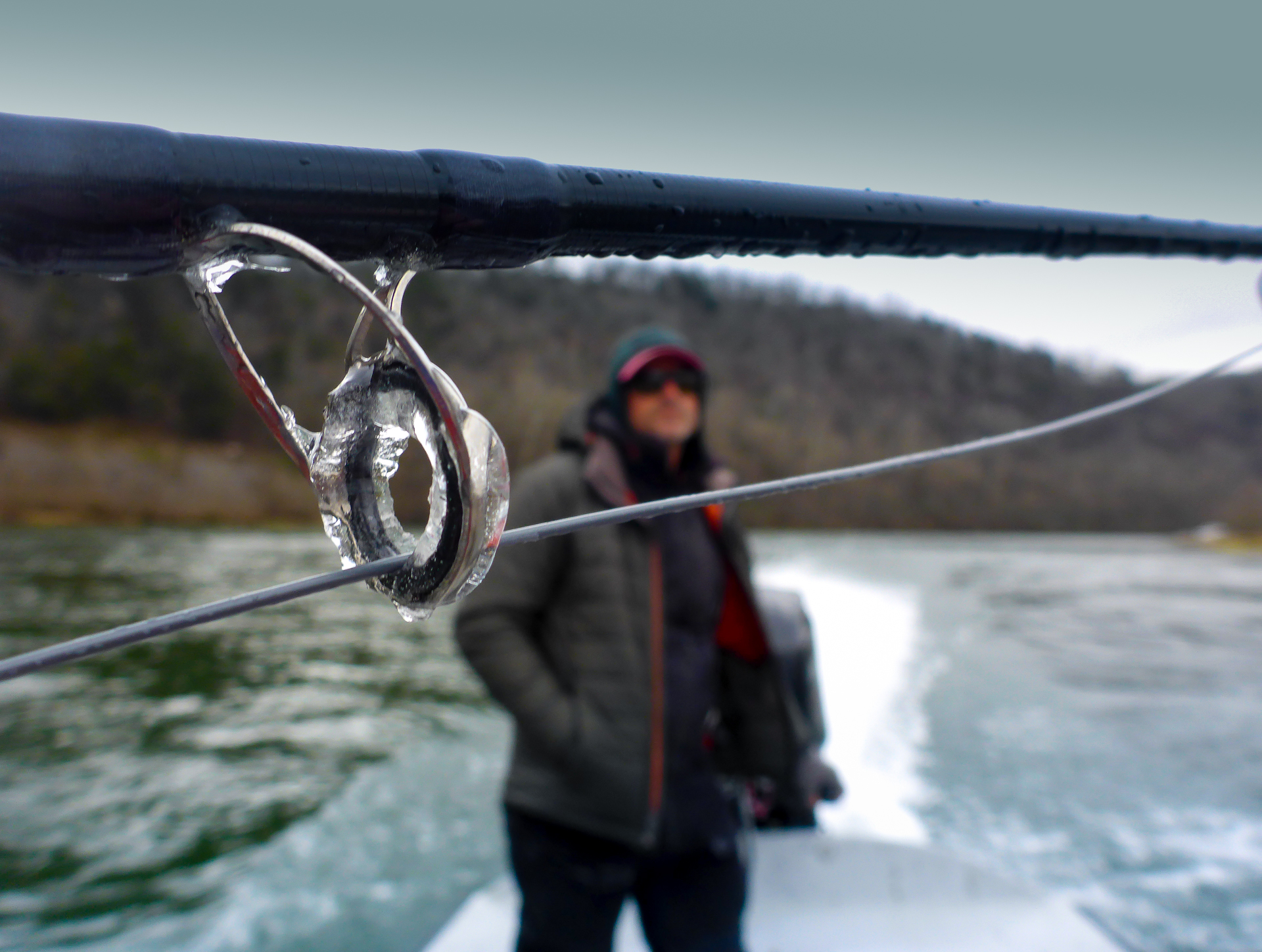 "The temperature changes during the week I spent with my friends in Arkansas were pretty severe. The day I was supposed to arrive, my buddies where fishing in flipflops and shorts. A few days later Alex had a thick ice layer on his pants from water spray while driving the jetboat – and Russ and I had ice in the line guides. One early morning we also had a tornado come through close to Cotter."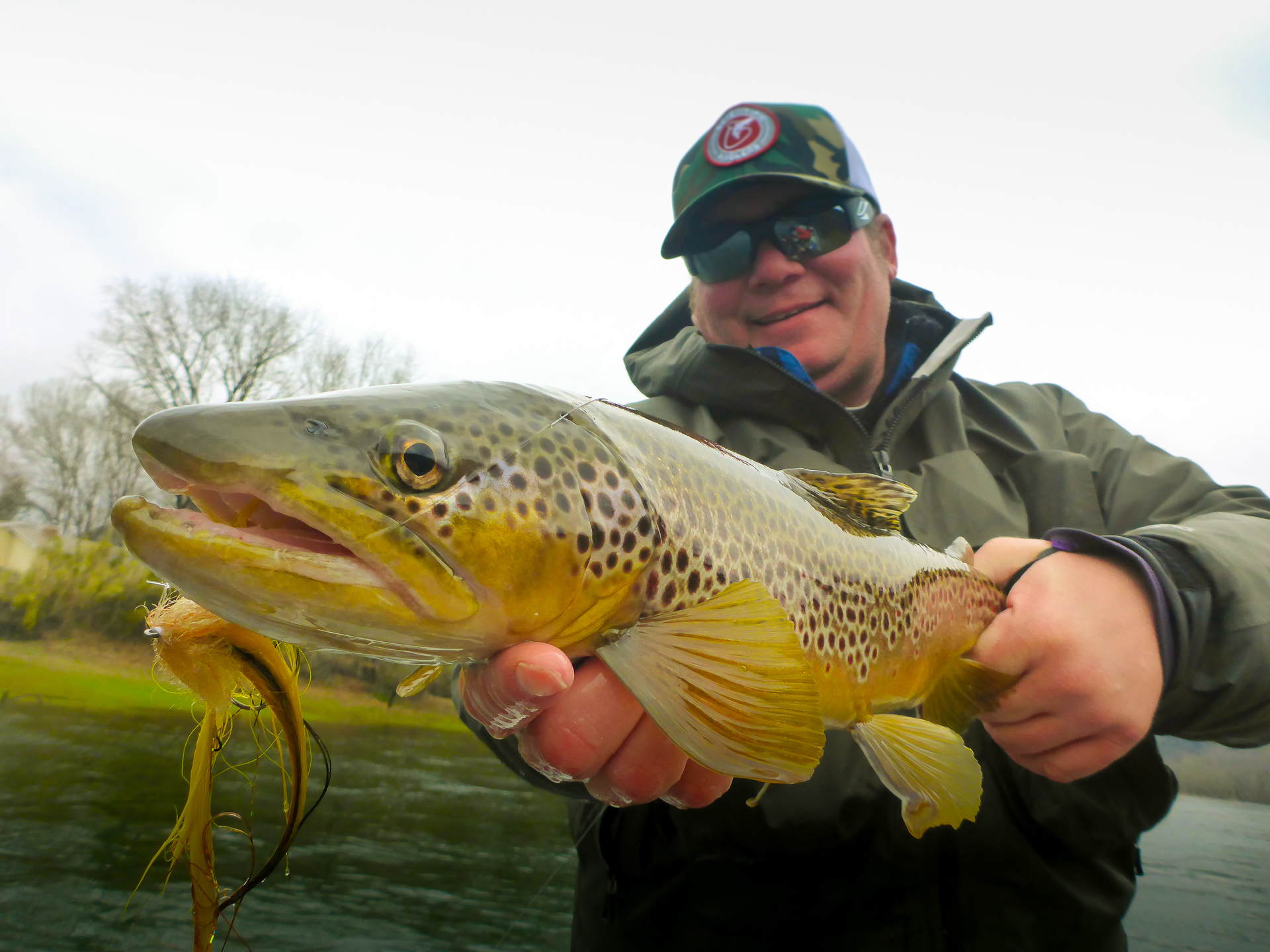 "Michigan guide and good friend Russ Maddin with a decent White River brown. Caught on one of his Flash Monkey streamers: Fishy and well designed… as all of his bugs."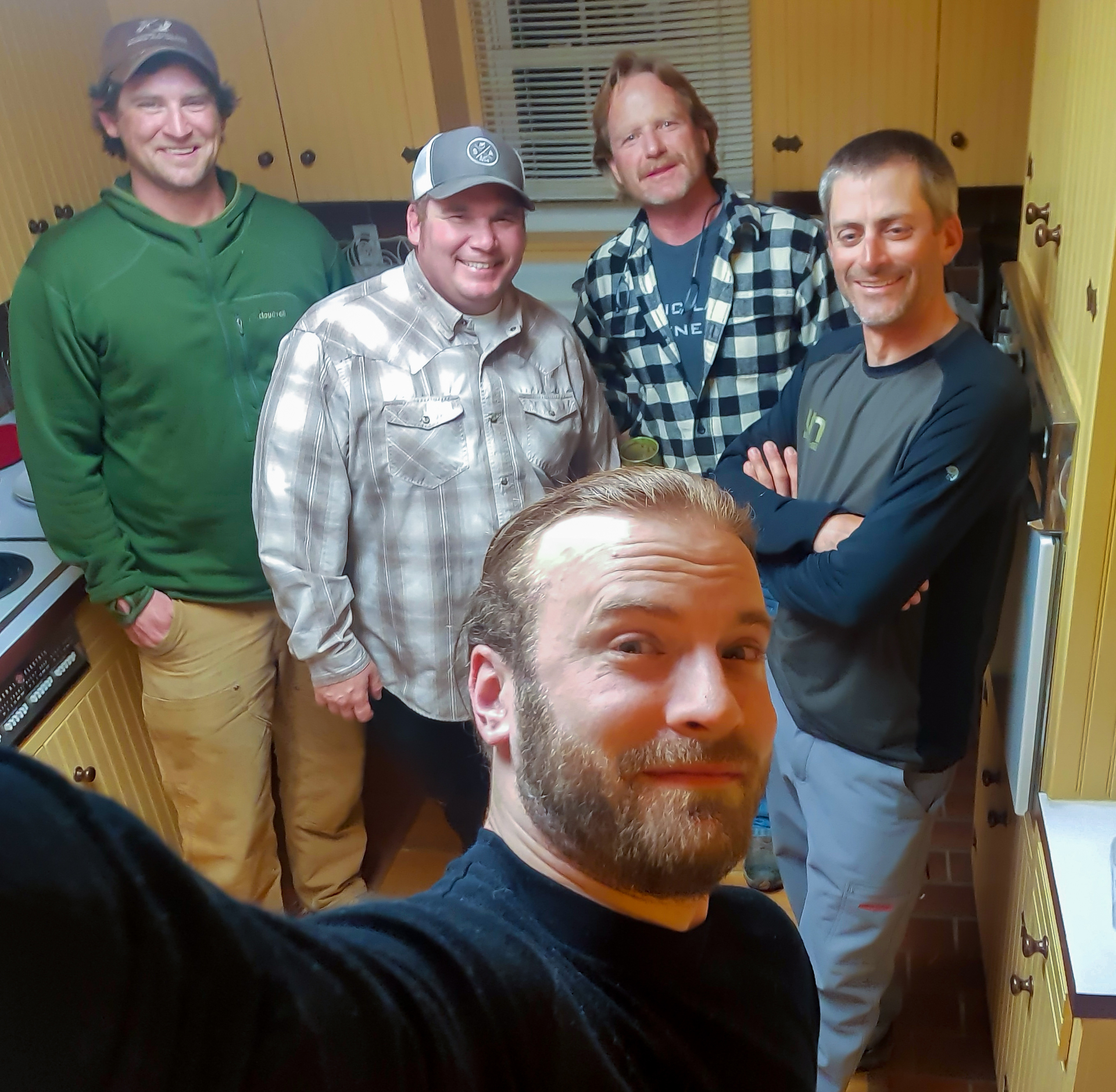 "Hanging out with some likeminded friends. John McClure (Head guide) and Kelly Galloup (Legend and slightly crazy person) from Galloups Slide Inn in Montana joined us for a couple of dinners, and they brought some super tasty Montana beer. Lots of talk about fishing, fly design… and quite a lot that's not suitable for writing ;0)"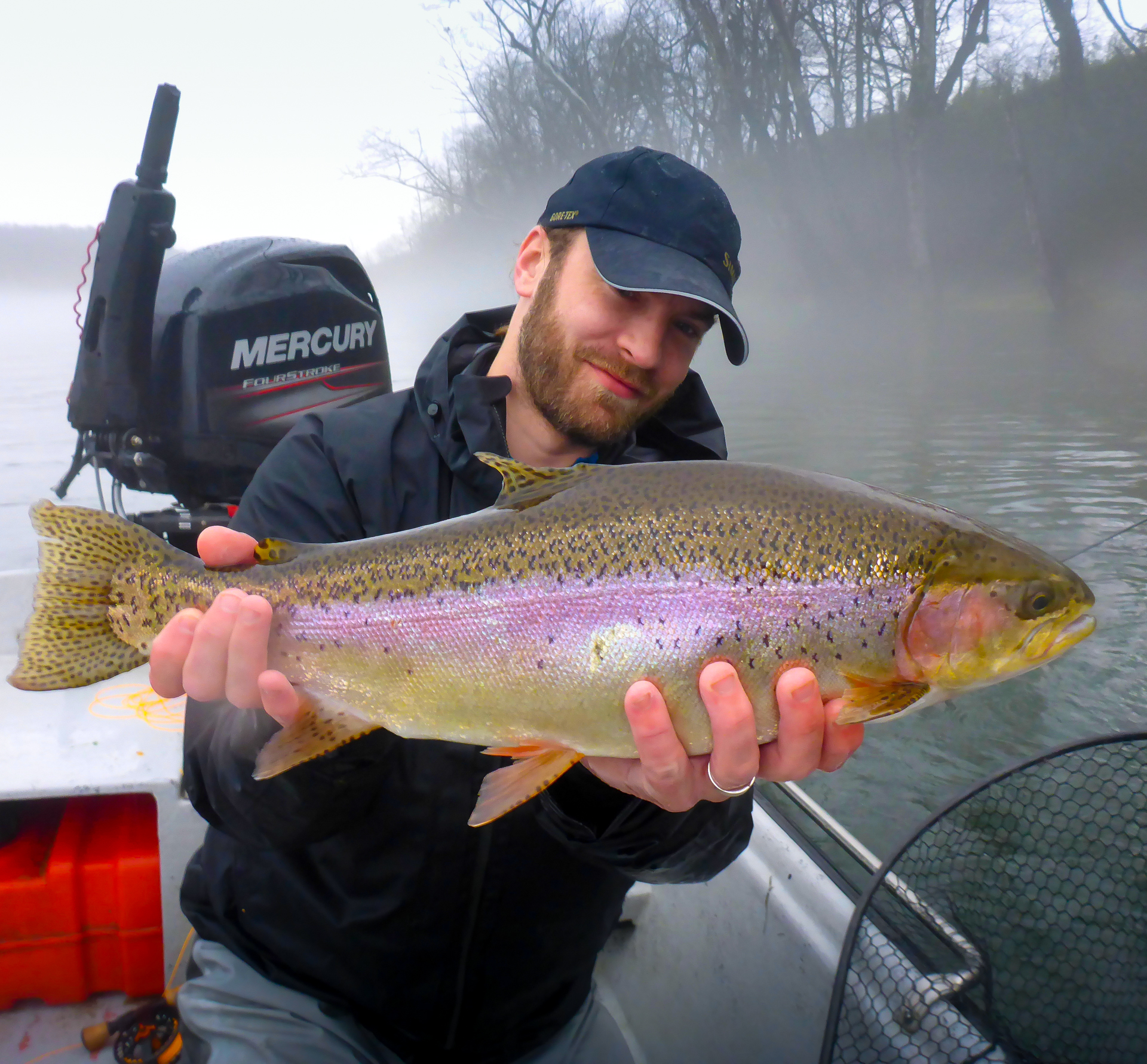 "Don't know why they feed footballs to the rainbow trout in this river but obviously they do. Good sized bow living right in the danger zone close to one of the resorts along the river."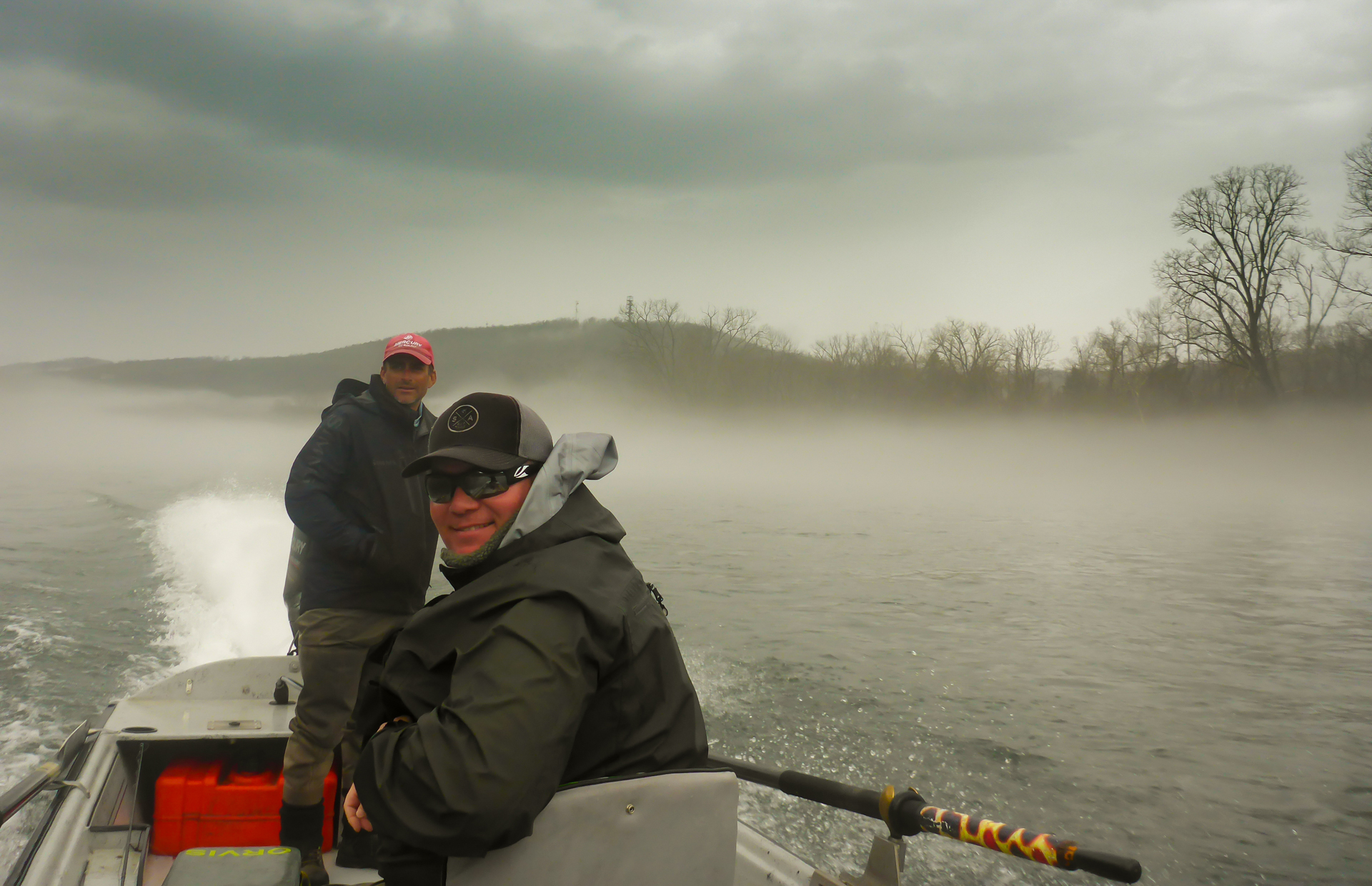 "So convenient to have a jet boat in a big river like this one, being able to hop from side to side, run a piece of river again or change spots fast is great. Too bad getting one of these over to Sweden is over my current fishing budget."
Two new videos from Andreas Andersson 
Ok, that was nearly all from Andreas for this time, but not quite. We have two brand new videos as well: The Huck Sculpin, featuring the cool Sculpin Helmets from Flymen Fishing Company – and the simple but super effective CF Baitfish Firetiger.
Find more info on Andreas Andersson:
Instagram: https://www.instagram.com/andreas13andersson/
Facebook: https://www.facebook.com/andreas.andersson.73157
Have a nice weekend :0)
Michael