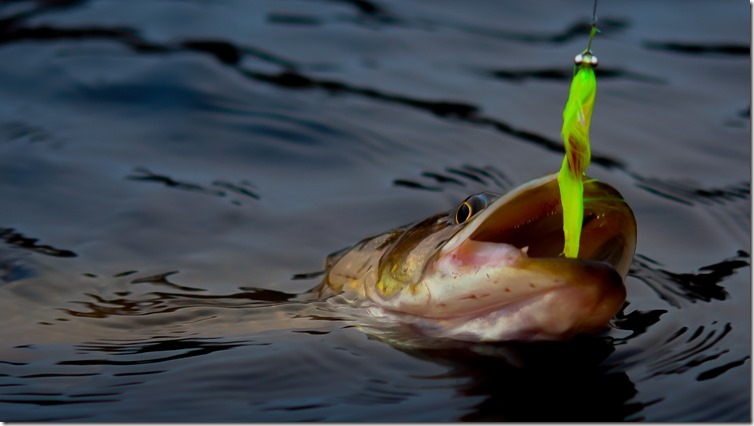 The days are slowly getting longer and the sun gains power for every week. It's midwinter – but on good days there is a promise of spring in the air. And… even in winter there is fish to be caught, if you dress up to meet the conditions.
One of the main targets for a lot of fly fishermen at this time of year is pike – and judging by the cool flies you guys tie and share, pike gets a lot of attention.
Our fly of the day, The Green Beast (or in Danish: Krapyl De Luxe), is made for Pike. It's a large streamer designed by Danish fly tier and fisherman Morten Valeur decades ago. Morten wanted a fly with lots of underwater action, so he chose soft and pliable materials like arctic fox and marabou – and added some fairly heavy eyes for a jigging action.
The result was a cool breather style fly that channels the spirit of classics like the Brook's Blonde, Blanton's Whistlers and Gartside's Soft Hackle Streamer – and still manage to hold it's own.
The fly turned out to be a killer on pike and perch, and has since established a name for itself in Scandinavian predator fly fishing.
If you wanna give it a spin on your wise and a swim in your local pond, lake or river – watch the full SBS fly tying video, where Morten ties The Green Beast right here…
Agne ties a Ripple Ice Flatwing
Agne Sjoeberg from Gothenburg, Sweden is a master fly tier, and he specializes in saltwater flies for seatrout. You might have seen Agnes fabulous Scud/Gammarus flies, and to say that Agne has a love affair with our NS172 hook would be an understatement :0)
But this week, in a brand new video from El-GE Sportfiske, he use a NS172 as backbone for a cool flatwing fly. Check it out right here…
First year in business
This week was rather special, since it is exactly a year since Ahrex Hooks started. It has been an exiting year… thanks to you guys. So keep inspiring us with your flies, photos, posts and stuff – and let's get this new season rolling.
Have a nice weekend :0)
Michael