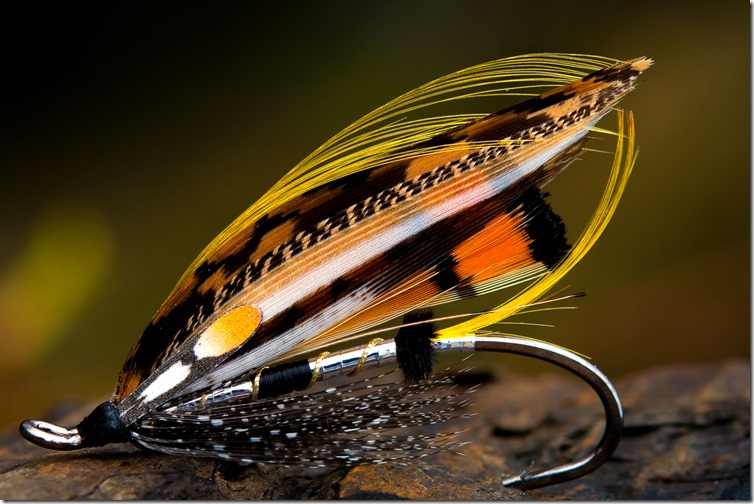 Today we put the spotlight on one of Sweden's most talented and productive fly tiers. Håkan Karsnäser has been tying flies for more than 30 years, so he is by no means a new kid on the block. He fishes in the ballpark of 100 days a year, and spends even more time on fly tying. He is a versatile and well-travelled fly fisherman but loves fishing for rainbow trout in his home waters of Hökensås in southern Sweden.
Håkan ties all kinds of flies, but has a special love for the classic salmon flies. He is not the kind of guy who get's tangled up in the process and spends a week on one full dressed salmon fly. He is more the type of guy, that wraps up a dozen full dressed Green Highlanders in a day – and they all look damn beautiful :0)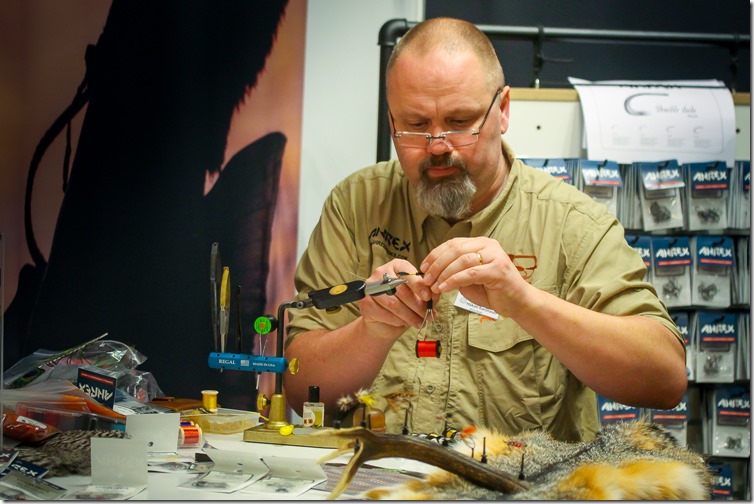 I've had the pleasure of seeing Håkan work his magic, and was impressed by his speed and consistency. Håkan ties flies the way the old professional fly tiers at Hardy's, Allcock and other companies did – way back before small Chinese girls took over. Beautiful and honest flies made for fishing. I would love to swing any of Håkan's full dressed salmon flies over a shoal of silver salmon, steelhead or sea trout.
A couple of Håkan's trout flies
But today, it's not about classic salmon flies. We asked Håkan to sit in on a tying session, and show us a couple of his trout flies. With one of the speediest tier in Scandinavia behind the vice, the result was a bunch of videos featuring some pretty cool flies. First up are a soft hackled wet fly… and an interesting modern take on the Matuka style. Both of these flies are tied on Ahrex Nordic Salt series hooks.
Partridge Express
Håkan likes soft hackled flies, especially those tied with feathers from a partridge. His Partridge Express will fool any trout worth it's salt in freshwater, but it is actually tied for sea trout fishing along the Swedish west coast. It should be tied sparse and is a good example of the less-is-more approach. Håkan chose the feathers that sits on the lower end of the back of the bird – since these hackles has got a narrow stem and fibres nearly as soft as marabou. He fish this fly over rocky bottom or sea weeds – and use a slow hand-twist retrieve spiced up with longer fast strips. It can imitate anything from shrimps and scuds… to small baitfish.
See the video tying SBS here…
Pheasant Matuka
In Håkans opinion it's a bit of a shame, that the old Matuka style has lost terrain to the Zonker fly, that has a rather similar tying style and appearance. When fishing fast flowing streams in Northern Sweden he feels, that the matuka style better keep it's profile in the current. The colours are chosen to imitate small trout or common minnows that are plentiful in those streams – and hunted by large trout. He ties and fishes un-weighted as well as weighted versions to be able to cope with different fishing situations.
See the tying SBS here…
If you want to see more of Håkan's work, check him out on Facebook and Instagram.
Have a nice weekend :0)
Michael