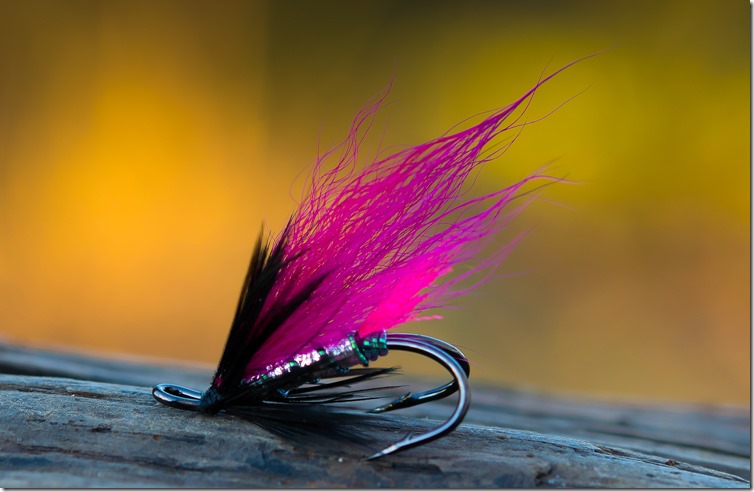 The colour pink bears resemblance to pretty few food items in the natural environment – except maybe a few shrimps and trout and salmon eggs. Never the less, most fly boxes carry at least a few pink flies.
In Denmark pink is the old black. Decades ago it was the new. But a large percentage of our saltwater flies are pink or pinkish nowadays.
Henrik Leth's Pinkie Pain, Claus Eriksen's Pattegrisen and a bunch of other flies has made pink a household colour for coastal sea trout fishermen all over Scandinavia.
Each fly tier has his or her own idea of the nuance, so the pinkish colour spectrum runs from the peachy salmon pink in Pattegrisen to the hot fluorescent pink in flies like the egg and roe imitating Glo Bugs and Roe flies.
A lot of classic steelhead flies feature pink as well. And pink always seems to go well with orange and purple.
Per Tofting ties a Per's Small Pink Double
This weeks Friday fly comes from our talented Danish friend, Per Tofting, and has a couple of decades and an impressive number of sea trout (sea run brown) on the hook bend. Back then pink flies weren't exactly common in the Northern Jutlandic streams that Per frequented. Most fly fishermen used black and orange flies. Per already had great success with pink flies in saltwater, so he introduced the river running sea trout to the Small Pink Double.
Needless to say… the introduction went well. The first season gave Per lots of silver runners and a new personal best. The fly seemed to be the hot ticket – for day fishing as well as for the hours between dusk and dawn.
Most often Per ties this fly on a weighted double hook in size 6-12 but occasionally he uses a small tube fly version as well. When the water is dark and stained he might try a variation of the pattern using silver body and a grizzly hackle.
He prefers a weighted fly/floating line approach and strip the fly pretty fast.
Watch Per tie his Small Pink Double right here…

Have a nice weekend :0)
Michael