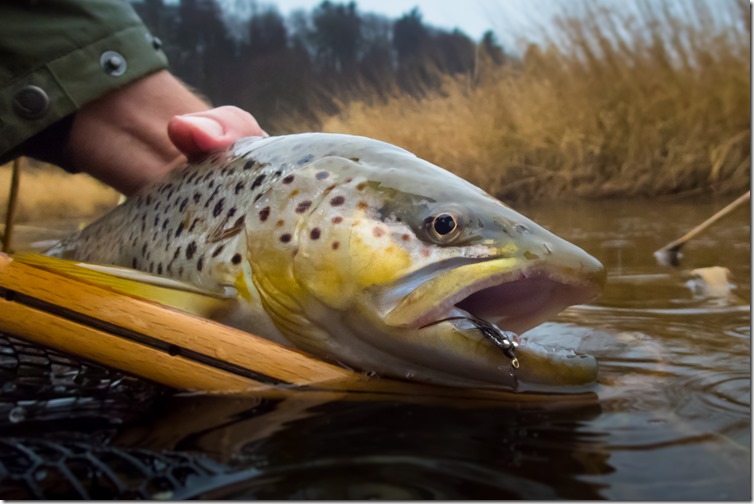 At Ahrex Hooks we feel rooted in the Scandinavian fly fishing tradition – but we never try to fool ourselves into thinking that Scandinavia played a major role in the early years of fly fishing. Our first claim to fame on that account probably was, that Victorian era English gentlemen visited Danish, Swedish and Norwegian streams to swing flies for our – back then – very healthy population of salmon and brown trout (sea run as well as stationary).
Naturally when these tweed clad pioneers fished our rivers and lakes – we watched… and learned. And later on we started developing our own Nordic tradition and fly fishing culture.
Today I will invite you on a little journey back in time, and touch down at the banks of the beautiful River Mörrum in Southern Sweden, year 1967. That year The Beatles released Sgt. Pepper's Lonely Hearts Club Band, one of rock's most acclaimed albums – the cold war was still freezing it's butt off – and in Svängsta – the fishing tackle manufacturer ABU decided to make their own series of flies.
That last history was so interesting, that this blogger (well… that's me) decided to write a book about it. Now it's here, and to give you a short introduction to the history – here's a couple of excerpts from the book: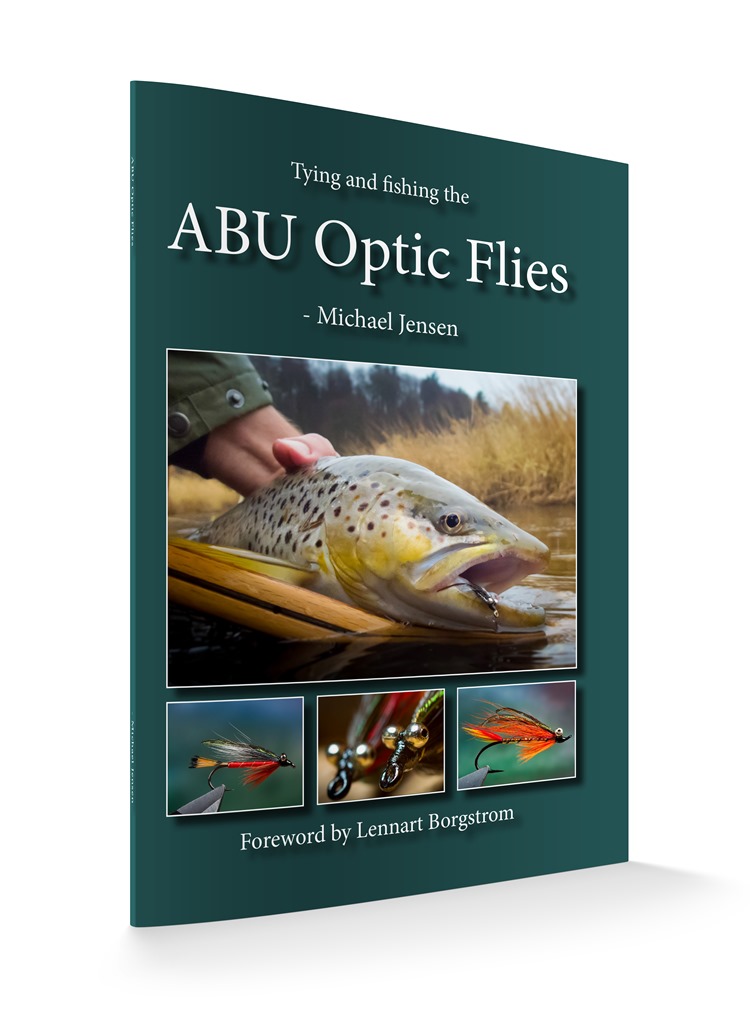 ABU Optic – an instant success
With names that sounded fresh, in-your-face and downright sexy, the Optic Fly series from Swedish tackle manufacturer ABU entered the stage like a warm summer wind in the 1960's cold war era.
When the annually printed product catalogue Tight Lines hit the tackle shops back in 1967 Callgirl, Streamtease, Pin-up and Playboy suddenly became household names – and the small optic flies entered many fly boxes.
With 80.000 flies sold in the first season alone The Optic Flies series had a serious impact on fly fishermen worldwide. But, just as interesting: the hairwinged flies also had a lot of spin fishermen wondering what this fly fishing business was all about.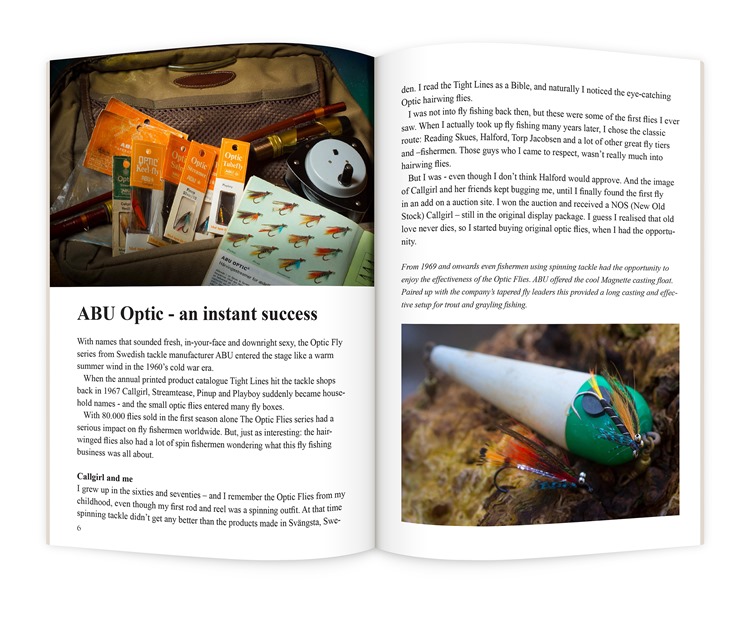 Callgirl and me
I grew up in the sixties and seventies – and I remember the Optic Flies from my childhood, even though my first rod and reel was a spinning outfit. At that time spinning tackle didn't get any better than the products made in Svängsta, Sweden. I read the Tight Lines as a Bible, and naturally I noticed the eye-catching Optic hairwing flies.
I was not into fly fishing back then, but these were some of the first flies I ever saw. When I actually took up fly fishing many years later, I chose the classic route: Reading Skues, Halford, Torp Jacobsen and a lot of other great fly tiers and –fishermen. Those guys who I came to respect, weren't really much into hairwing flies.
But I was – even though I don't think Halford would approve. And the image of Callgirl and her friends kept bugging me, until I finally found the first fly in an add on an auction site. I won the auction and received an NOS (New Old Stock) Callgirl – still in the original display package. I guess I realised that old love never dies, so I started buying original optic flies, when I had the opportunity.
Point is, that back then flies were tied using natural materials, like feathers, silk and in this case squirrel tail hair. Real classic fly tying materials that look great – but don't last for centuries… unlike some of the new synthetic materials. So the old flies didn't hold up well to hard use. After a few fish they died on me.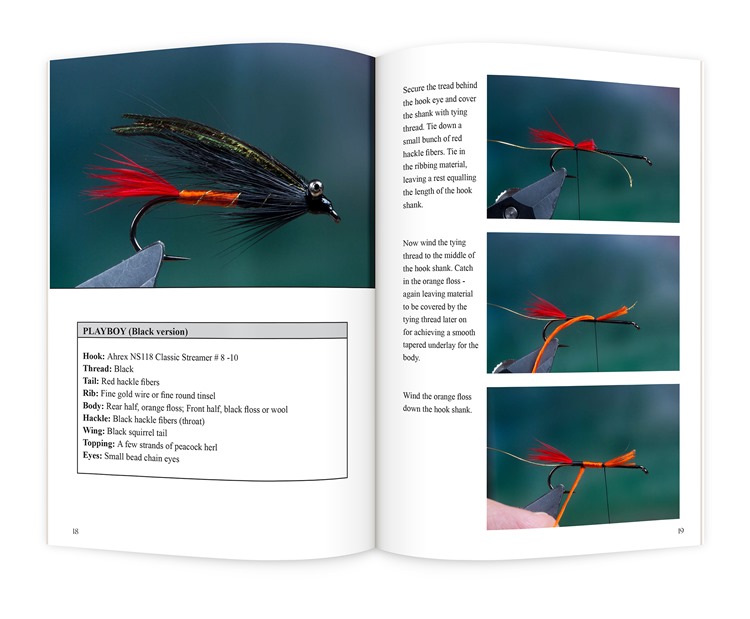 Being a fly tier I decided to tie new Optic flies myself, but it proved difficult. I was not able to get hold of the original patterns, so I started researching: Getting hold of the old colour plates from Tight Lines and studying the original flies I was able to get my hands on.
After a while I thought I had it all pinned down, but then I realised that some of the patterns seemed to change over the years. Not much, but there was a bit of inconsistency, which was kind of strange from ABU. Most of their product lines on the spinning side of things were consistent as clockwork – which wasn't surprising when you know that their fishing tackle business was started by watchmakers.
Anyway, the small changes in some of the patterns seemed to have been made mainly to achieve a smoothly running production – and not to improve the fish luring capabilities. So I decided to stay true to the early production of Optic flies in my tying recipes.
And back to 2018
In the book I trace the history of Callgirl, Streamtease, Pin-up and Playboy. My goal is to preserve a piece of Scandinavian angling history – and to give new fly fishermen and fly tiers the opportunity to experience the magic of the Optic Flies.
You will find:
– Historic update on the origin of the Optic Fly series
– Photos of all the 25 Optic Flies tied by the author
– Detailed step-by-step tying instructions on 8 flies
– Special fly tying and fly fishing tips
– 144 colour photos
– The book is hardcover and has 96 pages
If you want more information about Tying and fishing the ABU Optic Flies, drop by my website angling.michaeljensens.com
The book can be bought from my webshop and will also be available from Ahrex Hooks dealers.
Have a nice weekend :0)
Michael