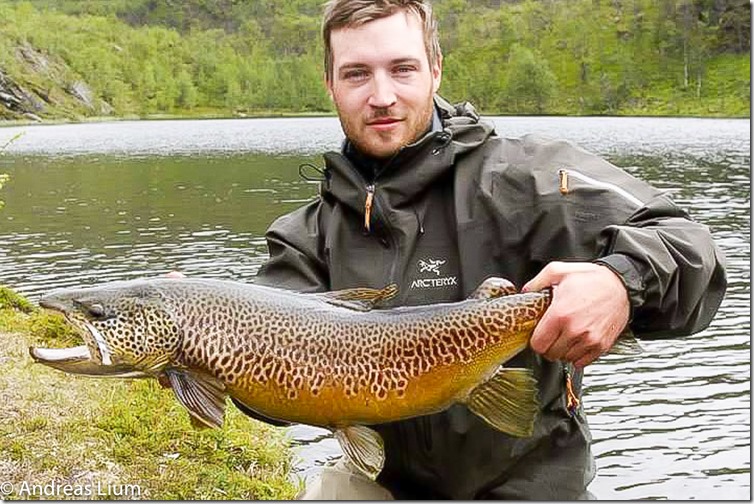 When we design new hooks, we try to do our research up front. That means checking out what's already on the market? What works great – and what sucks. And how can we improve on already existing designs. And in all these tasks, we try to get the help from creative and innovative fly tiers.
On the Freshwater Series we had valuable input from a lot of cool guys: Håkan Karsnäser, John Allan Petermann, Kaj Kirkeby just to name a few. But today we will put the spotlight on Andreas Lium, who provided some useful information about every detail concerning hook design. Andreas had answers to questions we hadn't even asked at that time, and he ended up having large impact on the design of the FW hooks.
But who is this guy anyway? Well in all the best meanings of the word… he is a nerd. But he sure is a guy that do a lot of reflection on life as an angler. I've had to pick the brain of this talented fly tier and fisherman. So hang on for a trip with Andreas into the Norwegian outdoors and down Memory Lane.
Andreas where do you live? And which are your home waters?
I currently reside just north of Oslo, in the same area where I grew up. The lakes around here has good populations of trout and char – and they used to be my learning grounds for stillwater fly fishing. Midges, mayflies and terrestrials are abundant, and I still fish these lakes every spring.
What's your day job?
At the moment, I'm working on my master thesis in Biology. I specialize in Restoration Ecology, Limnology and water pollution. I also enjoy working part time at «Angler» in Oslo, an outfitter with a strong focus on fly fishing gear. In addition, I do some freelance writing and photography; needless to say, it's fly fishing related.
You are born in 1985. When and why did you take up fly fishing and fly tying?
My father introduced me to fishing at the age of three, in a classic freestone river with plenty of trout. I started practising fly casting with my grandfather's fiberglass 7-weight at the age of five, resulting in forearm tendonitis. For my seventh Christmas, I got the fly tying kit I wanted, and the passion grew with me from there.
What is your main interest in tying and fishing? What type of flies? Type of fishing?
Being mostly self-taught, with a lot of early inspiration from experimental American fly tiers in the nineties, I feel I've tried it all at the vice. After 25 years of fly tying, the flies closest to my heart are the classic salmon flies with their history in Norway – and functional imitations for catching big brown trout and arctic char in freshwater. The classics mostly from an aesthetic point of view – and the functional imitations more from a practical ecological/behavioural point of view.
I like to try to figure the fish out. I want to know what they see through their eyes, what their emotions are like in different conditions, and what makes them react – either with fear or interest. Because of this sort of analytic approach, I really like places where it's possible to observe undisturbed big trout or char in their natural habitat. I can watch them for hours, and I believe this improves my understanding of the fish, and thus improves my fly fishing success over time. In other words, I'm into the difficult stuff. I like spending a week hunting that one big experienced fish, manic and specialized in it's behaviour after many years of eating and doing the same stuff over and over again. I guess you have to be a bit manic yourself to chase fish like those, and maybe most of all; patient.
Difficult fishing means fewer fish in the net. But when it all comes together, it's well worth the work and the wait for me. I mostly fish in Norway, as I think the fish is big and difficult enough here. The scenery up north is also hard to beat.
Who inspired or inspire you – past or/and contemporary masters or friends?
I tend to be an individualist and sort of an introvert in many aspects of life. I admit that I take some pride in being mostly self-taught, but this has pros and cons of course. The initial learning curve is definitely negatively affected when you're on your own, but on the other hand you're not restricted in your experimentation by the corrections of others.
The source of inspiration that really got me going, was definitely the American fly tying and fly fishing magazines I read when I was around 9-15 years old. These magazines stimulated creativity at the vice, and an analytic approach on the water. In many ways, these magazines turned me away from swinging/retrieving classic wet flies and on to experimentation and imitation.
I guess it's fair to say, that flyfishing and fly tying is pretty important to you?
Fly fishing as a whole means the world to me. From early childhood memories, thousands of hours creating flies at the vice, to more than two decades of exploring waters throughout Norway. The tying, casting and fishing each stimulates different aspects with great appeal to me; aesthetics, creativity, physics, hunting, physical work on long hikes and long days on the water, and when catching fish; an amazing sense of achievement. And there's also the social aspect of course. My closest friends now, are the ones I've shared my tent and most memorable trips with in the past.
Speaking of memorable experiences. Do you have some catches that stand out from the rest?
Sure. One of them is my biggest dry fly trout in Norway, caught from a tiny lake, in an area where fishing pressure is non-existent. We had discovered some interesting lakes the year before, and decided to give them another try. I tied on a big dry fly, one of my own creations, and put it out there while observing the lake. Without waders, and with the fly rod in one hand and a cup of coffee in the other. I let the fly sit for about 20 minutes without any movement, when a huge male brown trout suddenly inhaled the fly right in front of me. Another 20 minutes later, 75cm of fat rugged male brown trout was landed. One hour later, a 69cm female brown trout followed suit. Reindeer passing by, and a couple of rough-legged buzzards hovering over me. An amazing and humbling experience, and I can still remember the smell from that day when writing this.
A memorable day for sure
Yes. I feel I could write a book or three with stories like these, after a total of more than a year spent in my sleeping bag in Troms and Finnmark during the last 14 years. And I hope that many more stories will add to the collection in the years to come!
Well, Andreas. If you decide to write those stories… I for one will line up to grab it. Thanks for contributing to the blog as well as the Freshwater Series.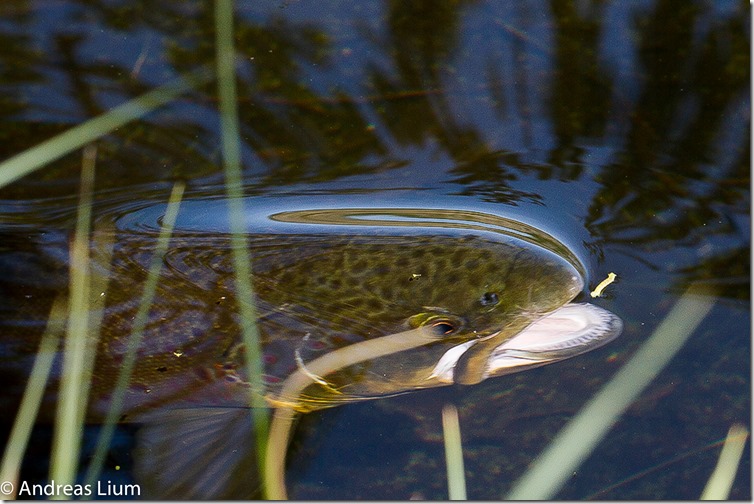 Wanna know more about Andreas?
If you want to know more about Andreas Lium, his flies, ideas and cool fishing stories, you might wanna check him out on:
Instagram: andreaslium
Facebook: https://www.facebook.com/andreas.lium
Website: www.opstrms.com
Have a nice weekend :0)
Michael