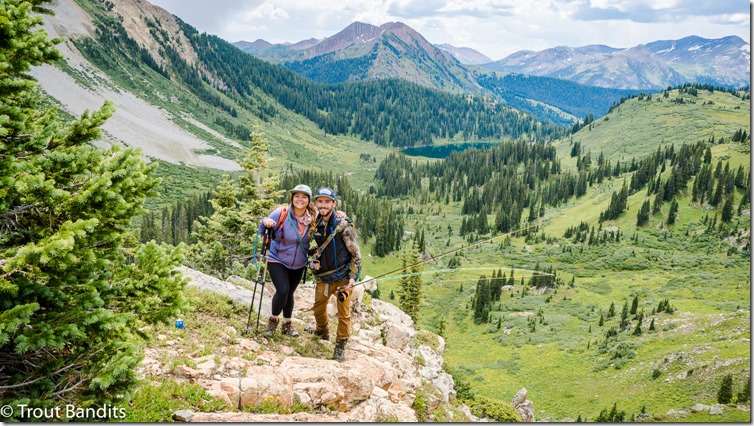 If you follow Ahrex on Instagram, you will see, that we like doing collab with artists. You might also have bumped into the name, Trout Bandits a couple of time. The name sends subconscious images of outlaws, smoking guns and the wild west.
But though Max and Jenn sure loves the outdoor life, they don't rob banks or anything. They actually find that the largest heist is just being out there fly fishing and enjoying the beautiful scenery. And the photos and impressions they bring home from the days spent outdoors, are converted into some beautiful art. Today we take a closer look at the Trout Bandits.
Max and Jennifer. You are a couple… but you are also partners in crime in Trout Bandits. Can you tell us where you live and which are your home waters?
Jenn: We live in a nook in the mountains of Colorado in the town of Basalt. Our home waters are the Roaring Fork River and the Frying Pan. We live in a thriving fly-fishing mecca, where the options are endless when it comes to deciding where to fish.
And… your day jobs?
Jenn: We both work normal day jobs from Monday- Friday. I work locally in marketing and graphic design – but mostly I daydreams about fishing and skiing while at my desk.
Max: I work for the Town of Snowmass doing facility maintenance, but get out of work with enough time to fish my way home.
When and why did you take up fly-fishing and fly tying?
Max: I have been fishing my whole life but it was not until I moved to Colorado 4 years ago that I was introduced to fly-fishing by a good friend. And to this day, I haven't really stopped. The challenge of doing something that is equally fun and intricate has kept me going. With fly fishing, I feel I am always learning something new.
Jenn: I have been fishing for about 2 years, but I have always been around fishing. After Max introduced me to fly fishing it has become such an important part of my life. Fly-fishing is such a great way to get outside and enjoy the moment. There is something about being surrounded by water, that makes you feel connected to the environment.
What is your main interest in tying and fishing?
Jenn: We love being outside. Some of the places fly-fishing has taken us, has been life changing – and there are so many more places we have yet to go. Our house is located across from the Roaring Fork River in Colorado, and the river can be an adventure. And so can strapping on our packs and find ourselves trekking to a blue dot we looked at on a map. Those kind of adventures is what keep us going – being at 10,000 feet up high, surrounded by peaks and not another soul around.
Max: I love tying. Its just as new to me as fly fishing. Fly tying allows me to express my creativity. I love being creative behind the vice. I find it hard for myself to tie the same fly twice. I am always wanting to tweak it and add more or less. But I would say that the biggest satisfaction in fly tying is catching fish on something you created yourself.
How did Trout Bandits come about?
Jenn: We are not really sure. But some years ago I was looking for a gift for Max. I went to the fly shop, but I knew that Max already owned everything in there. So a sense of creativity sparked in, and I decided to make a piece of artwork for him; something that he would surely love – TROUT.
Therefore, I made a trout portrait of pictures of trout and the beautiful places fishing has taken us. Surely, he loved it and so did everybody else, so we kept making portraits… and here we are.
Our vision is to continue fishing for different species and continue making portraits and artwork to remind us why we enjoy fly-fishing so much. For us, it is unwinding; it is sinking into the moment, going out there and fishing the day away… enjoying every bit of it.
Who and what inspired or inspires you as fly tiers, fly fishermen and artists?
Jenn: Fly fishing has given me a creative outlet. A mean to express what I love so much about it: The details, the colors, the textures! Every time I catch a fish, I notice something different about it! The spots, the shape. Any fish is natures own masterpiece. Sometimes, I won't even fish but just observe them blending with their backgrounds and switching drifts – so in control, in their habitat. It's so cool!
During the process of making the artwork, I get blown away by the details in the fish… and really try to highlight them in the portraits.
Max: I grew up around fishing. I guess I was out fishing as soon as I could walk. My father and grandfather both passed down their passion to me. However, there were other influences in life that keep me fishing. A good family friend of mine, Al taught me the patience for ice fishing and the important things in life.
Lastly, my friend Kyle, who I meet in Colorado, was the one who put a fly rod in my hand: I blame him :0) Kyle is a master – and I love the challenges of fly fishing. Now fly fishing is all I do, think and dream about. I'm a trout bum. I moved to Colorado for the skiing… and stayed for the fishing.
A word about the duality of being fly fishermen as well as artists. How is your creative process?
When we fish, we try our best to take photos and with those photos make artwork. But sometimes we just want to fish and leave the camera behind. Our artwork comes on its own time, which is why we take our time doing it.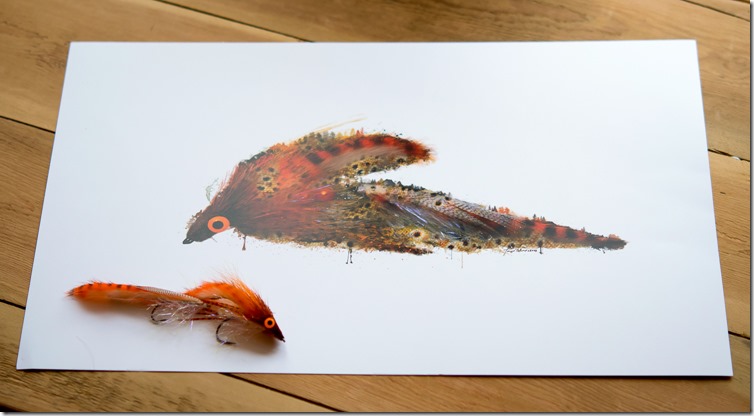 Giveaway collab: Ahrex Hooks, Trout Bandits and Andreas Andersson
If you would like to get your hands on an original Trout Bandits artwork – and a Sid (crazy hot articulated streamer fly) from our equally talented Swedish friend, Andreas Andersson – well, all you have to do is to go to Ahrex Hooks Instagram profile – and see how that can be possible. Giveaway starting today, so hurry up. There's good stuff in this one :0)
If you want to see Andreas work his magic, there is a video of him tying a Sid right here…
Look out for the Trout Bandits:
If you wanna know more about the sympathetic fly fishing couple from Colorado, you can follow Trout Bandits on:
Website: troutbandits.com
Instagram: @troutbandits
Facebook: facebook.com/troutbandits/