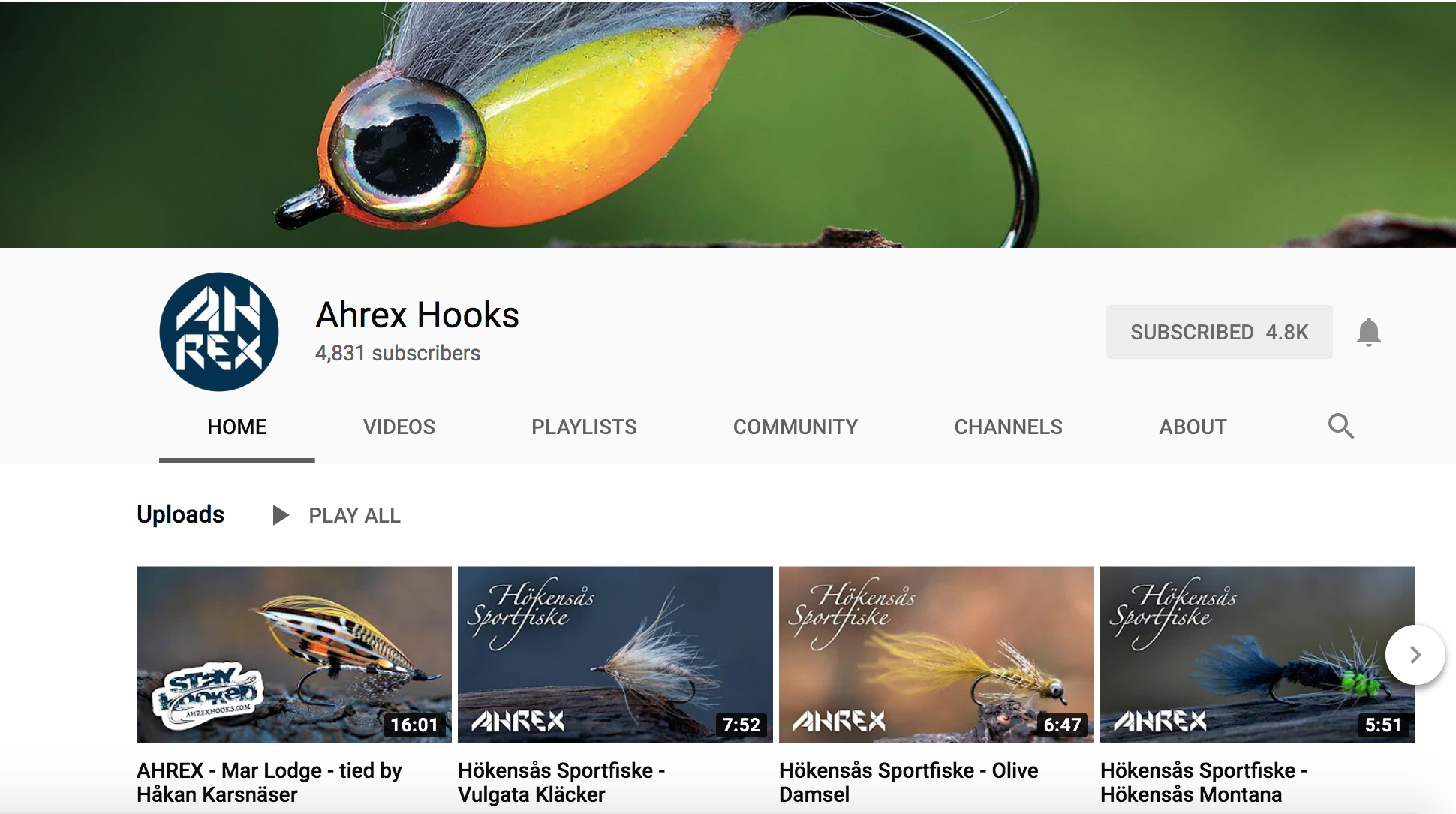 Being a fly hook company – it isn't a surprise that we produce fly hooks. But we have another product line running simultaneous. Each week we produce a staggering amount of content for our YouTube channel, Instagram profile, Facebook page and our website including this blog.
To us that is just as natural as turning cold steel into cool fly hooks – and both product lines have been running since day one.
Hook ideas are bounced up, often caused by input from our dealers, pro tiers… or from you guys, that just like to tie flies and catch fish. After that our very own Doctor Hook aka as Soeren Flarup draw up some sexy lines on a computer screen. Then the prototypes are tested, trimmed and tested again until we are satisfied – and the hook goes into production.
And already during that process, we start making all the other stuff that comes along as sidekicks: SBS tying footage, good stories from our test tiers and fishermen and hopefully some cool pictures as well. All the raw material that is needed to create posts, blogs and videos.
Today I will make some noise for our YouTube channel. At this moment our channel features 89 videos of our own production and furthermore we've embedded a number of videos from Michael Jensen's Angling (yep, that is mine) – featuring a bunch of cool fly tiers showing their skills on our hooks. Here is a short rundown on some of the opportunities:

Salmon, sea trout and steelhead
Salmon season is up… and around here, the first line of sea trout (sea run browns) are nosing up the rivers as well. If you chase salmon, sea trout or steelhead flies and fishing, we have 18 videos ready – including anything from full dressed salmon flies like the Mar Lodge over old school steelhead and salmon flies like the Boss, Black Bear Red Butt to contemporary Scandi style tubes like the Banana Zonker, Nightstalker and Orange Tube – and a lot of things in between.
See the full playlist right here.

Streamers
Chasing large trout on streamer flies is in my opinion about the most fun you can have standing up;0) If you feel the same way, we have lots of inspiration on tap. Most importantly, we have a bunch of videos with the Swedish streamerjunkie Andreas Andersson tying his articulated original designs like Sid, Sisu and Ragdolly. You will also find Oscar Hagelin's $5Shake, Allan Overgaard's String Leech, Michael Jensen's Strip Tiger and Yellow Monster Bugger – and other cool stuff.
See the full playlist right here.

Pike, musky and bass
If you like to see the surface explode in a chaos of teeth, action and brutality – you are just as hooked on the predator game as we are. In that case, you should check out of the videos in our playlist including flies like The Green Beast, Sunburst Slider, Nightwatchman, a presentation of the cool flies from Nightmare Musky Flies and other important stuff.
See the full playlist right here.
And more
Then there are playlists with saltwater flies, dry flies and nymphs, wet flies and the brand new Hökensås list with flies for lake fishing for trout.
Ok guys. That's all for today. Drop by our YouTube channel, give it some love – and remember to subscribe if you haven't already. Good stuff are in the pipeline.
Have a nice weekend :0)
Michael