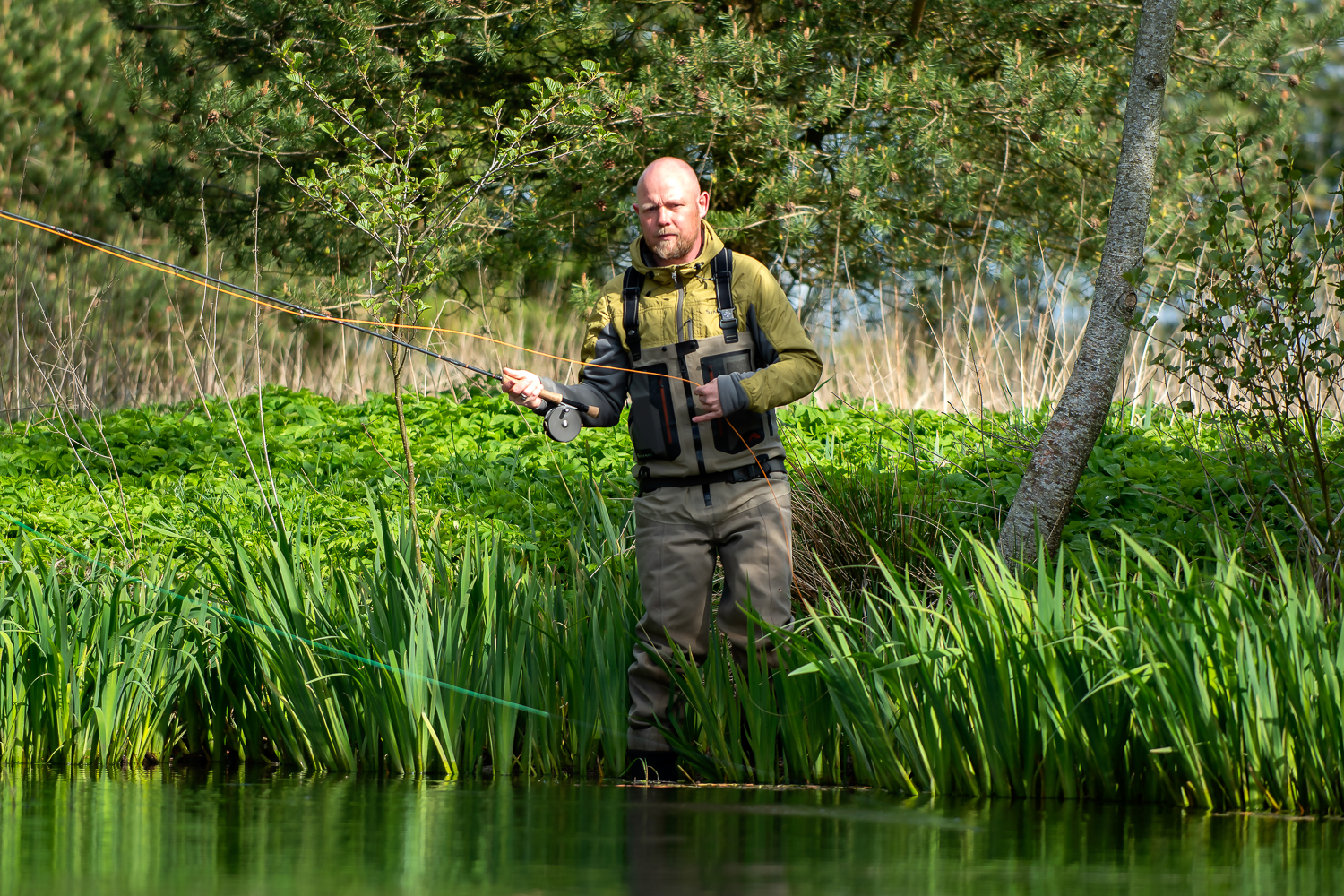 We have made several portraits of cool fly tiers from around the globe, but today let's dig down in our own home turf. We head up to the Northern part of Jutland to meet Martin Votborg. Martin recently joined a very rare breed: fulltime Danish pro fly tiers. He sure cranks out some really beautiful flies on our hooks, so we decided to take a closer look at the man behind the vice.
Martin is 40 years old – and living close to some rivers, that have a tremendous run of seatrout (sea run brown), he has developed a deep love for the silver summer tourists. Martin is married to a lovely (and apparently extremely understanding) wife – and is the proud father of 2 boys, that hopefully will turn into fly fishing partners in crime someday.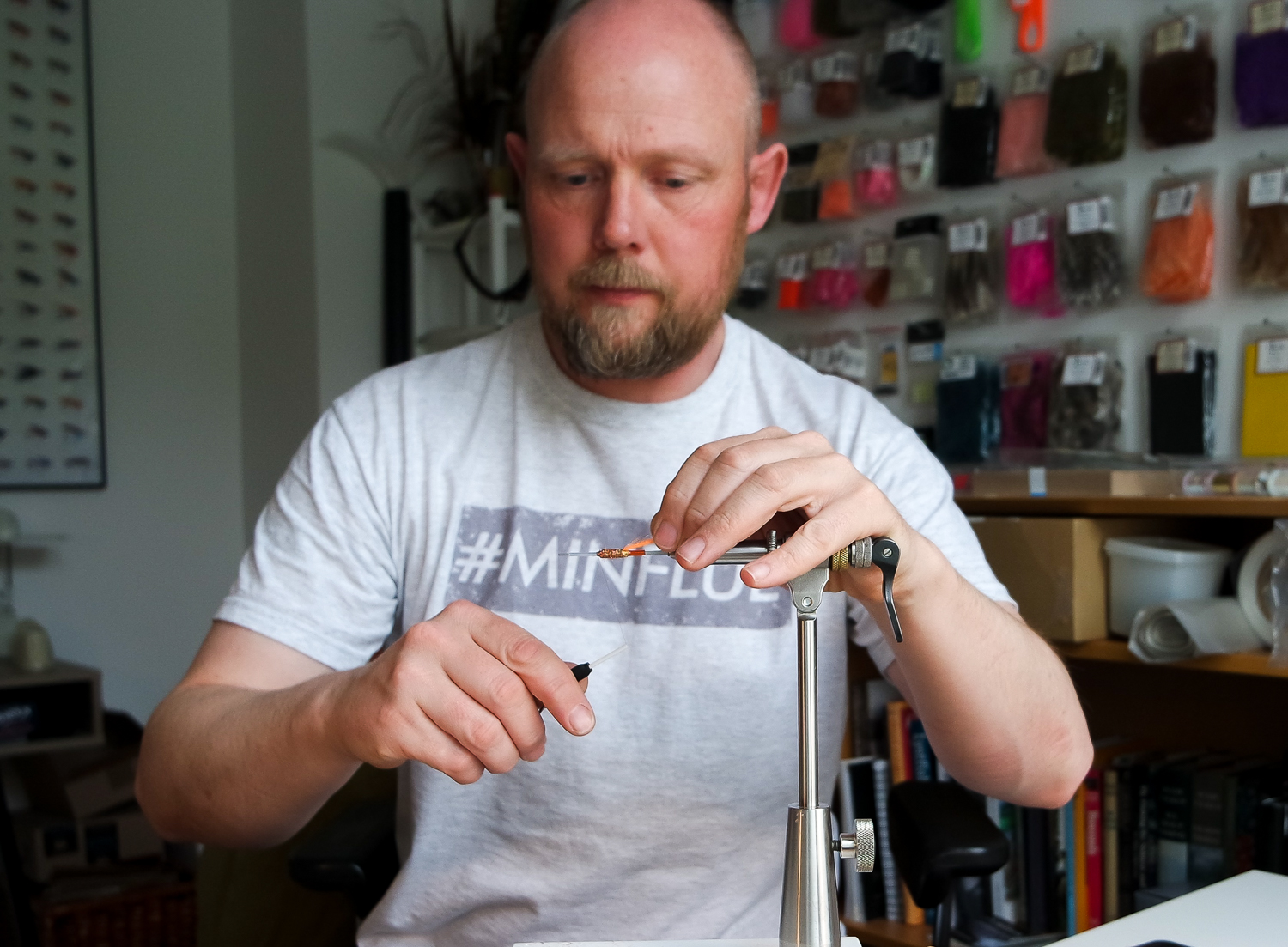 Here is, in Martin's own word, the story about that total dedication to fly fishing and fly tying – that eventually made him quit his day job. Enjoy!
More the chase… than the actual catch
My fly fishing and fly tying career began some 20 years ago when I started chasing seatrout along the Danish coastline – using my home made flies.
The more time I spend fly fishing, the more time I wanted to spend on fly fishing and tying. So it was natural for me to turn my hobby into a way of living. And I did.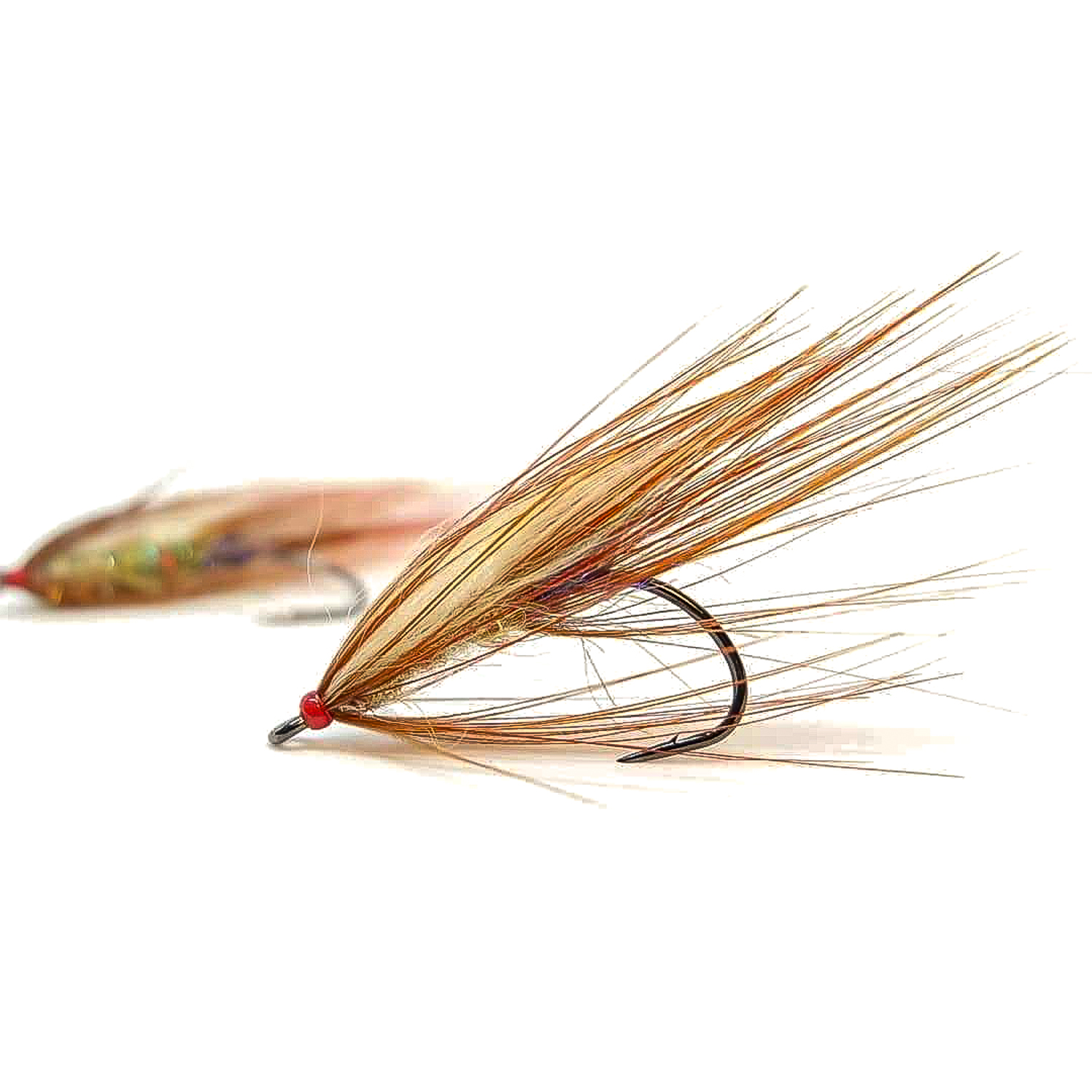 For 18 years I had job as a salesman in a tackle shop, with main focus on fly fishing and fly tying. During those years I had the pleasure to meet and work with some very skilled fly fishermen and fly tiers. Naturally I absorbed some of their knowledge and skills.
Over the years, though, I realized that my main obsession was river seatrout fishing. Don't get me wrong. I like Salmon fishing, and I still love chasing seatrout along the Danish coastline. But I am obsessed with fly fishing at night-time in the Danish rivers. Just trying to get the seatrout to take the right fly in some of the local rivers. I can´t quite explain why, but somehow the river bank just seems to be the right place for me to be, when night falls. From June to October I will be out there with a 10 ft. fly rod in my hand.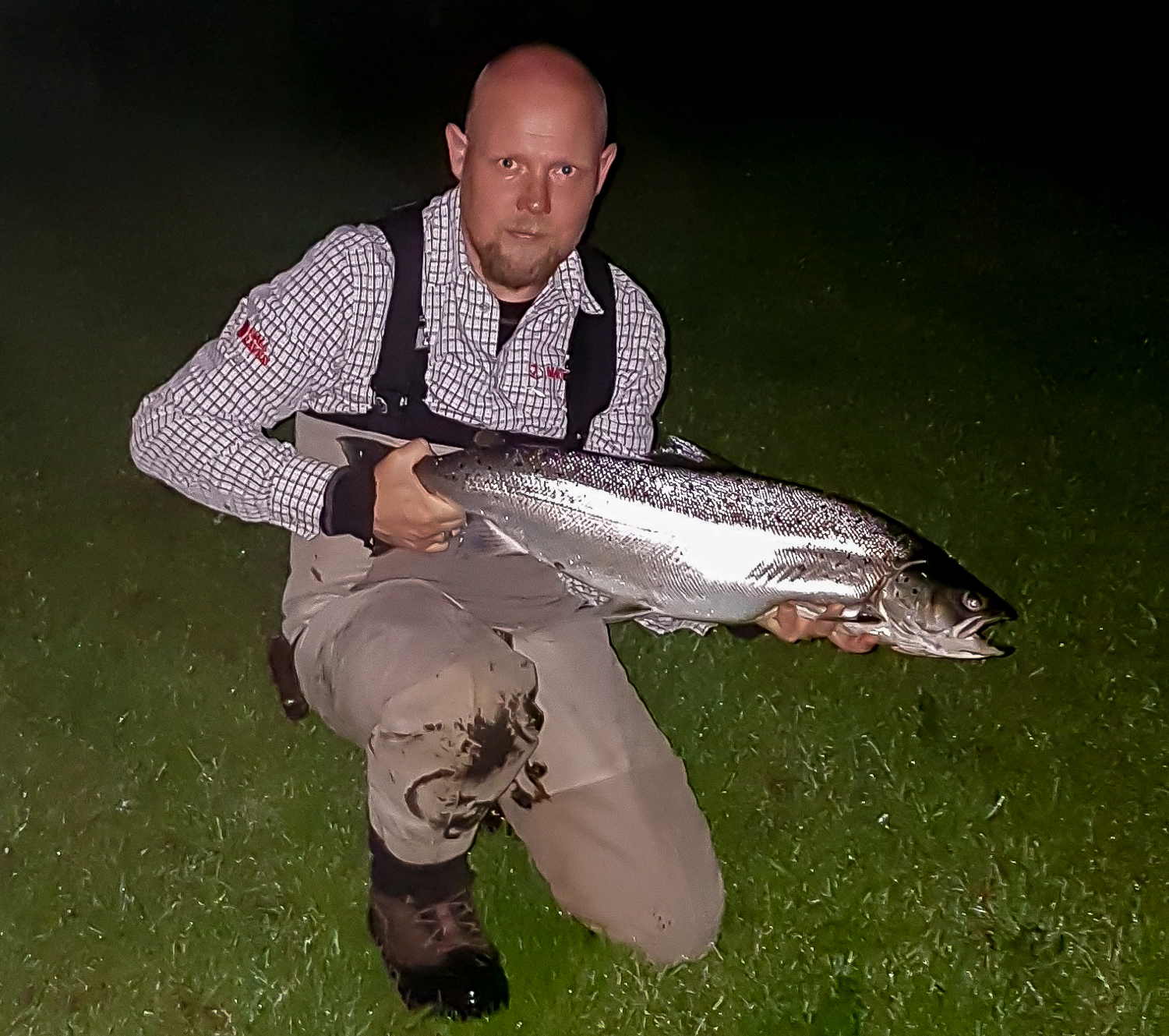 I guess it's more about the chase… than the actual catch. The seatrout is just a fabulous creature, and some nights just give me a deeper respect for it. Like a summer night where the sky was dark and the rain was pouring down. A strong upstream wind was blowing, and the river was high and discoloured. It was not a typical seatrout night.  Then boom! Out of nothing, this large seatrout hammered the 5 cm flathead tube, and put up a dogged fight. When I landed the fish, I saw that a seal had bit a chunk out of its neck. I snapped a photo and the seatrout swims off again. That power and will to survive made me think:  what a fantastic fish to chase.
Turning pro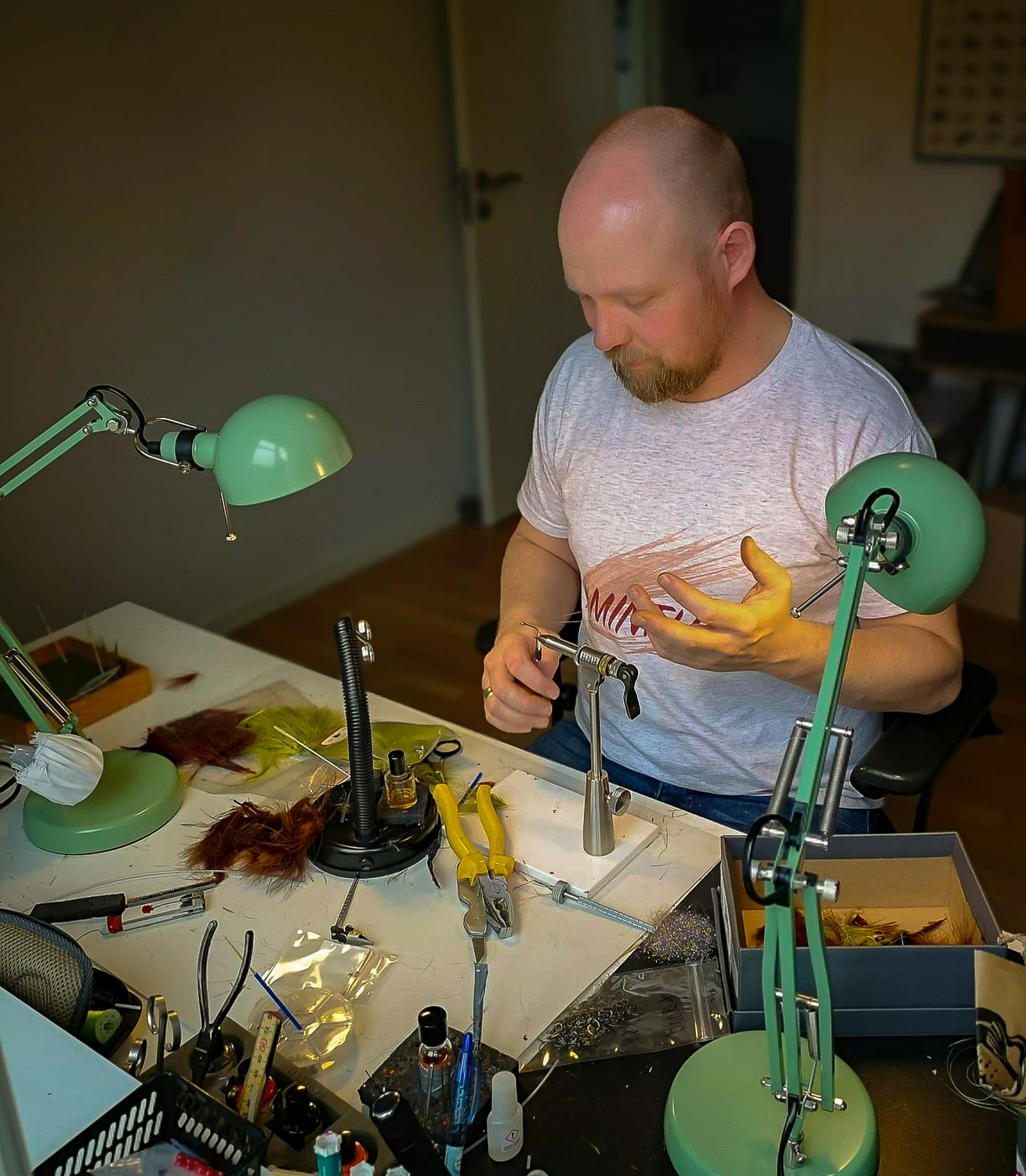 Over the years the idea of becoming a full time fly tier was growing in my head – and last fall I decided it was time to pursue the dream. I quit my day job, and started the company Minflue (MyFly)
Luckily it turned out to be the right decision. I enjoy every minute I spend behind the vice.
I guess my own passion reflects on my fly tying, so most of the flies leaving my vice are salmon and seatrout flies tied on single-, double- or treble hooks and on tubes.
A process I find quite inspiring is tying custom flies – as when I get a request on a fly, that will work in a specific place, season and water level. Then I have to combine materials, weight, dressing and balance to tie a fly that will be just right for my customer. Going through that process – also help me improve some of my own favourite flies: adding some new elements or new materials to the old classics. So in some way, I find inspiration in my custom tying.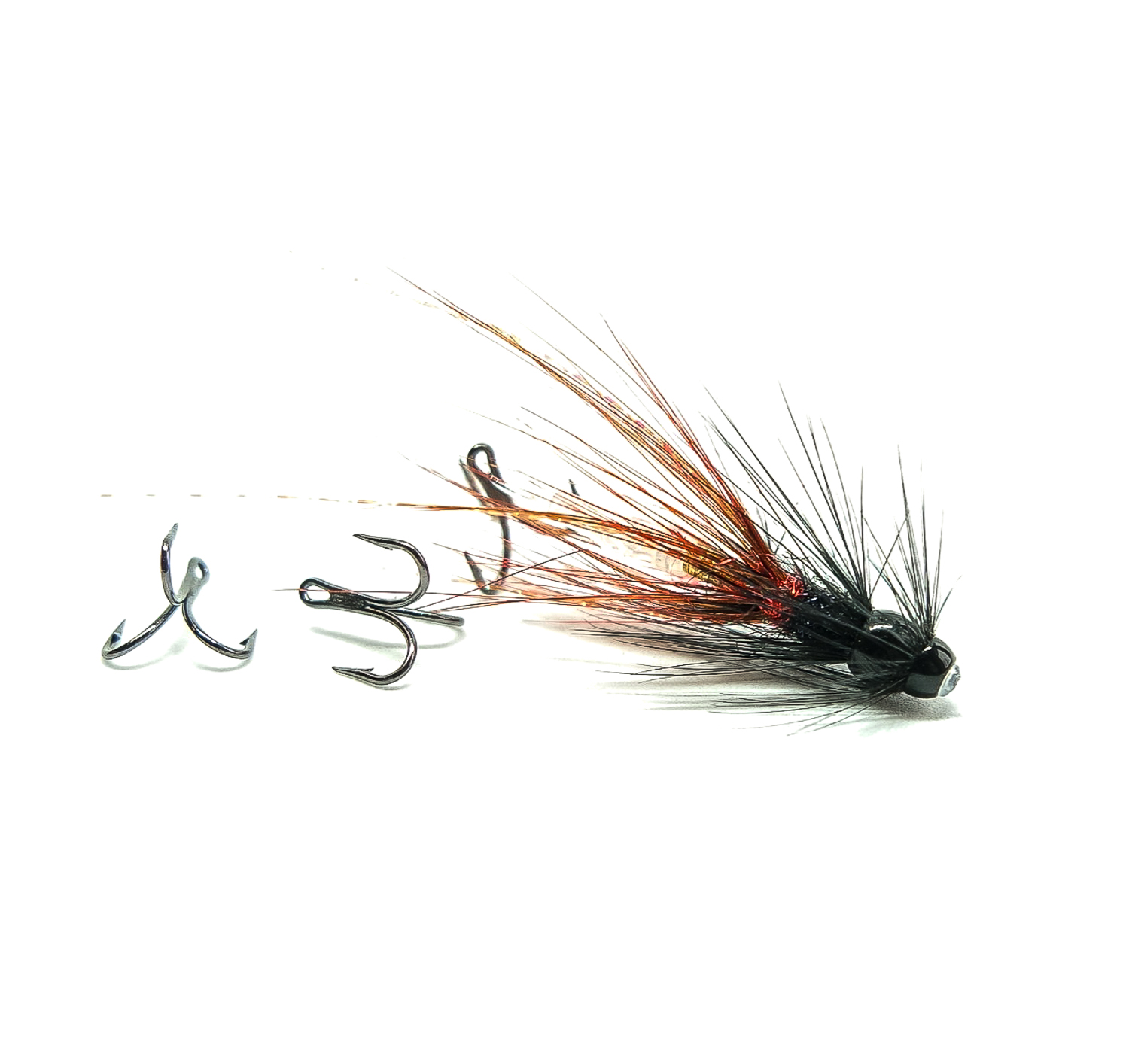 On Inspiration
When it comes to fly fishing and fly tying, I feel, it is important to be inspired – get new ideas – try new products in search of something that can optimize the time spend on the water. Don´t get me wrong – fly fishing and fly tying is not a competition for me. But if I can improve my flies and my tackle with just a few percent, I will do so. I know that finally, this optimizing will give me more of the experiences I am chasing.
Nowadays a lot off my inspiration comes from all around the globe: I use Instagram, Facebook and YouTube on a daily basis, to get inspired, find new tying methods, look at new materials… that will help my own fly tying move forward. I see some really skilled young fly tiers out there – so, guys…keep up the good work!
Martin Votborg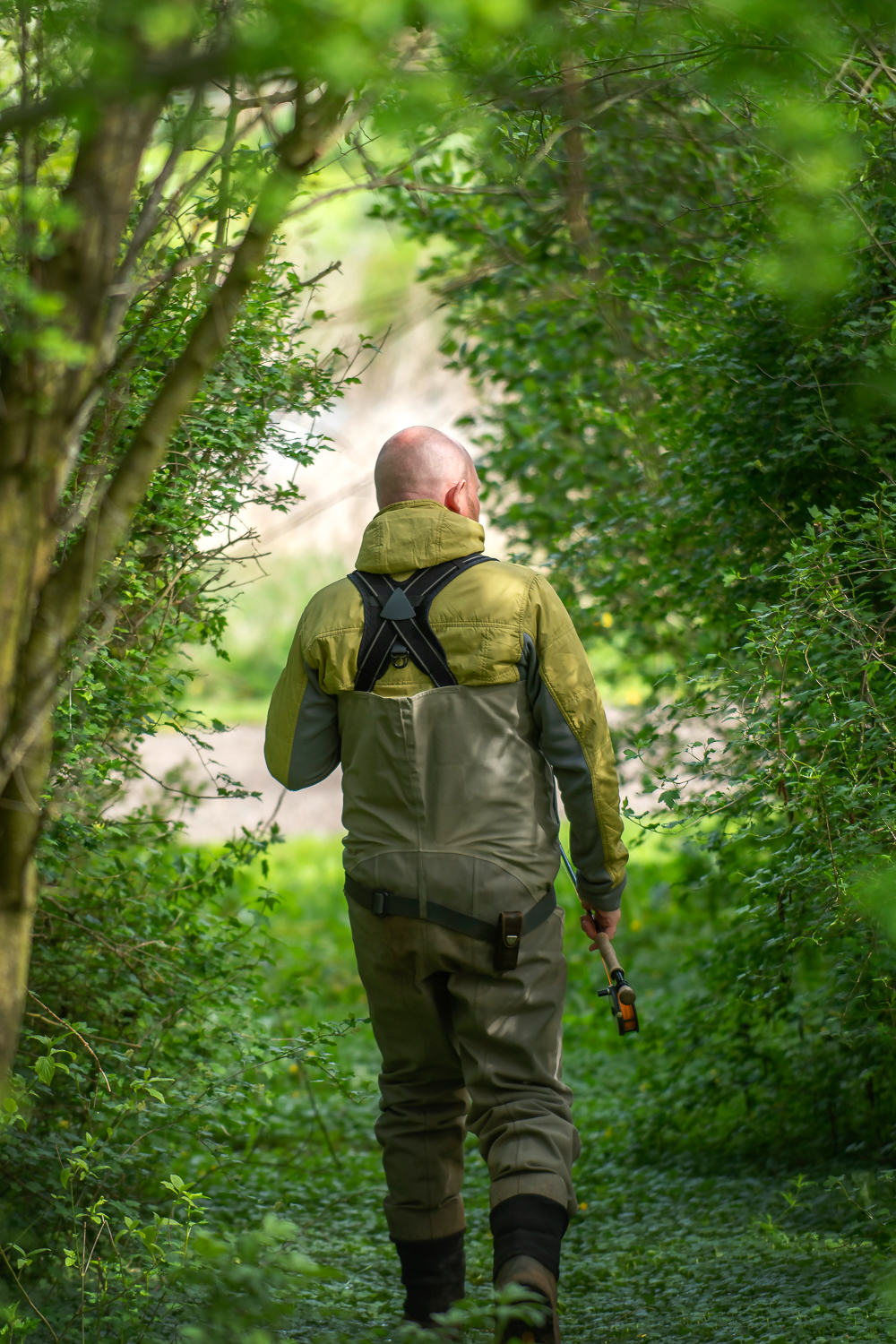 More info – and a video with a tweaked classic
If you want to know more about Martin and his flies, check out:
Instagram: martin_votborg
Youtube: Martin Votborg
Facebook: Minflue.dk
Webpage: Minflue.dk
Have a nice weekend :0)
Michael