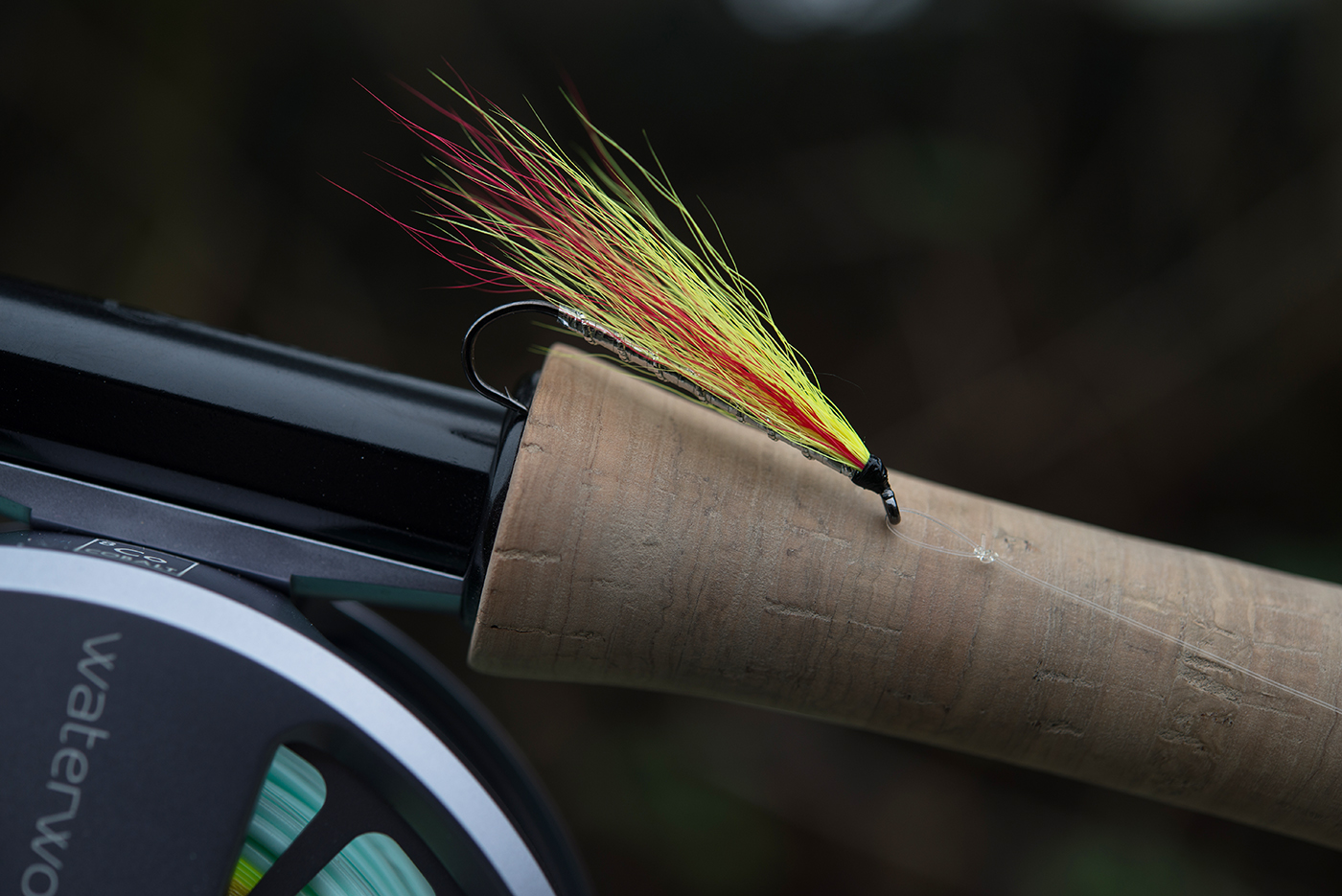 I don't know how many hooks on the market can be classified as "streamer hooks", and we often get asked why we have one in our line up when there are so many on the market. And that is of course a valid question, and the only answer is that we had to. We had to have a classic streamer hook – we couldn't be a serious hook brand of we hadn't.
This is the second blog about the Mickey Finn – if you haven't read it yet, here's a link to the first one: https://ahrexhooks.com/2020/01/24/streamers-bucktails-and-mickey-finn/#more-5055
Apart from being a beautiful, and extremely effective fly under many different circumstances and for many different species of fish, I think a reason for its popularity is some of the myths associated with the fly. One of them I mentioned in the previous blog – that the fly was named after a spiked drink called Mickey Finn, which allegedly killed the famous actor Rudolph Valentino, which isn't true.
I've also read several places that at some point, a Mickey Finn and some monofilament was a part of the American army's survival gear. Because the fly was so effective that it could catch fish anywhere I suppose it makes sense, but I've never been able to verify that story either. Any information is very welcome.
A fly so popular, so iconic is bound to have many variants and some are more "established" than others. A version with jungle cock eyes is mentioned very early on.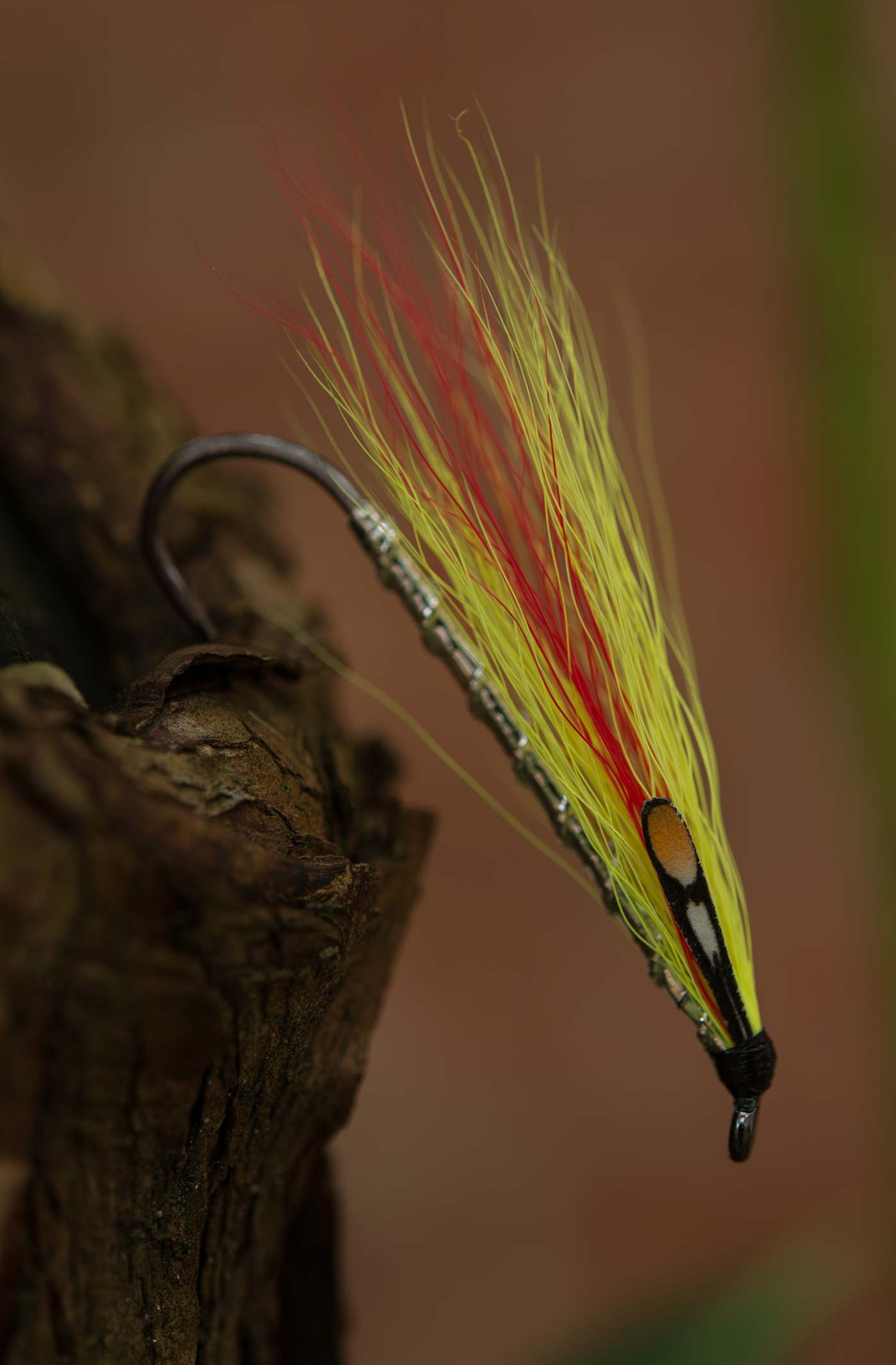 Jungle cock eyes really do look good on the fly. Here I've used the excellent substitutes from Pro Sportfisher, because the birds are CITES protected. The patterns is identical to the original – just add jungle cock substitutes.
In Joseph D. Bates, Jr.'s classic book on streamers and bucktails he lists a numbers of variants. Another one I've seen and read about sports a blue front hackle under the wing. I mentioned also in the previous blog that the fly was one of the first popular flies in the late 1960ies, when fly fishing for sea trout began in Denmark. So I decided to tie and photograph a variant from Jan Grünwald's classic book, Havørred – spin og flue i saltvand (Sea trout – spinning and fly fishing in salt water).In the classic (and excellent and still very relevant) book, he gives the recipe for the Mickey Finn Punk, where the bucktail wing is replaced with small bunches of cock hackle fibres along the top of the hook shank. This maintains the colour scheme and the contrasts  of the fly, but almost eliminates fouling and results in quite a durable fly.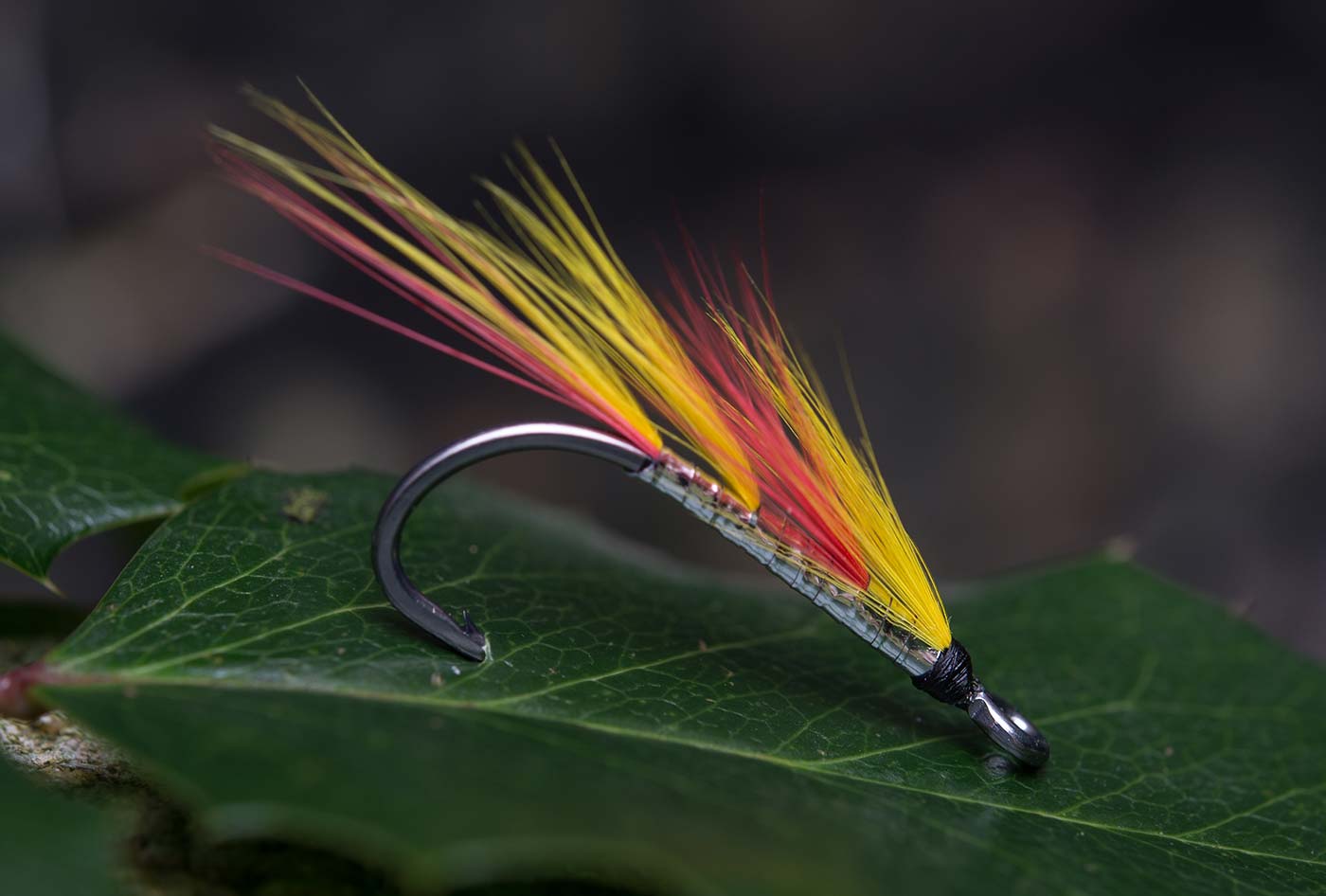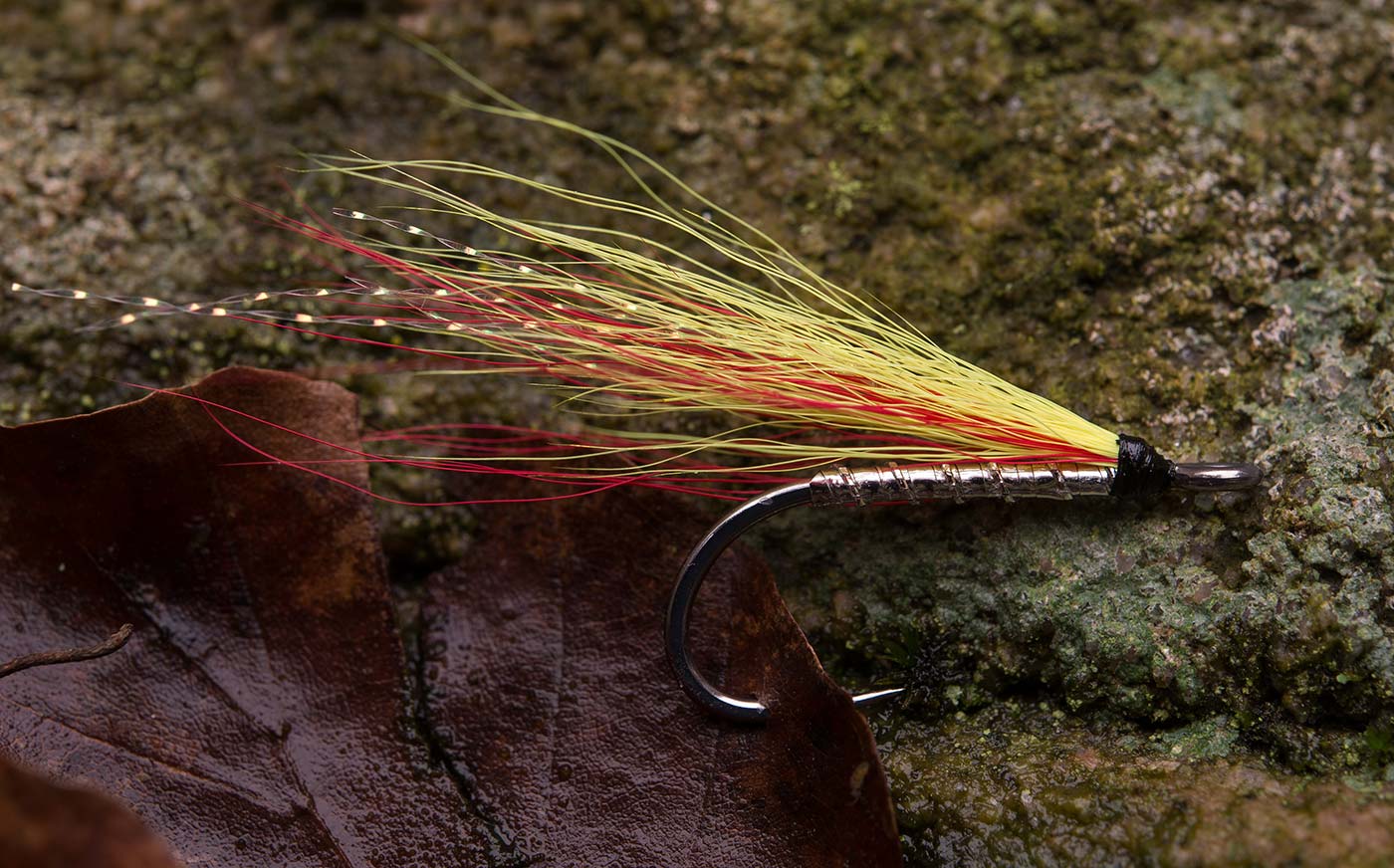 Since I like the fly so much, it's also found its way into the salmon- and sea trout tube fly boxes. An early season, murky water favourite is this variant of mine. I tie these in total length from 4 to 10cm.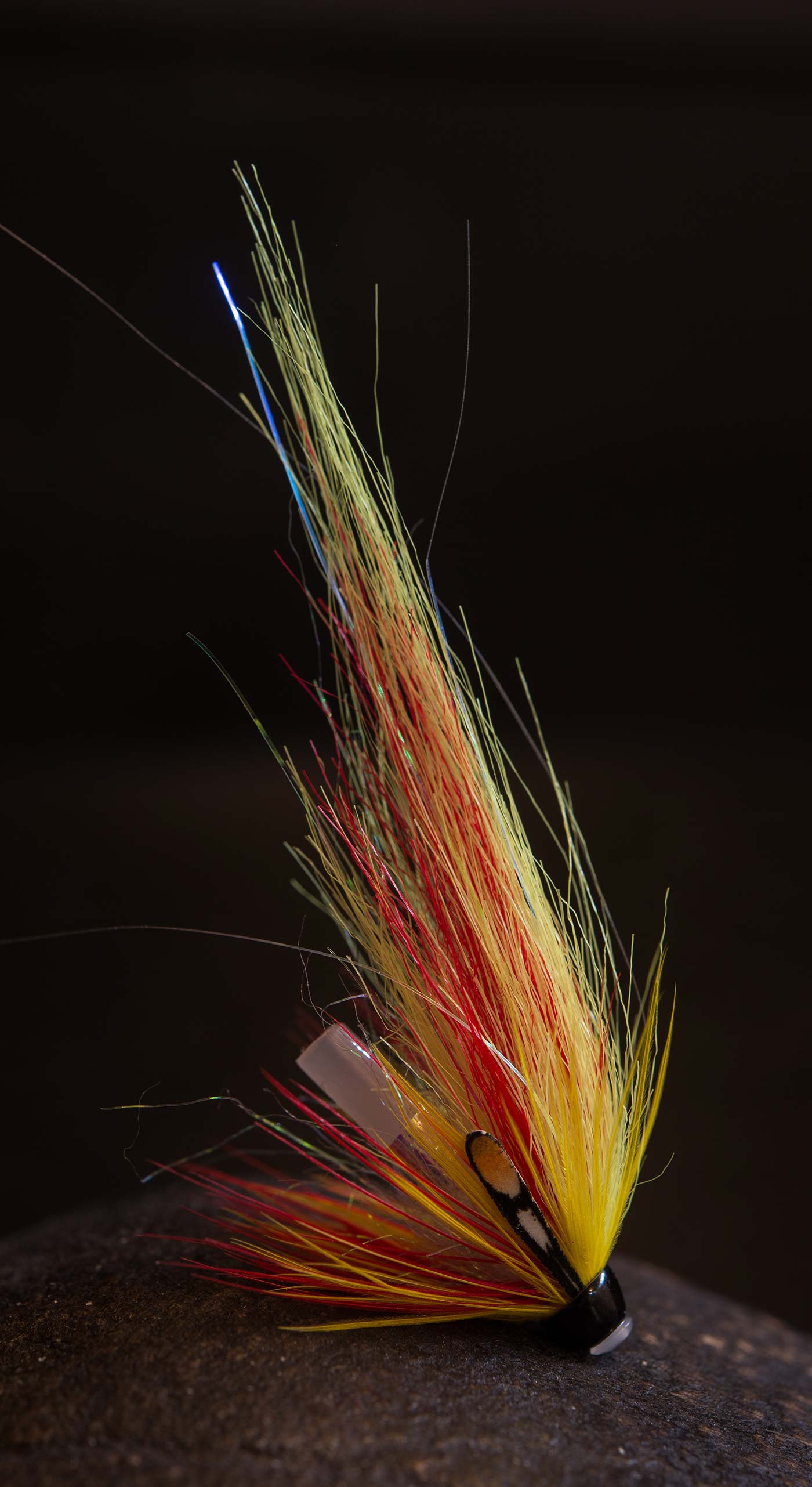 The fly was very popular in Canada, especially for brook trout, where it was often trolled behind a canoe, tied on huge salmon hooks up to a size 4/0 – that's a big Mickey Finn. It was in fact so popular in Canada that it was on official postage stamps, issued in 2005.
Who ever invented the fly, it has clearly left its mark in the fly fishing world and even to some extent outside of it.
Signing off for today with the pattern for the original and the Scandinavian style tube fly – until next Friday.
Lars
---
Original dressing:
Hook: Ahrex NS 118.
Thread: Black.
Rib: Oval silver tinsel.
Body: Flat silver tinsel.
Wing: Yellow and red bucktail.
Scandi style tube fly:
Tube: Pro Sportfisher FlexiTube.
Thread: White.
Tag: Mirage tinsel.
Body: Pearl Ice Dub.
Wing: Yellow and red Craft Fur w. Angel Hair HD in pearl.
Hackles: Yellow and red hen hackles.
Eyes: Pro Sportfisher Gen 3 jungle cock substitutes.
Head: Pro Sportfisher conehead, size small.
Mickey Finn Punk
Hook: Ahrex SA 220 #4-8.
Thread: Black.
Tail: Red and yellow hackle fibres.
Body: Flat silver tinsel.
Wings: Red and yellow hackles fibres in 3-5 bunches along the shank, depending on hooks size.