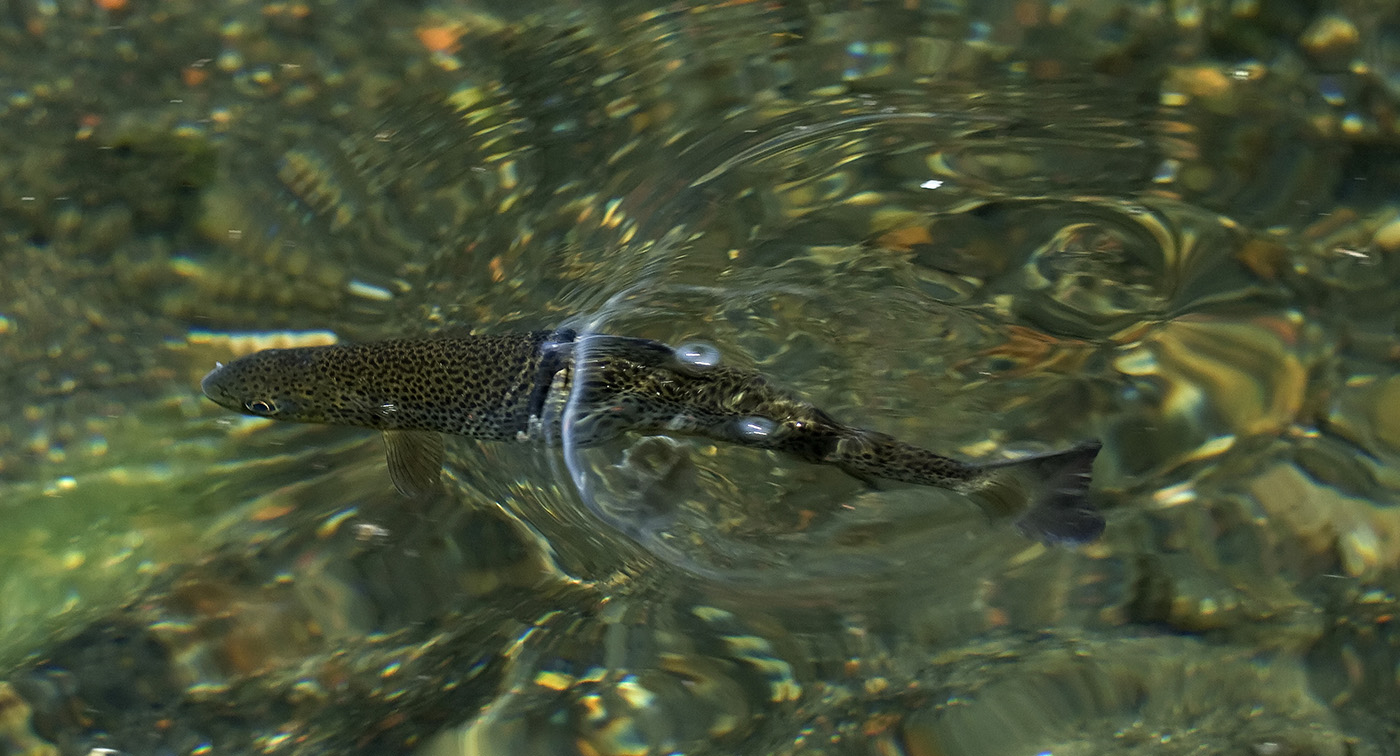 Dry fly fishing is fascinating and I'm quite certain that all fly fishers agree. Watching a fish slowly and confidently sip down an imitation is, for me at least, the pinnacle of fly fishing. But alas, trout don't always rise. In fact I suppose it's correct to say that most of the time, they don't. If you're a die hard dry fly fisher, you wait (and perhaps cry a little) and you stay home during the cold months. I personally love dry fly fishing for trout and grayling, but I don't stay home during the cold months, and I don't (always) spend a day at the river, waiting for the 45 minutes at noon when the temperature rises just enough for a short burst off insect hatches.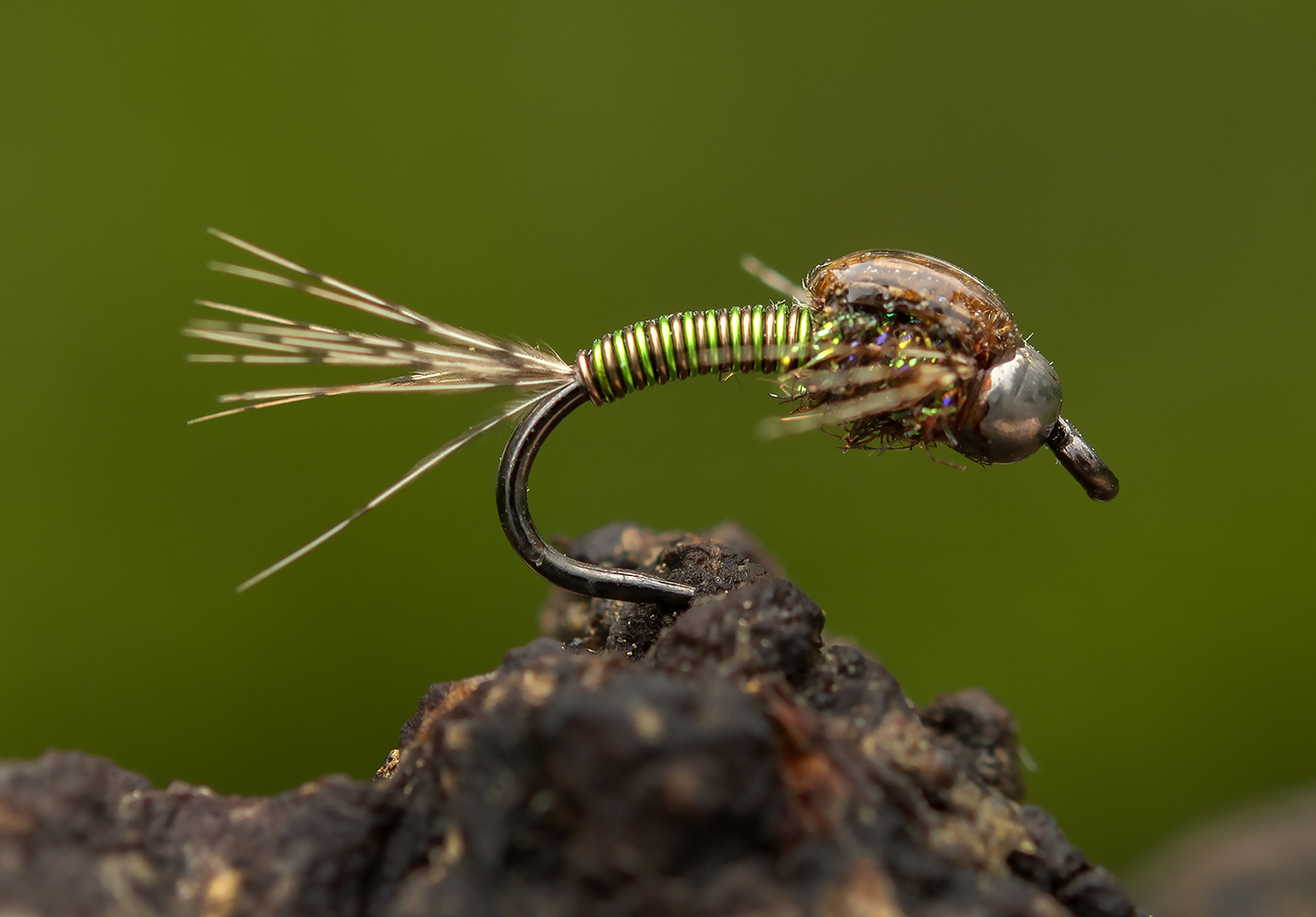 Two Toned Black Beaded nymp by Holger Lachmann.
And it's also a fact that trout and grayling don't stop eating because there's nothing hatching and this is where nymph fishing comes in as an essential skill, at least if you want something other to do during the day than to wait for a rise. While Halford may have frowned upon any type of "sub surface" fishing, catching fish regularly on nymphs is harder to learn than catching them on dry and that said, there's really no reason to look upon any type of fly fishing as "finer" than others.
George Edward MacKenzie Skues (better known as G. E. M. Skues or simply Skues) is the father of modern nymph fishing. He was actually a great admirer of Halford (and remained so), but recognised the opportunity to catch trout and grayling on nymphs and the simple fact that fish feed just as readily on nymphs as they do on "dries". Skues has his name on many, many patters – many of these even unnamed, but kept a focus on some key elements in his flies. He was keen on colour, translucency and shape, for instance always making a point of a distinct thorax on his flies. He was also adamant about keeping his flies lightly dressed, perhaps an inspiration from the North Country Spiders.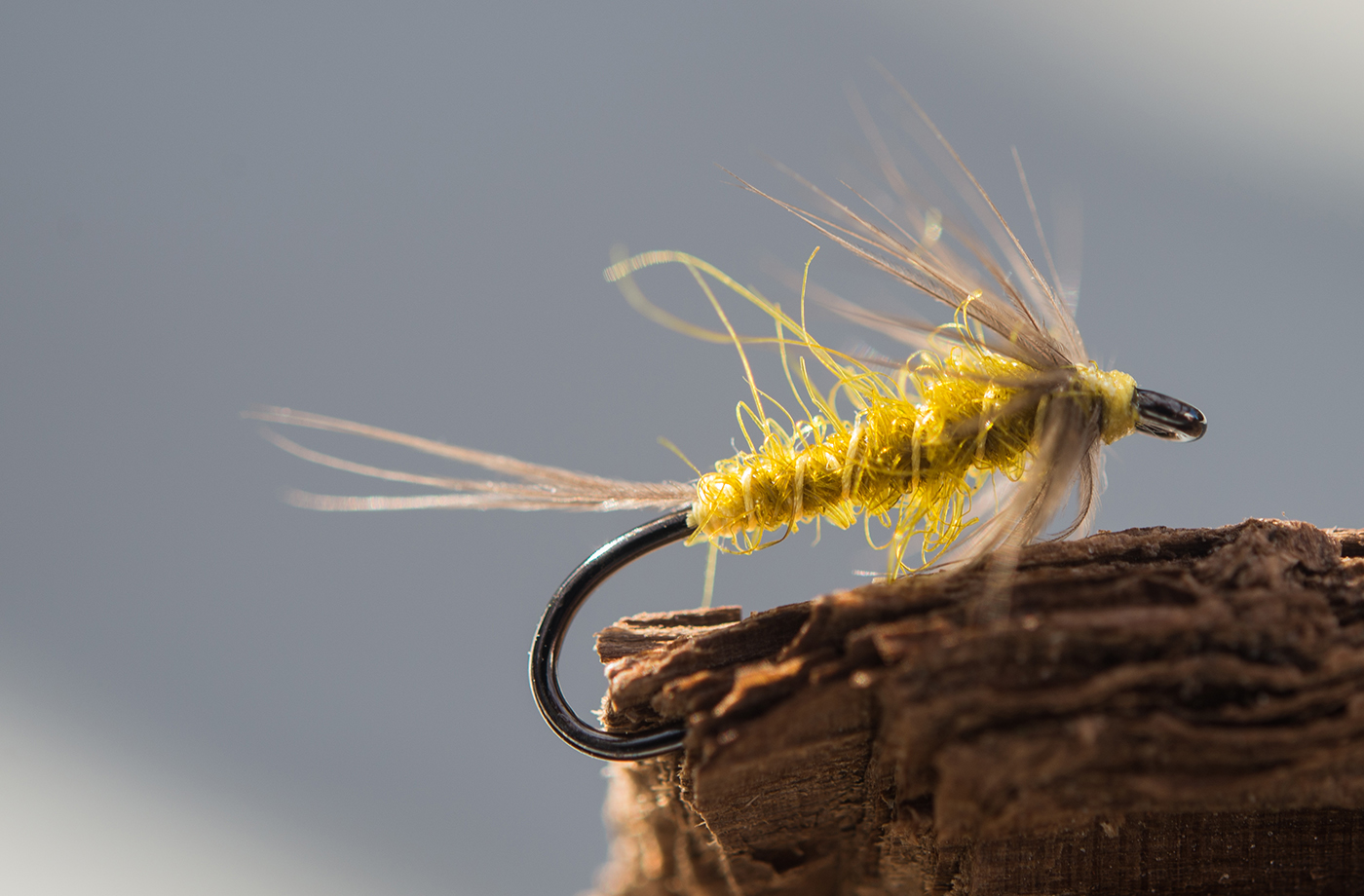 A classic example of a Skues nymph. Skues often tied his nymphs with either two or three hackle fibres as tail, as per the natural, and always stipulated that the fly be hackled with only only one or two turns. And his style was well known for relatively short hackles, so the size of hackle matched the length of legs and wingcase on the natural, both of which he aimed to imitate with the hackle. He used seal's fur on many of his patterns because of its translucent qualities. Here's it's one of his Large Dark Olive nymphs (B. rhodani), chosen because they hatch now. The FW 560/561 in size 14 and 16 match the size of the natural. Skues had many patterns imitating this nymph, depending on the season.
Frank Sawyer is another legend and his Pheasant Tail nymph is arguably one of most well know flies of all, perhaps only surpassed by the Red Tag. Frank was a river keeper on the famed southern English chalk stream River Avon, where his job was to manage the fishery. The Pheasant Tail is an excellent fly, used primarily for sight fishing for spotted trout and grayling. The slim profile and copper wire weighting ensures it sinks well. And Sawyer was a practical man, so the fly is tied exclusively with pheasant tail and copper wire – no reason to use a tying thread when the copper wire can fill two purposes.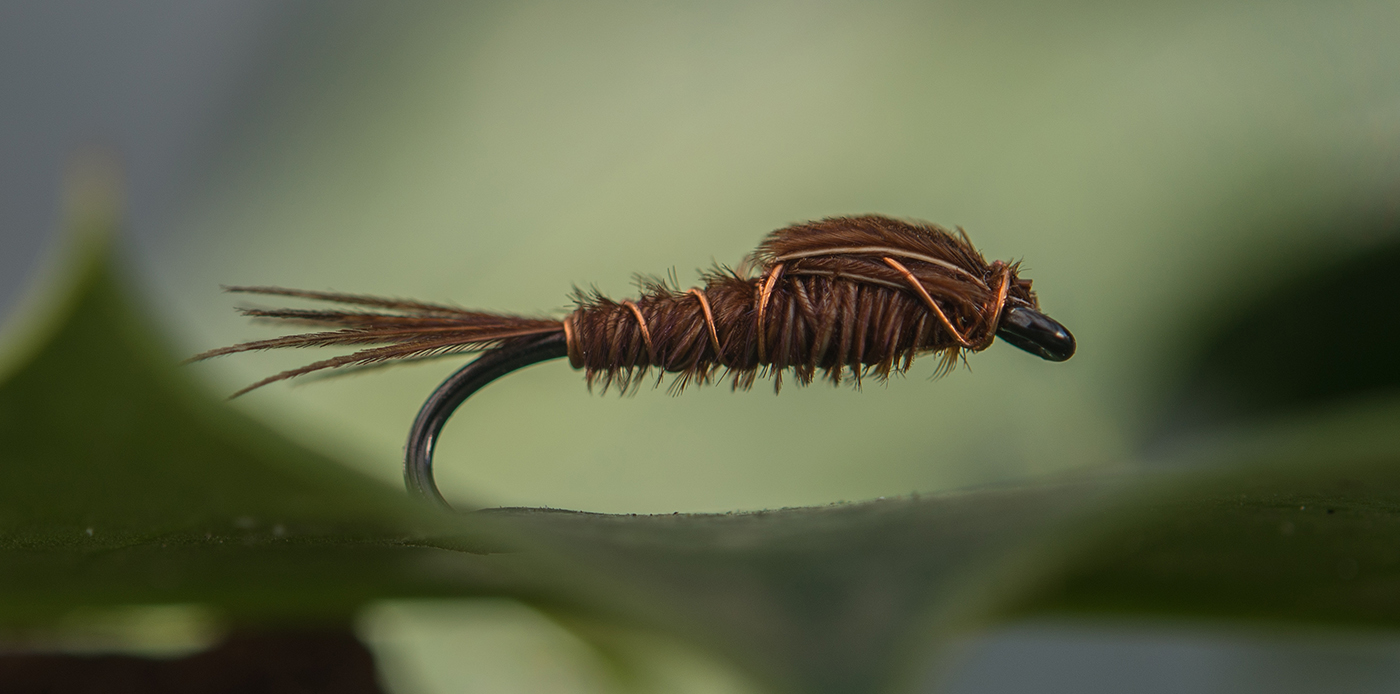 Frank Sawyer's legendary Pheasant Tail relies on weight and profile and is still an excellent nymph that catches fish world wide.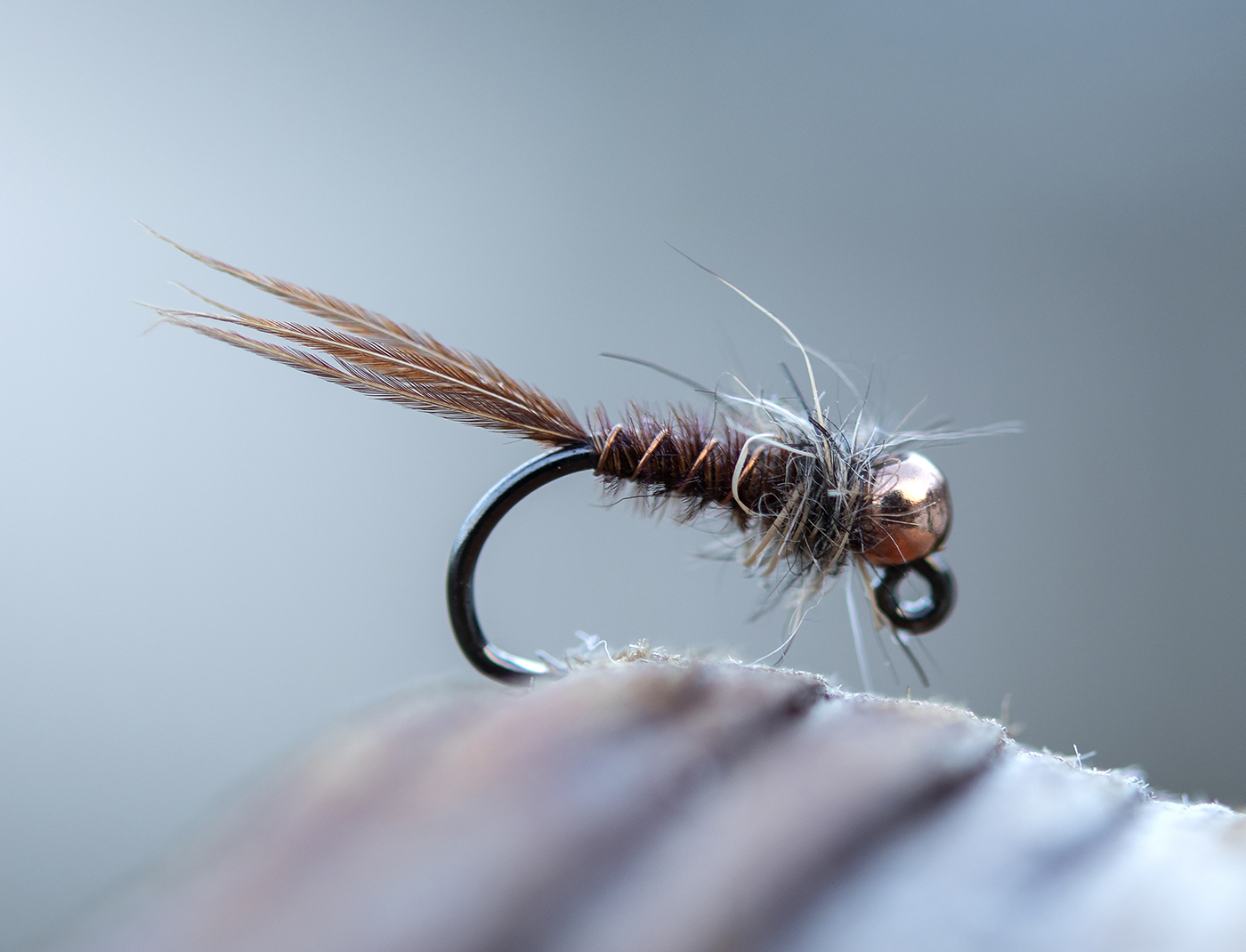 Here's one of Håkan Karsnäser's jigs – a variant of Sawyer's legendary fly.
The trout population on the Avon was in decline and the grayling were prolific, and while grayling today is a cherished sport fish, most considered them vermin back then, and one of Sawyer's tasks was simply to remove as many grayling from the system as possible. It's said that it was for this purpose he developed the Killer Bug – another even more simple tying that uses only copper wire (for weight and thread) and the now almost mythical Chadwick's no. 477 yarn. The fly is meant to imitate fresh water shrimp, which are extremely prolific on the English chalk streams and as such, a staple in the trout's and grayling's diet. Sawyer mostly used them in size 14, but it's rumoured that Sawyer even caught salmon on it in larger sizes (yes, the Avon actually has a small run of atlantic salmon). I think I'll just put that on my list of things to experience – a salmon on a Killer Bug – on the Avon!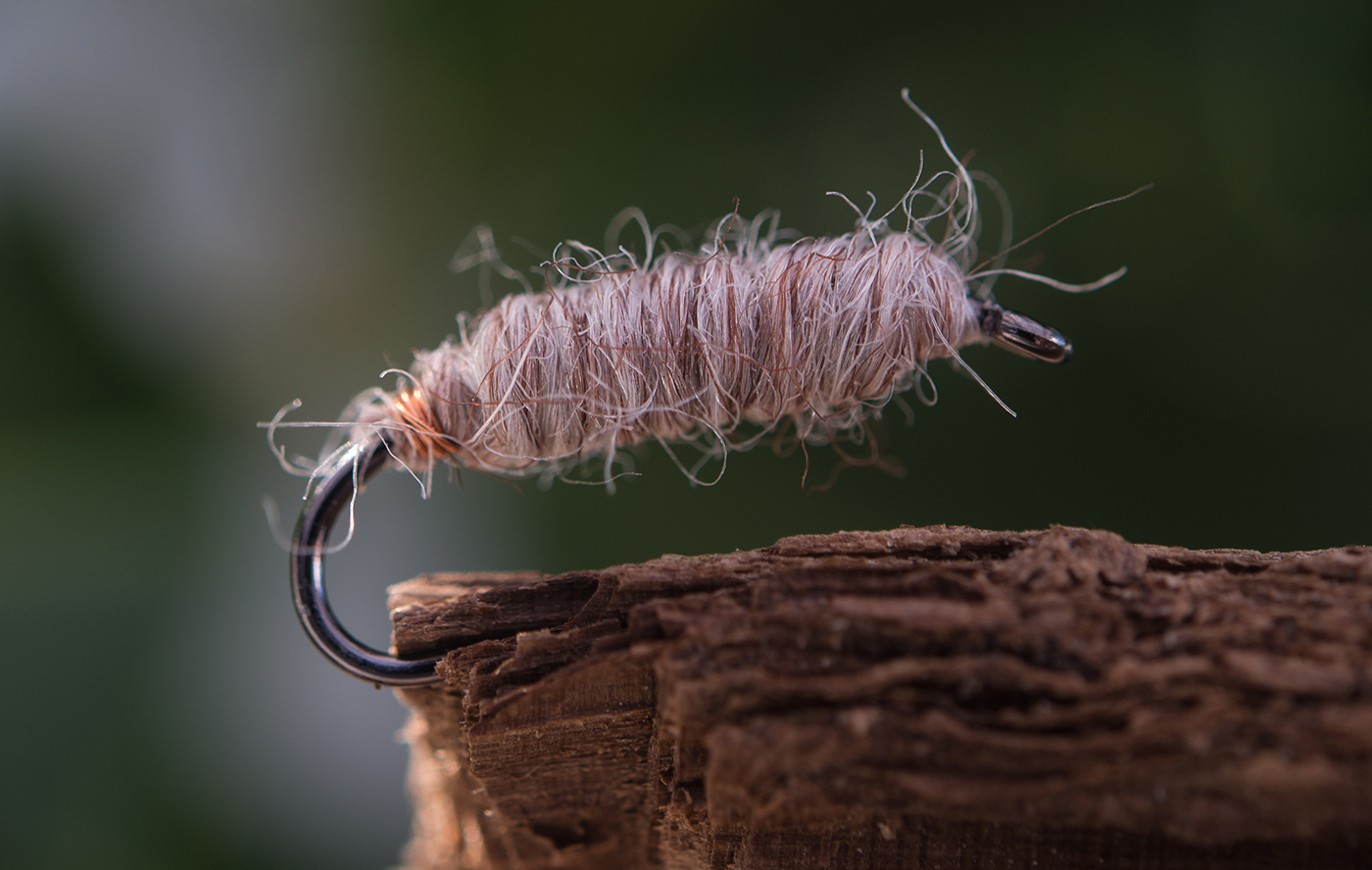 The Killer Bug.
This might be the most expensive fly I've tied in 2020. It's tied with the original Chadwick's no. 477, which sells for insane prices these days. I' ve caught plenty of fish on it myself, and while it's not exactly slim, the combination of three layers of copper wire, and three layers of wool that readily soaks water makes it an excellent sinker.
Much has happened since Skues and Sawyer roamed the southern English chalk streams. From Eastern Europe came the so-called "czech nymphs". Slim, heavily weighted flies and the special fishing technique developed with the flies brought the eastern European anglers several world championships. Hans van Klinken's extremely effective LeadHead, developed sometime in the 1990ies. I had the pleasure of fishing with Hans and watching first hand the effectiveness of this big, very heavy nymph, which on the end of his leader, he caught grayling where I had never considered fishing. Oliver Edwards developed a series of semi-realistic nymphs in the 1980ies and 1990ies, which are now considered classics.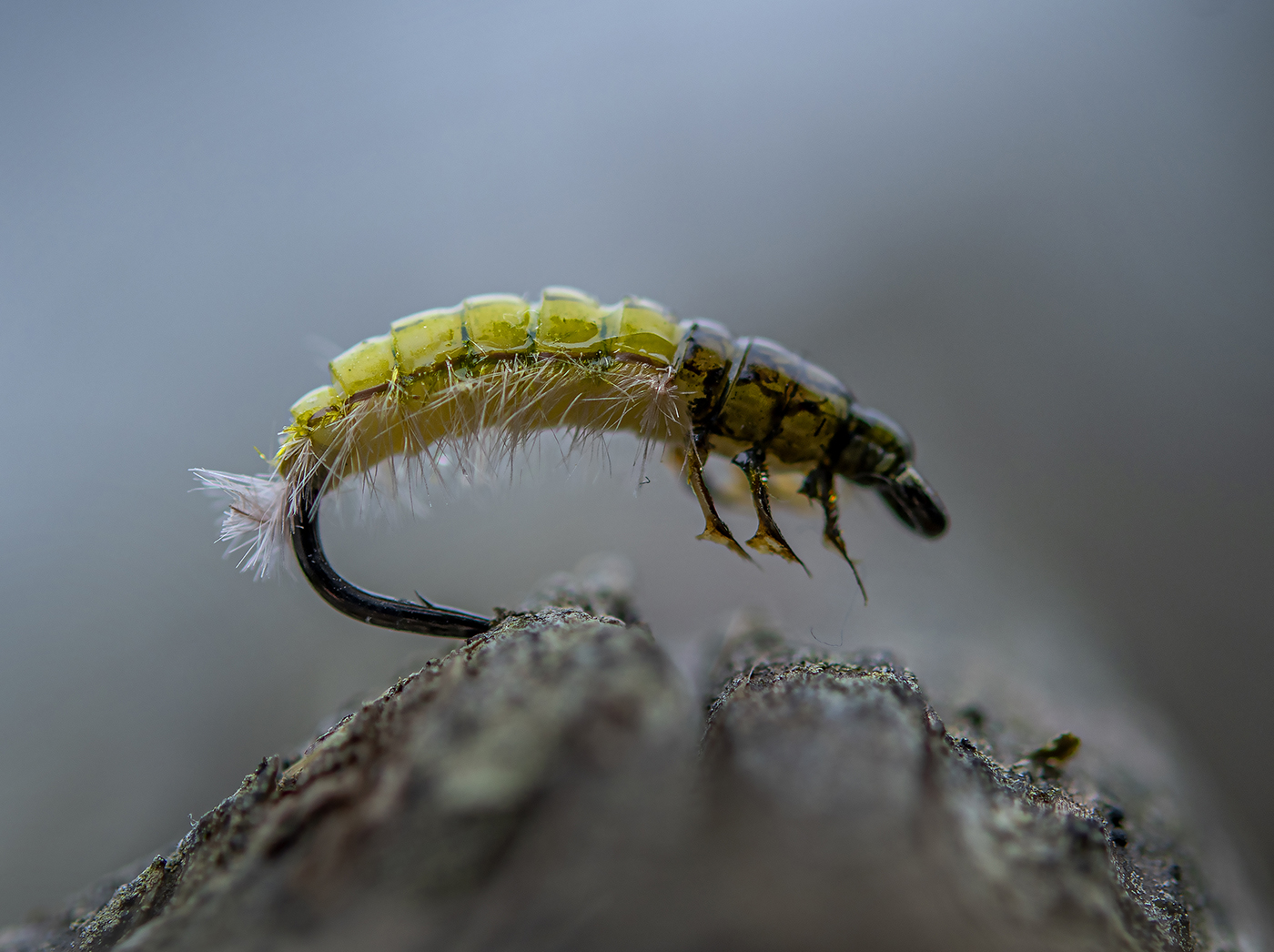 This caddis larvae by Jan de Haas is an Oliver Edwards' Hydrosyche pattern. Semi realistic, fairly fast to tie and durable and extremely effective.
One of the latest developments is the jig-style flies, which allow fly fishers to fish extremely small flies very deep and/or in very fast water. Their slim dressing and compact weight makes them excellent sinkers.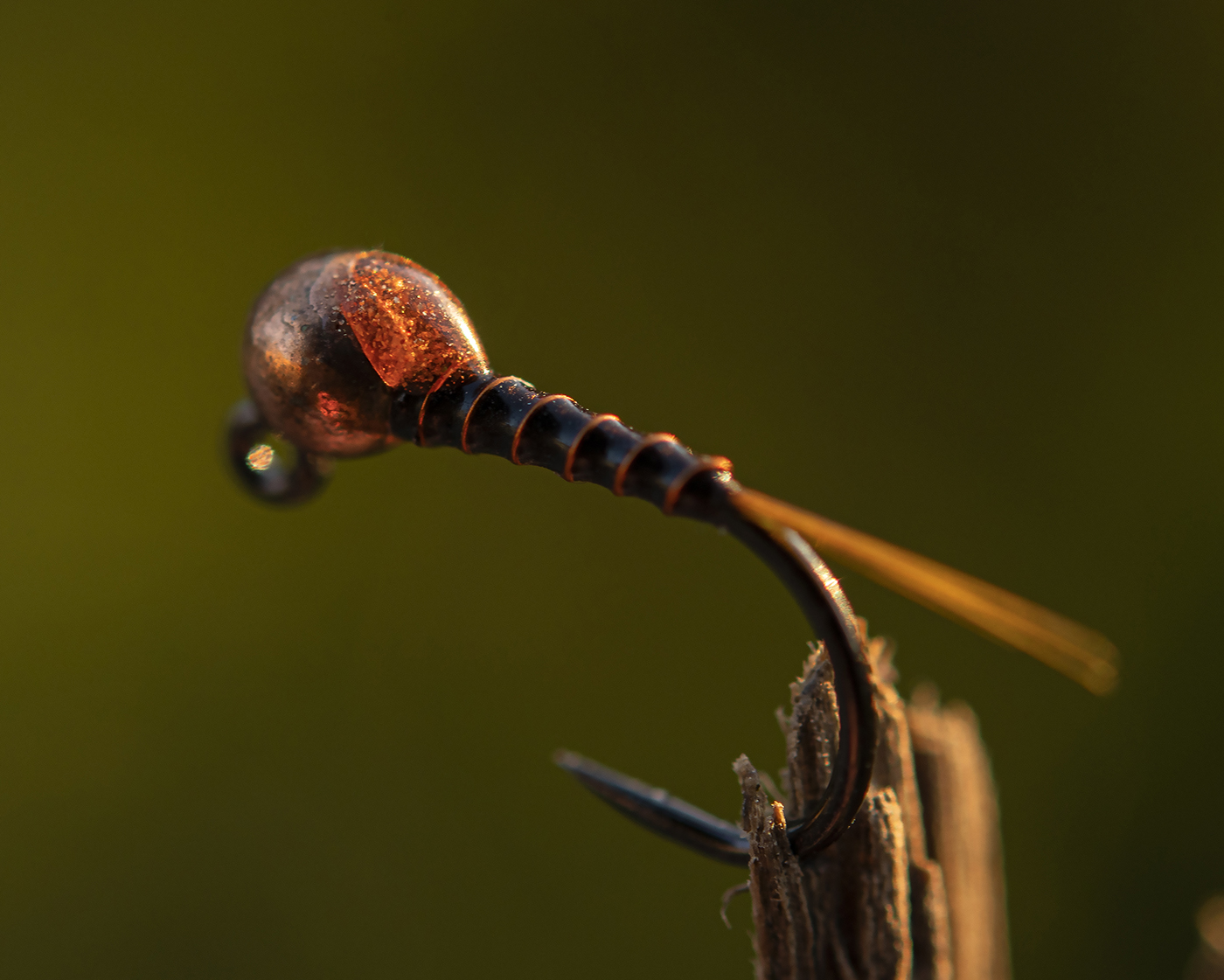 This Orange Neck Bioat Jig by Luke Stacy is about as simple and impressionistic as they get – and also about as effective as they get.
We never stop thinking, developing and getting new ideas and nymph fishing is developing as fast as the big streamer-scene and it'll be interesting to see where we stand in 10 years or more.