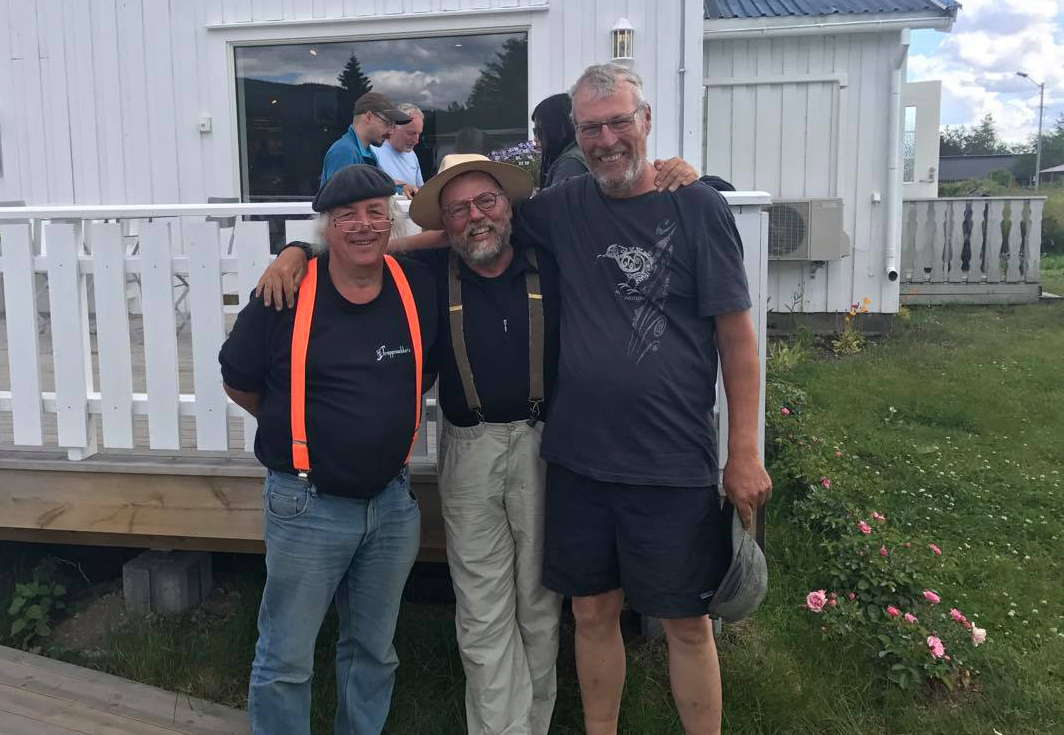 Staffan Lindström, Henrik Leth and Danish split cane rod, building legend, Bjarne Fries, photographed at Rena Fiske Camp.

Another of the great. Scandinavian fly fishers is no longer among us. On the morning of January 17th, Staffan Lindström passed away. Not long ago he was diagnosed with cancer to which he finally succumbed. Staffan was an innovator, an excellent caster and fisherman, trout bum, outdoors man in the word's truest meaning and a giving person.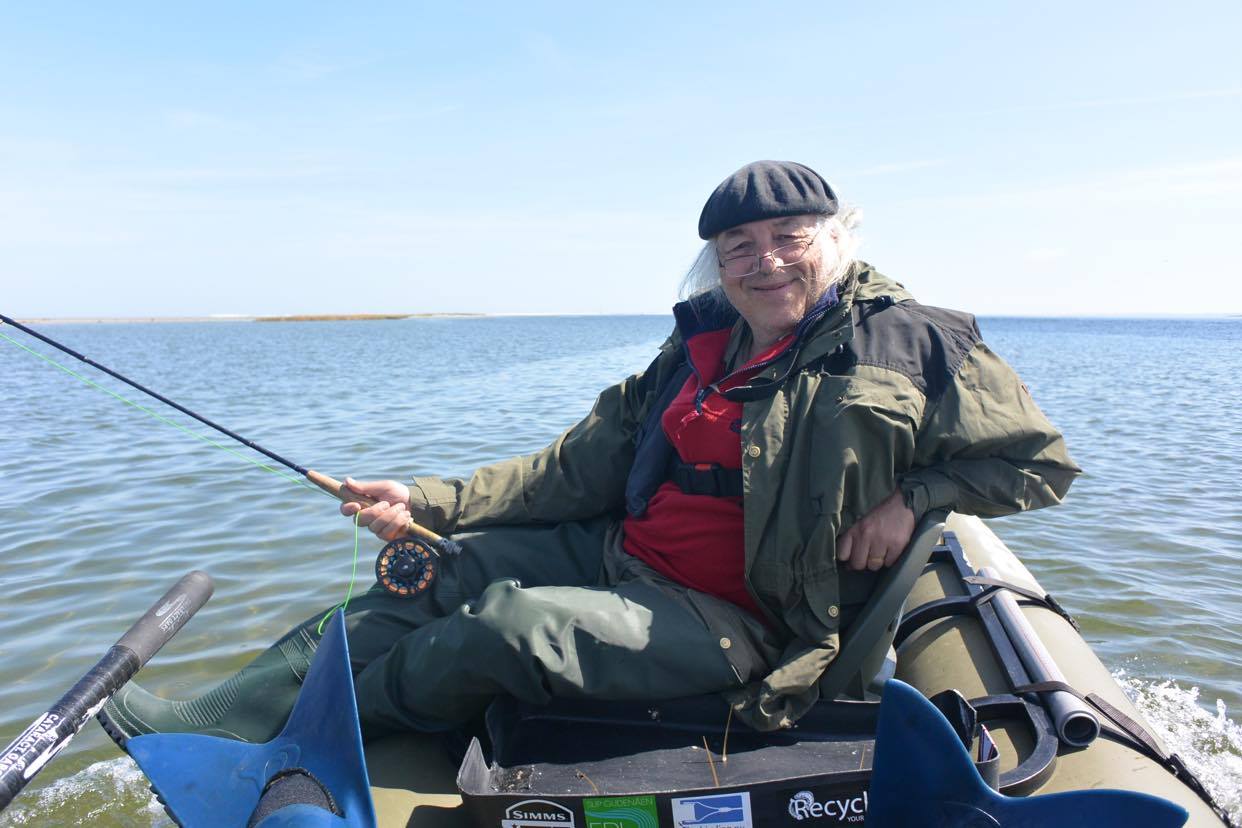 Danish fly fisher, Henrik Leth, was close friends with Staffan Lindström and took this photo of him, one day on Mariager Fjord in Denmark.
Staffan wrote a book in 2001, Bare ett kast til (Just one more cast) and Staffan has now taken his last cast. Staffan Lindström was all of the above and he was more. In the most positive sense of the word, Staffan was a character. Easily recognisable with his untamed, grey hair and reading glasses, always low on his nose.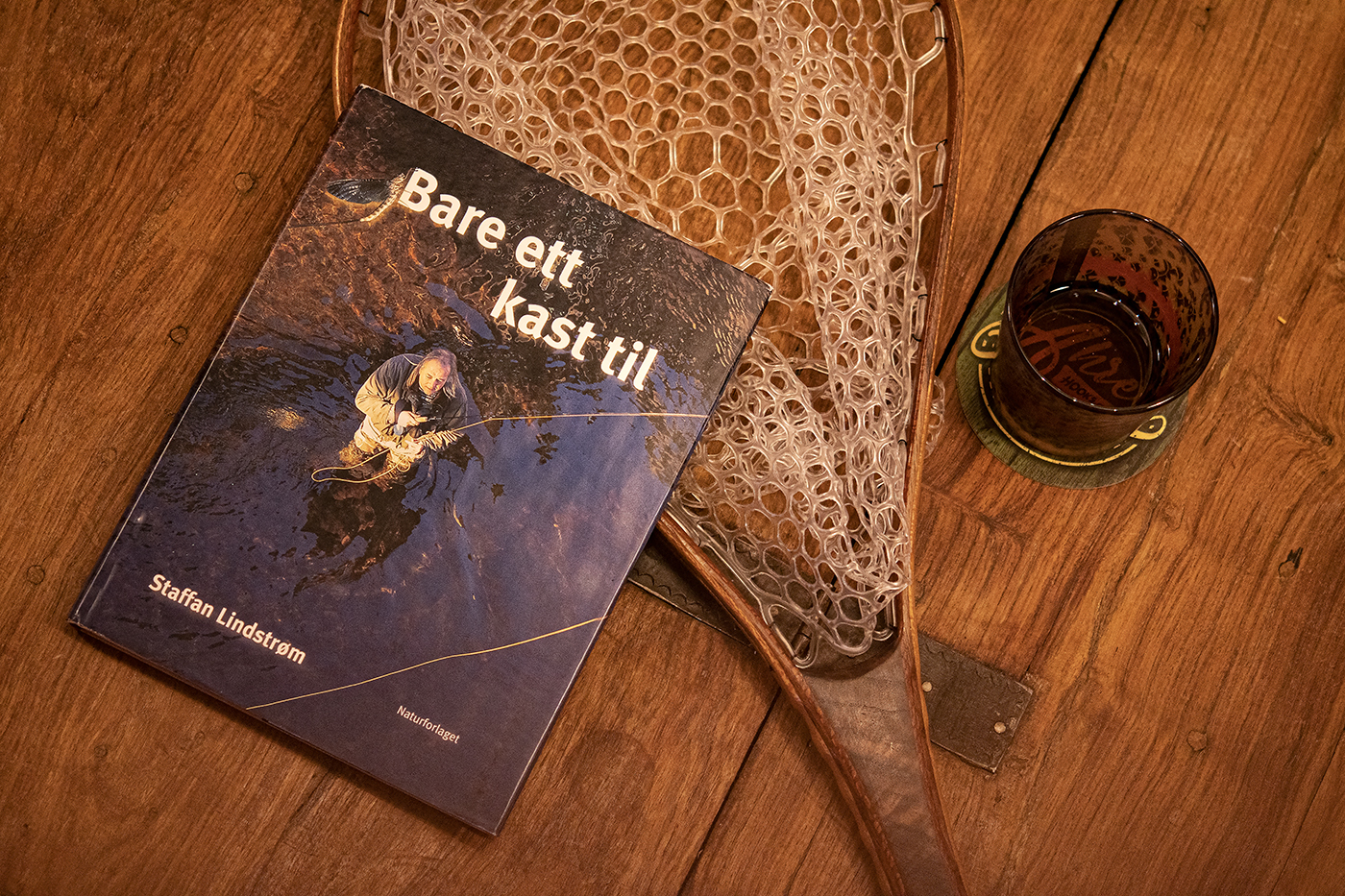 Staffan Lindström's book, Bare ett kast til.
Staffan was innovator. He is mostly known for his signature fly, Rena Flua (the Rena Fly – Rena I suppose being what Staffan would call his home water). The Rena Fly is caddis imitation. It's relatively simple to tie and combines a parachute hackle with a low set, poly yarn wing giving the fly excellent float ability and, with just a few cuts with a pair if scissors, the all important correct caddis profile. Parachute hackles and poly yarn wings wasn't new when Staffan invented this fly, but he needed the low set wing. He was a practical man, so he melted a tiny bit of hot glue just above the hackle and forced the wing with it. Simple and durable.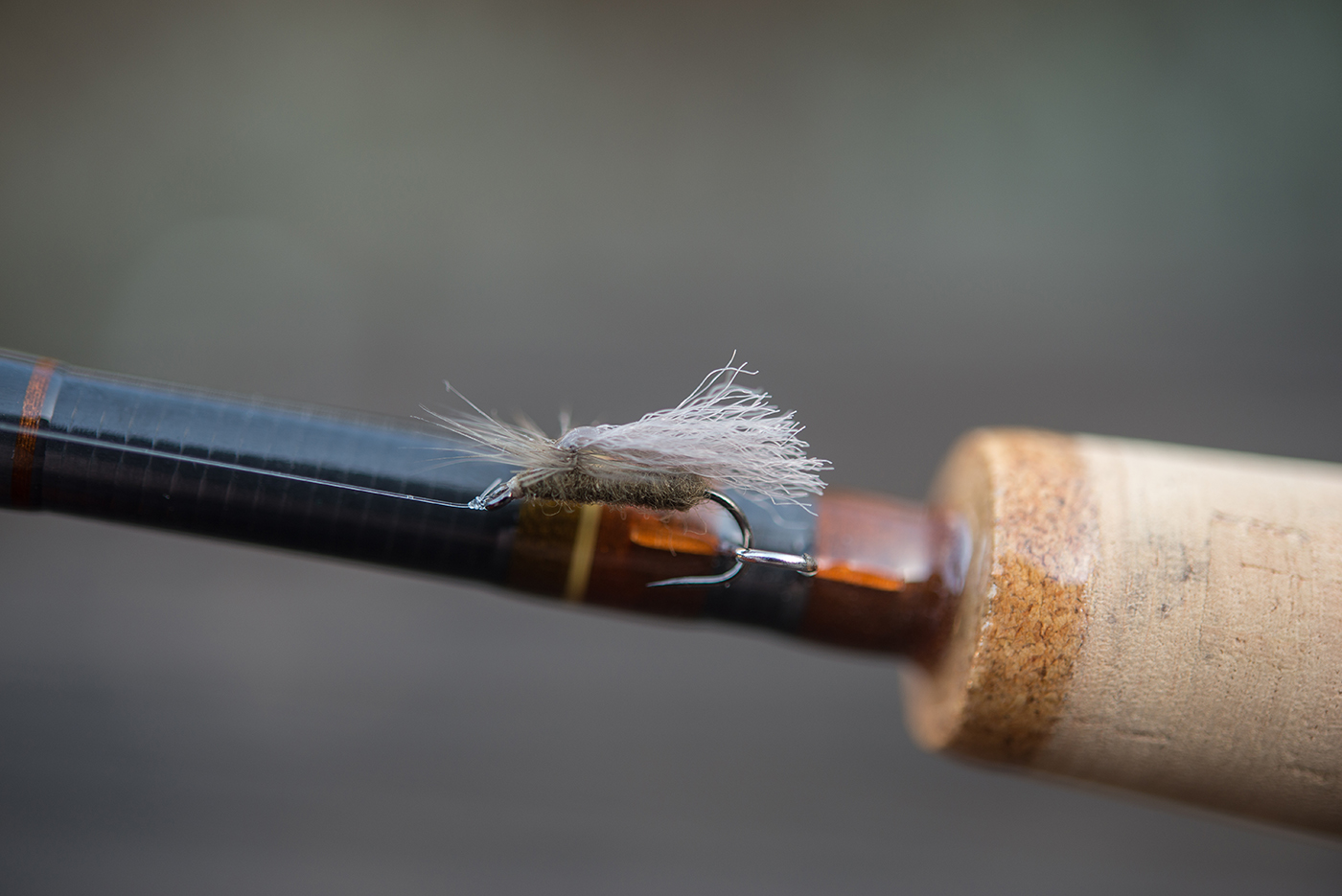 Low sent wing and simple, durable materials, good float ability and a good profile.
Another innovation of Staffan's was the use of VAG-Wing for caddis imitations. VAG-Wing a as type of sheet, originally used in pollen filters in cars, but Staffan saw a possibility. The sheet can be folded and cut to a perfect caddis wing profile, it takes floatant well and is easy to work with. Staffan also pioneered the use of kapok as dubbing.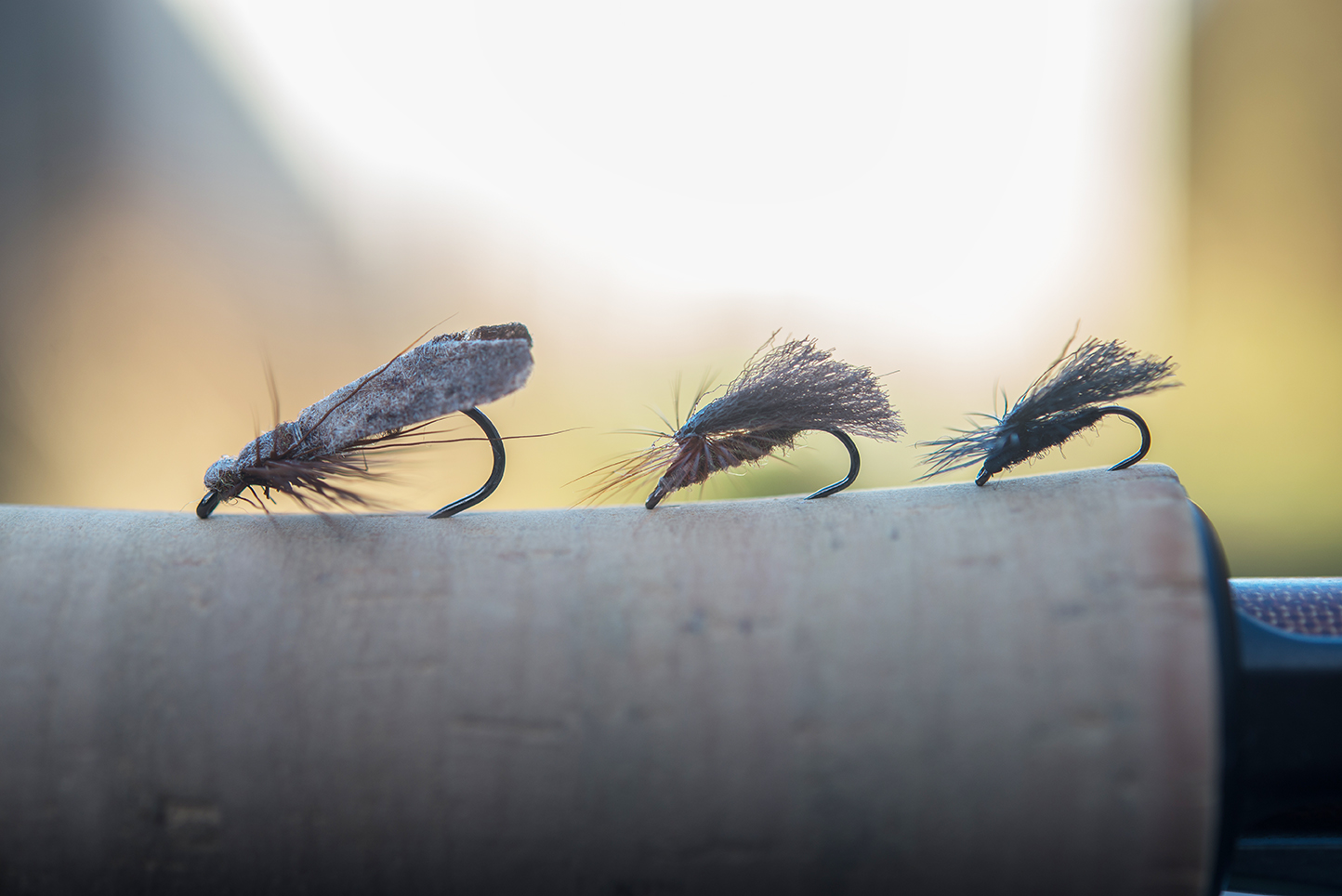 The VAG-Wing (far left) presents a perfect profile of a caddis, both from the side and from below. For me this fly in various sizes has worked very well on slow, clear water. Middle and right are two of the now classic Rena Flua. The one on the right – a minute, black size 18 Rena Flua has worked very well for me. Many years ago I noticed a hatch of very small, almost black caddis in some, Danish streams, and this was a perfect imitation.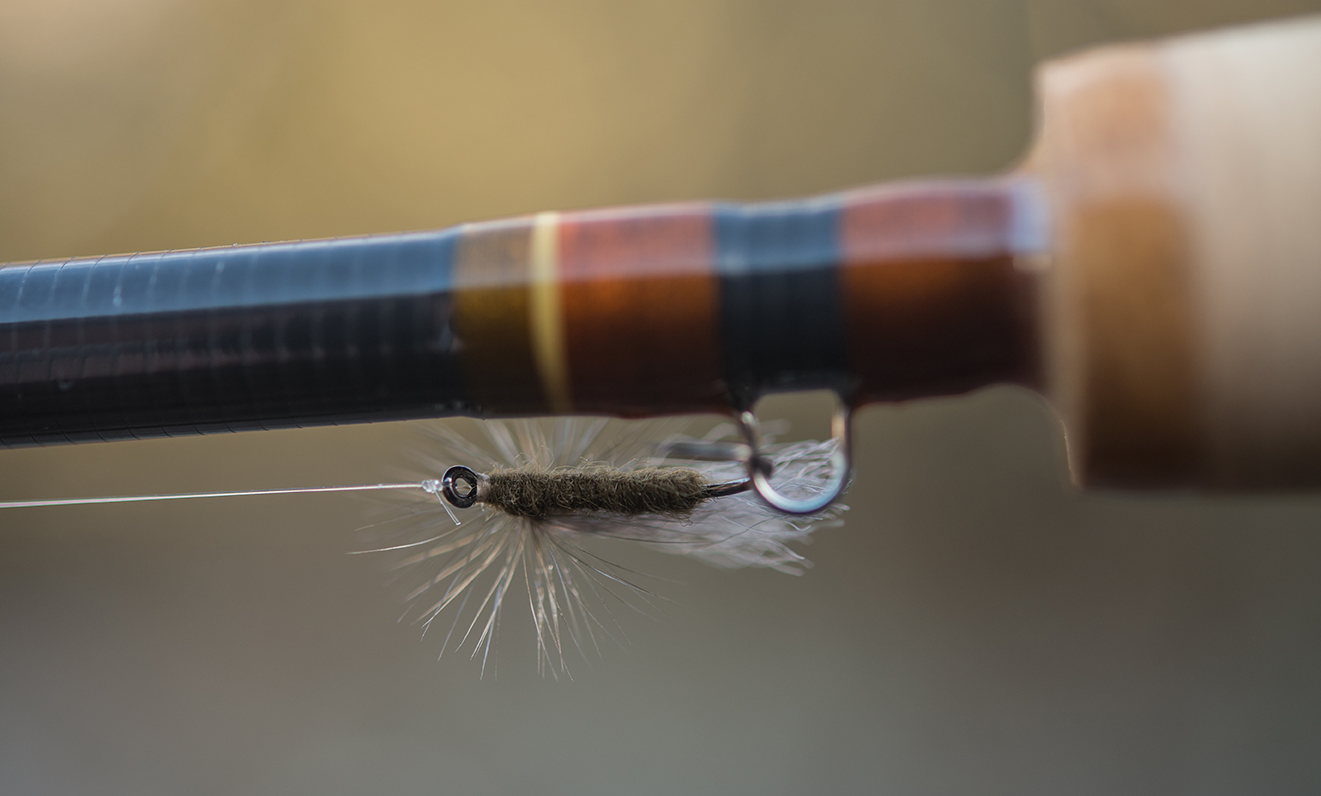 Even from below the Rena Flua represents a good profile of a caddis.
I had the pleasure of meeting Staffan a few times – at the Danish Fly Festival, where we once spent a few hours at the casting pool after the show was closed. We discussed presentation techniques and Staffan taught me to cast upside-down loops to present flies under overhanging bushes. Staffan didn't even know me and yet, spent the time with me. We met a few years later at the same festival, where others got to benefit from his giving nature.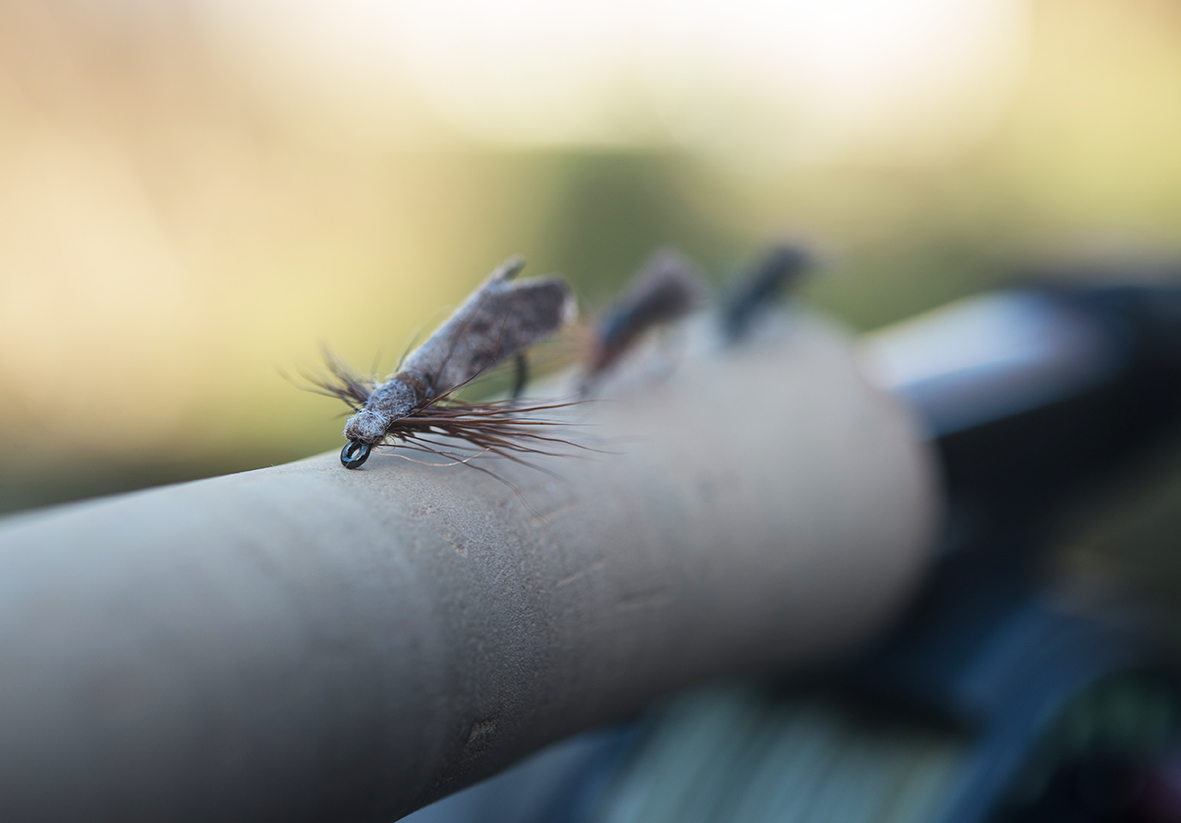 The VAG-Wing gives a lot of creative opportunities. Here I've made an imitation with both head and pronoum.
Most Scandinavian fly fishers know Staffan and from Ahrex we send our thoughts to his family.
Last cast taken – rest in peace, Staffan.