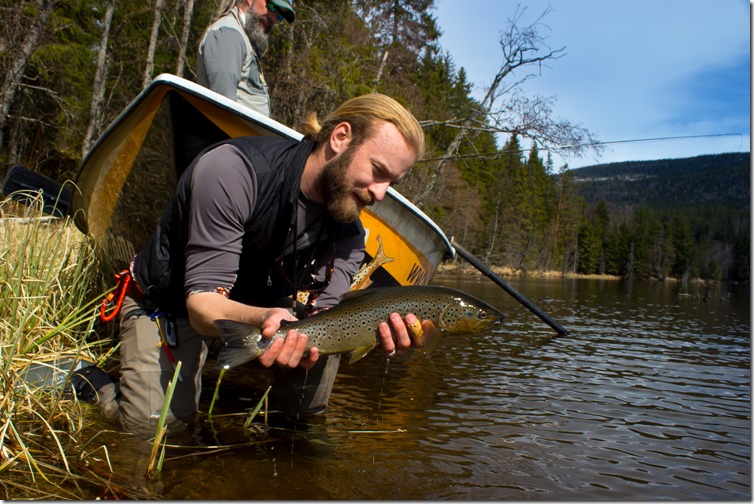 On this blog we've often talked about technique – related to fly tying, fly fishing or hook design and -production. Well today, with the summer holidays in front of us, I would like to share my reflections on passion.
It comes natural however – since passion is and has always been the driving force behind our brand Ahrex Hooks. We are passionate about designing sexy and usefull fly hooks, and every day, through our social media feeds, we are reminded how passionate you guys are about fly tying and fly fishing.
Rena River in early spring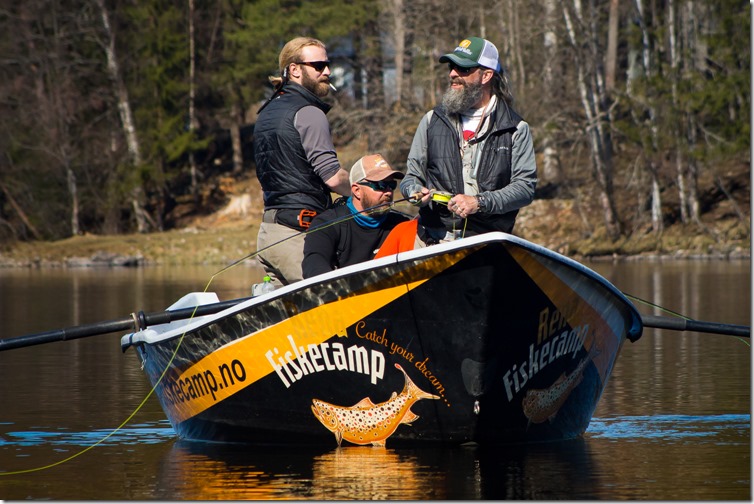 This spring Morten and I had the pleasure to try our hands on some streamer film making with a couple of really passionate guys: Andreas Andersson and Stefan Larsson aka Mr. Wicked Trout.
Andreas is a fabulous streamer fly tier, streamer fisherman and just totally a streamerjunkie. He is responibel for a bunch of cool streamer patterns, and ties streamer flies for clients all over the world… when he isn't selling cars :0)
Stefan is a trout bum. The real deal. Not just one more kid, that plays the role in weekends. For one thing… Stefan isn't really a kid anymore ;0) Secondly… he lives, breathes and ozes trout bum. He is also a fabulous fisherman… mostly fishing dries and nymphs – has his own take on woodsman's poetry – and he loves trout.
These two guys have a special bond. Though they aren't related by blood, they consider themselves as brothers. … so we asked them to join us on a trip to Rena River in Norway.
Snow lined banks
We were exited to get out after the long Scandinavian winter, so we hit the water in early may. Probably it was a bit too early. The banks were lined with snow in the shadows. The river was cold and low, since spring run-off weren't started yet. It was a game with tough odds, and we knew we would have to put in a lot of hours between each take.
But these guys didn't complain. They slinged sinking lines and large articulated streamers for two days non stop: Wading, fishing from Andreas' pontoon boat and fishing from Rena Fiskecamps super cool driftboat, with the experienced Lars B. Johansen behind the oars.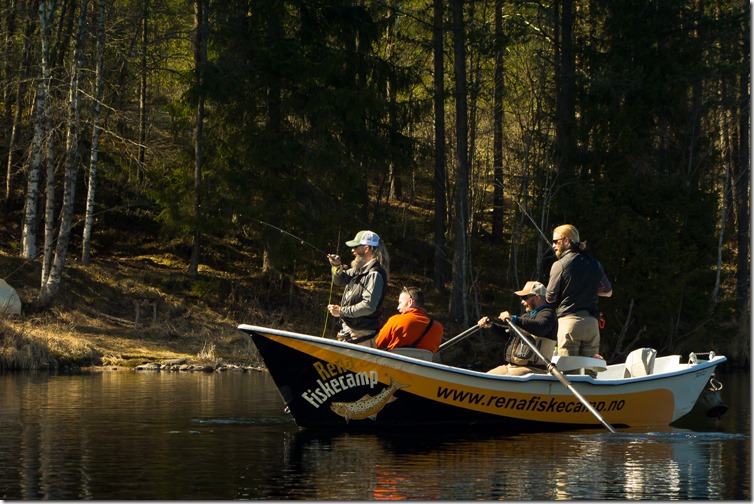 Smaller flies would have given us more fish, but we were looking for the few players: Large trout, that would go in for the kill on the large streamers.
And the hours paid off. The streamer eating trout were there – some made a long distance release. Stefan lost a fabulous trout that attacked the streamer with really bad intentions. And some were landed and released.
I love being with passionate people. One of the days these guys casted streamer weight outfits for something like 12 hours straight. Our guides Lars and Petter were behind the oars every minute as well. And we had a blast. Part of the reason for that was: There really wasn't anywhere we would rather be… or anything we would rather do.
Drifting Rena River in May, with a bunch of cool guys in the boats… and some streamer eating trout out in the current. It sure as hell beats most other activities I can come up with.
Film essay on passion
We made tons of photage on that trip. Some of it instructional, some of it not. For starters I have made a short film about the most important thing: The passion.
I guess it is to short to be categorized as a short film :0) So it is more like a film essay. Or an anglers confession. Anyway check it out. Choose HD and turn up the sound…
Let's get out there and enjoy our passion. Have a nice weekend :0)
Michael