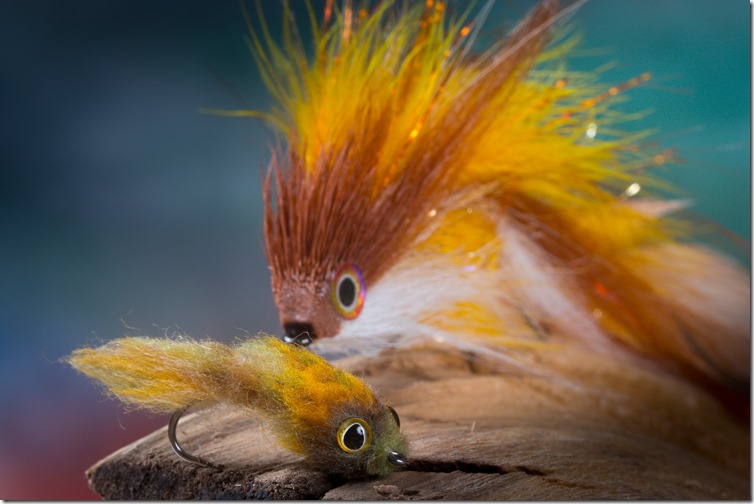 Small fish are eaten by bigger fish that just happen to be hunted by even larger monsters. The streamer game for trout is changing. If we go back a few decades very few fly fishermen tossed flies longer than 2 inches for trout. The tandem trolling streamer style from the Maine district was an exception – but these flies were – as the name implies – mostly trolled behind a boat and very seldom used for traditional fly casting and fly fishing. And part of that game was focused on landlocked salmon as well.
Today we routinely sling 6 or 8-inch streamers for trout, and some tiers and fly fishers use larger flies. So what happened? Did the trout suddenly start behaving differently?
Nope. Trout have been predators since the beginning – which probably doesn't go all the way back to The Big Bang… but gets in the ballpark. It's just that we fly fishers have changed our game.
Articulating, swimming and wiggling
The story on how this all happened is very interesting but much too long for this blog. The essence, however, is that some fly fishermen weren't completely satisfied with the fact that the spinning and baitcasting guys caught most of the really large predatory trout. So they started tying larger flies… articulated some of them and, made them swim and wiggle – and developed tackle set-ups that could turn these hairy monsters over.
A lot of guys are responsible for changing the game in the streamer world, and the list of cool streamer tiers and fishermen is endless. I think it's fair to say, that guys like Kelly Galloup and Russ Maddin kickstarted the game on big articulated streamers. A lot of equally creative guys chimed in – and the revolution started. Today lots of fly tiers and fly fishermen worldwide are in on the streamer game.
We are proud that some of these guys wrap their awesome bugs on our Trout Predator Series hooks – and during this season we will continue the focus on streamer related stuff on our blog, Instagram, Facebook and YouTube channel.
Articulated video marathon
Till then, you might want to check out some of our recent videos on the subject. Here are a couple from Andreas Andersson, one from Oskar Hagelin and couple from… well myself :0)
Have a nice weekend :0)
Michael