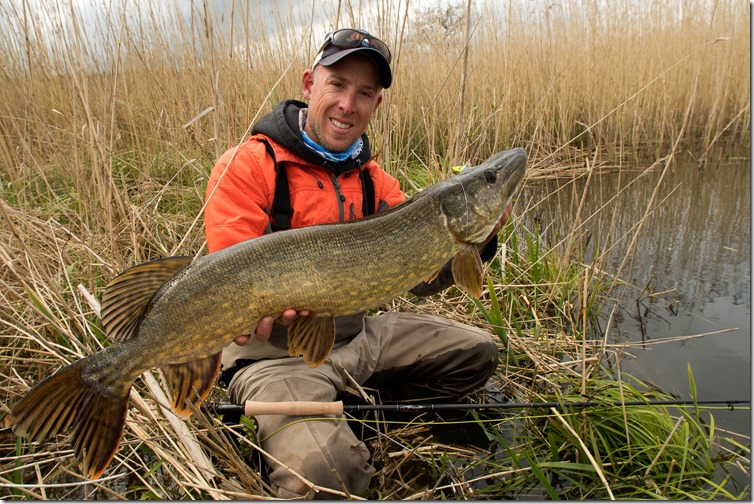 Pike season is on… even here in Denmark where the large predators are left undisturbed during the breeding period in April. Our top picture on this blog is from a fishing trip yesterday… so it is definitively fresh from the memory card in Morten Valeurs camera. The happy fly fisherman in
the picture is Omar Bo Gade from Denmark Fishing Outdoor Lodge.
Postspawn pike are hungry and active though the water is still rather cold – so large subsurface flies fished slow are deadly in the coming month – and when the sun heats up the shallows, surface action accounts for a lot of heart stopping moments.
Speaking of deadly… Keep in mind that large pike are brutal predators – but also super fragile. Fight the fish as fast as possibly and reduce handling to a minimum – especially in the early spring where a lot of pike are scarred from the excitement during breeding. Large pike are a valuable resource in lakes and rivers.
Check out our range of Predator hooks sporting small barbs that are easily pinched down with a set of pliers – or consider our barbless options on Light Predator as well as Predator Trailer hooks.
But most important – get out there, fool some large pike (or musky) and have fun :0)
Morten Valeur ties a Green Back Tiger
Well as you already know, there's all kinds of scary critters out there, so a Green Back Tiger shouldn't be a problem I guess :0)
Anyway, check out this brand new video SBS of a cool pike fly tied by Morten Valeur. The Green Back Tiger is basically a tasty blend of flash, craft fur, marabou, rabbit and Fish-Skull Fish-Mask and Dragon Eyes from Flymen Fishing Company – wrapped on an PR351 Light Predator Barbless. It sure fools a lot of pike around here – and I feel it will work just about anywhere.
Have a nice weekend :0)
Michael