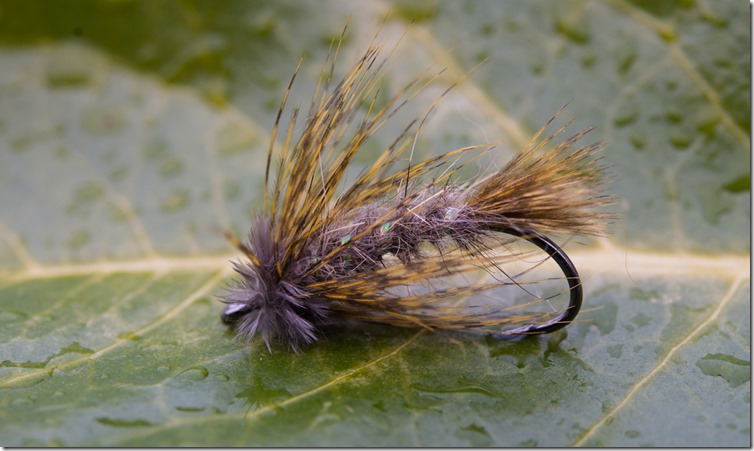 The late Jack Gartside was a fly tier who came up with a tremendous amount of effective fishing flies – most of which were tied using relatively cheap and easily available materials. His classic Soft Hackle Streamer is a good example of his approach – and his equally effective Sparrow is another.
The Sparrow is a fly fisherman's Swiss Army Knife. It's a multi-tool that will imitate nymphs, terrestrials, shrimps, baitfish and everything else. It's a lazy fisherman's fly. Jack described it this way:
"I tied the first Sparrow over twenty-five years ago while camping at Baker's Hole on the Madison just outside West Yellowstone, Montana. Being a lazy fisherman, I hated changing flies any more than was absolutely necessary and wanted a fly that I could fish as a nymph or as a streamer or even as a passable hopper imitation (greased to float, sunken as a drowned grasshopper). So I was looking to come up with an impressionistic fly that would combine some of the common features of both insect and baitfish, a fly that could look (depending on how it was fished and its overall size) like lots of things in general and nothing in particular. I would let the fish make up its own mind as to what it was."
And the Sparrow did work alright. Jack caught many large trout on the simple fly, including a brown trout that weighed almost thirteen pounds — from the Gallatin River in Montana.
Some of the worlds most talented fly tiers and fly fishermen have been inspired by Jack Gartside. One of these are Gary Borger, that once wrote this after meeting Jack and the Sparrow:
"Jack was one of only a few who have ventured outside the ordinary…We first met many years ago at a campground just outside West Yellowstone. Jack had just taken a 25-inch brown on his Sparrow from the Madison, and when I saw the fly, I knew I was talking to a guy that understood big fish."
Lars Chr. Bentsen ties Jack Gartside's Sparrow
Jack tied the Sparrow using mostly feathers from ringneck pheasant. Our talented friend Lars Chr. Bentsen has, all in Jack's spirit, tied his own version… bringing the Sparrow into a new century without changing the overall idea and simple deadliness of this fabulous fly. No matter if you look at Jack's original dressing or Lars Chr's contemporary version – they have that trout-catching x-factor known from the Gold Ribbed Hare's Ear, the Muddler Minnow, the Woolly Bugger and a few other from the top shelf in the fly selection.
See the full tying SBS right here…
A few months ago I made a video SBS on Jack Gartside's Soft Hackle Streamer. You can find that on here….
Have a nice weekend
:0)
Michael