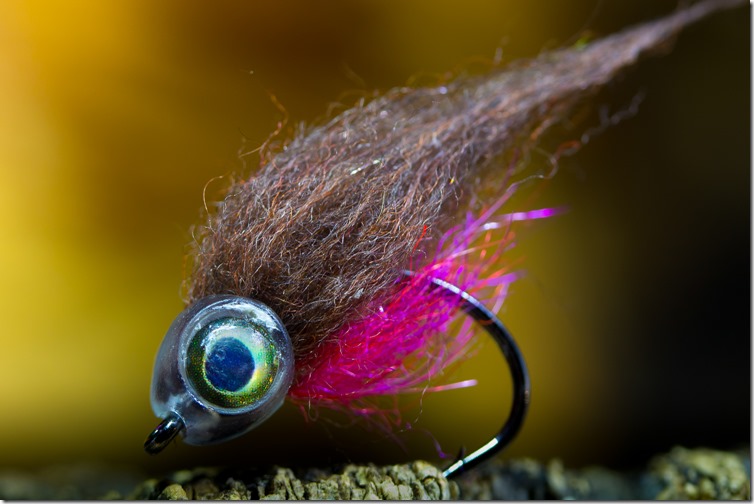 Even at midwinter there are days when the sun comes out, the wind settles for a while and the coves and bays along the coastline warms up – at least in the afternoon.
That means that small scuds, shrimps and sculpins kick start the food chain in the shallows. And the sea trout aren't wasting that opportunity. They start hunting the small critters.
Our fly of the week is made for these days. It's a small goby/sculpin imitation tied by Mathias Rosenmejer Ibsen from havoerredguider.dk. Super simple, an easy tie – and deadly when sea trout (sea run brown) are prowling the sandy or muddy flats for sculpins.
Tied on the ever sexy NS172 and using natural wool dubbing and a Flymen Fishing Co. Fish Mask, this fly hoovers and can be fished relatively slow in the shallows. Still with the Mask and wool it sinks the minute it hits the surface.
Check out the full tying SBS video right here…
And there's more:
This is going to be kind of a tour de force fly tying update, since a lot of our friends are super active at the moment. If you need new inspiration or just wanna watch some cool flytiers at work, you should check out:
Gunnar Brammer's new video, where he ties the Trout Nugget XL. This is an articulated zonker pattern perfect for chasing trout and bass on the fly. Cool stuff. Link:
https://www.youtube.com/watch?v=mozXekiRDPM&t=492s
Our Thrusty friend Mr. Coastfly aka Morten Hansen has made a new video as well. This is a pretty hot articulated streamer. Link:
https://www.youtube.com/watch?v=CKCwPoJ87-I&list=PLHMKoW7S7I918kMwk8oQEt4ZOB34ybJk7
Swedish master on scuds, shrimps and other saltwater flies, Agne Fiskarsonen Sjöberg has released a video SBS on El-ge Sportsfiske. Agne ties a Perfect Leo Shrimp. Link:
https://www.youtube.com/watch?v=vbPwz-Gf0jc
For those of you who missed Daniel D. Holm's livestream last night, where Daniel tied a super cool Gammarus on the NS172. You can check it out on this link.
https://www.youtube.com/watch?v=6lucu1C5s-E&t=1143s
And remember Daniel is livestreaming every Thursday.
Furthermore we have got a new German Friend, Timo Keck. Check out this video, where Timo ties a Pike Streamer.
https://www.youtube.com/watch?v=m1Xn2EDF3Rg
That all folks, Have a nice weekend :0)
Michael